The Wrong Team At The Top
Let's be honest, whichever way you think about it it's a little sad that yesterday's match was viewed as crucial to the title challenge but it was, once again, completely irrelevant to Liverpool's season.
Oh how times have changed for our club and theirs since the 2013-2014 campaign. Back then the 5-0 win we managed against the London club in their own backyard was a catalyst to an unlikely title challenge. It was the first time that many of us started to believe that it might just be possible.
When Brendan Rodgers said that a team spending £100 million in the transfer market really should be winning the title, we chuckled to ourselves and marvelled at how Daniel Levy, so revered for his wheeling & dealing, had thrown away the Gareth Bale money.
A year or so later and most of Tottenham's 'flops' have come good, buying into Pochettino's system and taking the Premier League by storm. Their own unlikely title challenge is perhaps being over-shadowed somewhat by the incredibly story of Leicester City being four points clear of them with a game in hand.
Now most pundits and football fans are talking about Liverpool learning from Spurs, adding a couple of intelligent signings to the players we've already got in order to give Jürgen Klopp the best chance of success next season. From title-challengers two years ago to hoping we can help Leicester pull off the dream. What a terrible turn of events that is for Liverpool.
Standing Toe-To-Toe
If it goes without saying, then, that Liverpool are gutted not to be involved in the title race, is it also fair to say that last night's match suggests the club is at least heading in the right direction?
Tottenham had only been beaten on shots on target twice this season, and by one both times.
Shots on target tonight:
Liverpool 7 Spurs 5

— Andrew Beasley (@BassTunedToRed) April 2, 2016
Possibly. The trouble is that Liverpool teams rarely struggle to get themselves up for big matches. You could argue that Istanbul occurred purely because we're good at winning the games we don't deserve to win. The problem comes against the lesser teams. This season we've beaten Chelsea, City and United then lost to Newcastle, Watford and West Ham.
One thing is for certain, though: we weren't over-awed by this Spurs team like so many other Premier League clubs have been. They've lost just four times this season and drawn eleven of the thirty two games they've played so far. Their only loss in the last ten in the league was against West Ham and they're certainly not the first team to do that this season.
Spurs are a bloody good team and we've tested their goalie more than they tested ours. Played well, heading the right way.

— Ian Salmon (@IanRSalmon) April 2, 2016
That Hugo Lloris had to make a number of out-standing saves is testament to our ability to threaten even when under the kosh. That Simon Mignolet was also called into action more often than we'd like as fans probably owes more to our inability to defend properly than the threat they created. Yes Kane scored a good goal, but he was aided and assisted by Nathaniel Clyne literally ducking out of the way of the cross and Dejan Lovren getting far too close to a player who loves to spin defenders.
It's a sad state of affairs when a draw at home against Tottenham Hotspur is looked at as a step in the right direction, yet it unquestionably has to be seen as just that. If we were honest with ourselves as Liverpool fans we'd have to admit that we haven't been a dominant force in the Premier League on a consistent basis for over half a decade. For the first time in a long time, then, it actually feels as if we could be in the not too distant future.
Questions For The Defence
Lovren definitely did get too tight to Kane for his goal, but that was the only mis-step in an otherwise excellent game from the Croatian. His turnaround under Jürgen Klopp has been little short of remarkable.
If the collapse after his departure from the pitch against Southampton caused some to realise how important he is to our defensive solidity then the fact that we looked so strong at the back yesterday in spite of Mamadou Sakho being all over the place must surely have confirmed what no one thought possible a year ago: Lovren could be our best defender.
He was quick, strong, brave and good in the tackle. He kept the defensive line in shape even when Moreno had some of his usual moments of forgetting he was supposed to track back or defend. He even mopped up more than once after Sakho lost a one-on-one battle with himself.
Lovren having a stormer. His turnaround under Klopp has made idiots of everyone who wrote him off, me included. First choice CB with Matip?

— Neil Docking (@NeilDocking) April 2, 2016
Which brings us neatly around to the Frenchman's performance. At times, such as against Manchester United in the UEFA Cup, Sakho has looked utterly imperious. He's given the sort of performance we've desperately wanted to see from one of our defenders and convinced us all that he's a long-term centre back for the club.
Then he has a day when he seems intent on tackling his own shadow and we realise exactly why it is that Klopp wants to being Joel Matip to the club next season. The German manager knows that the only way to mount a serious title challenge is by keeping things tight at the back. It's why Jose Mourinho teams are able to win the league after scoring about four goals all year, yet Brendan Rodgers' free-scoring Reds missed out because of their defensive frailties.
Mignolet makes the Kop's head fall off. No communication between the Belgian and Sakho.

— Kristian Walsh (@Kristian_Walsh) April 2, 2016
For all that Sakho has won the hearts of the Liverpool fans you sense that he hasn't yet convinced Klopp he's a long-term option. With Moreno far from convincing in the left-back spot and pretty much everyone desperate for the goalkeeper to be replaced, it's looking likely that another overhaul at the back is due this summer. Thank goodness, then, that Lovren seems to have found his feet in a Red shirt at last.
Another Wasted Corner
As far back as the early 1990s there used to be a Liverpool fanzine by the name of 'Another Wasted Corner'. It obviously isn't a recent problem, then, that Liverpool can't score from corners. Perhaps it is a more modern phenomenon that we look more likely concede than score when we get one, however.
Yesterday we won twelve corners against Spurs, but did we ever look even remotely like threatening from one of them? No, is the answer. No we did not.
Hate how excited our crowd gets when we win a corner. Like a kid at the fair who sees an amazing ride but you know he's not tall enough

— Adam Smith (@Adam_Smith_82) April 2, 2016
I'm not entirely sure why James Milner keeps taking them, of course. The workhorse of a midfielder has now had more matches where he's looked out of place than ones where he's looked like a game-changer. But the one thing that has remained consistent is his complete inability to deliver a decent corner.
Much like Klopp appears to be attempting to deal with our defensive frailties by signing Matip it's also possible that he's also hoping that the Schalke player might help us score a goal from a corner before 2027. The Cameroonian international has scored fifteen of his sixteen goals from set-pieces.
A strong set-piece game was one of the keys to our goal-scoring prowess in the 2013-2014 title challenge season. Admittedly that was largely down to Steven Gerrard's impeccable delivery and as things currently stand we don't even have a player who could deliver a letter. The important thing, however, is that Klopp appears to have recognised our deficiencies and plans to do something about it. That, at the very least, is a step in the right direction.
Play The Ref, Not The Rules
It's an odd thing to talk about the referee after a game that saw no hugely controversial decisions. Yet it has long been a bugbear of mine that Liverpool aren't particularly good at adapting to referees and their own particular quirks.
Yesterday Jon Moss seemed utterly determined to give us absolutely nothing. The only decisions he got right were the yellow card for Coutinho for simulation and the corner when everyone inside Anfield seemed convinced he'd given a penalty.
Klopp may not agree with the Coutinho booking, but suggesting that journalists are 'intelligent enough to write about what they see' is always a dangerous game when video replays show there was no contact. It also sounds worryingly everyone's-against-us a la Mourinho. A Problem when one of Klopp's greatest traits is that he's the antithesis of the whiney, moaney Portuguese windbag.
Back to referees, then. Time and again, whether it be by dealing with the FA over disciplinary matters or watching Manchester United consistently get decisions that other teams don't, Liverpool have had ample opportunity to realise that the rules are often irrelevant.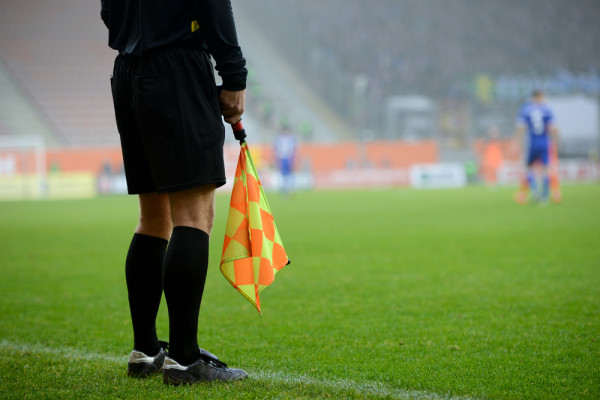 Referees, for all that they're supposed to enforce the rules and nothing but the rules, have their own personalities. Most of them referee context first and foremost. Horrendous tackle in the first few minutes of a game? Don't worry, you won't get sent off in case it 'ruins the game as a spectacle', for example.
When it was clear within the first five minutes of the game that Moss wasn't going to give us anything at all, why did we keep trying to get decisions out of him? Why look for a foul you know isn't going to be given? And why consistently give him reasons to give simple fouls to the opposition?
It didn't make a massive difference yesterday, but it almost certainly will at some point in the future. The sooner the Liverpool team realises it needs to be a lot cuter with referees the better.