If Liverpool hadn't lost to Swansea City on Monday night we'd have stretched our unbeaten run to nineteen games in all competitions. Had we won, we'd have gone level on points with Chelsea and put ourselves just three points behind Manchester United. Perhaps even more importantly, a win would have seen us shift five away from Spurs and eight clear of Arsenal, which could have been crucial in this season's 'Fight for Fourth'. As it is we've lost just four games in all competitions, are in the knockout stages of the Champions League for the first time since 2009 and have a home tie in the FA Cup Fourth Round coming up this weekend. If we were looking in on any other club, I'm fairly certain most of our supporters would say they were 'handily placed' for a fun second-half to the season. So why do things feel so fractured?
"Jurgen Klopp is tactically inept"

"Since Brendan Rodgers, nothing has actually changed"

Three #LFC fans have plenty to say after the loss to the #swans last night! 📞📞 pic.twitter.com/GO0FjG2oEF

— talkSPORT (@talkSPORT) January 23, 2018
Despite the fact that Liverpool have only lost three Premier League games since this season's competition began in August, with two of those being against Manchester City and Spurs, the second we drop further points some act as though the sky is falling in. It's easy to point to those people as 'cranks' or 'lunatics', and I certainly think they are, but there are a fair few people that still refuse to be won over by Jürgen Klopp. More often than not the line that's trotted out is that he 'still hasn't won a trophy with the club'. That line of thinking normally accompanies 'Liverpool Football Club exists to win trophies'. There are only four domestic trophies that we could possibly win, with one of them being that which the best of the best in Europe compete over. Should the winning of silverware be the only yardstick by which a manager's ability is measured? More importantly, is the manager's position the only area where cracks are appearing within Liverpool's support?
The Goalkeepers
One of Jürgen Klopp's worst decisions since he arrived at the club was the one that saw Simon Mignolet awarded a new contract back in January of 2016. I understand that the German is the sort of manager who shows faith in his players and I'm also aware that the decision might have been taken in order to stop us from losing the Belgian for a paltry fee if his contract had run down. Yet anyone who had watched him consistently since he arrived at Anfield from Sunderland back in 2013 could tell you that he wasn't good enough for a team that at some point hopes to win the league.
The manager's decision to sign Loris Karius just four months after issuing that new contract suggests that he soon realised the folly of his decision. That was made clearer when it was confirmed that his fellow German would be the club's new Number 1; a decision that ended up being delayed when he broke his hand on Dejan Lovren's head in pre-season. Unfortunately, Klopp then found himself in a position whereby he had a goalkeeper who wasn't good enough on a long-term contract and a new 'keeper who wasn't experienced enough in the Premier League to be relied upon struggling to find confidence. The calls to bring Mignolet back in as soon as the former Mainz shot-stopper had a bit of a problem were as predictable as they were wrong-headed.
What the manager should have done was what he should do now – sell the Belgian, get rid of the goalkeeping coach John Achterberg, bring in a top-class 'keeper and start with a clean slate. Because he doesn't seem to have any intention of doing that, what we're left with instead is a fanbase arguing over who is the least poor between two players that have done nothing to suggest that they should keep playing for the football club. When Karius concedes people immediately call for Mignolet to come back in, as though the Belgian hasn't conceded countless pathetic shots on target throughout his Liverpool career. We should all be united around the idea that neither are good enough and we need to sign the likes of Jan Oblak or Alisson Becker, not fighting of who is less rubbish.
I have written about the goalkeepers before, so I'm not going to go over old ground here. What I will say is that if your starting position on a conversation about Karius is that he's 'the worst player ever to play for Liverpool' then a sensible chat isn't likely to be on the cards. He's not looked overly impressive since he arrived last summer, but his form and underlying stats at Mainz suggest that there is a player in there.
He's not yet performed well on a consistent basis, but he also hasn't played anywhere near enough games for sensible people to make a definitive shout about whether he will in the future or not. That said, I have no problem with someone saying, "We need to buy a new goalkeeper right now". On the other hand, I have a massive problem with anyone saying Mignolet is definitively better, considering how many dreadful goals he's conceded this season alone, to say nothing of the rest of his Liverpool career.
My point on all of this is that the fanbase seems to be arguing amongst itself about the goalkeepers every time the ball hits the back of the net for the opposition. It's become tedious and, perhaps worse than that, it's causing disagreements at a time when we should all be united to talk about how well the club is doing across the board. This is a season that's still very much alive, so watching fans turn into some sort lesser version of Arsenal TV over two lads who probably aren't good enough and may not be around much longer is rather frustrating.
Transfer Market Inactivity
Another area where supporters seem to be disagreeing more and more is regarding transfers. The sale of Philippe Coutinho caused must consternation, with a good chunk of fans saying it was a terrible decision from the manager to let him and go and a load more feeling like it was a decision that made sense. As you'll know if you've read my blogpost on the matter, I'm firmly in the camp of believing that selling now was the right thing to do. Plenty of supporters think that we should have forced Coutinho to stay or, at the very least, that we shouldn't have sold him without a plan to replace him.
My issue with that line of thinking is that we don't know that the manager and his stand don't have a place to replace him. Just because we might not like the idea of Adam Lallana picking up his midfield duties and Danny Ings helping out in attack, for example, doesn't mean that the manager hasn't been considering it. When people say the club 'doesn't have a plan to replace the Brazilian', what they're actually saying is that the club doesn't have a plan they like the look of. I'm firmly of the belief that a manager has to be true to themselves as much as possible, which Klopp is doing by making the choices that he's currently making.
Supporters want to see the club spend money, almost irrespective of who that money is spent on. They turn a blind eye to the signings of Andy Carroll, Mario Balotelli and even Christian Benteke, believing instead that nothing bad can come from spending money on a new player. Never mind that the manager, Michael Edwards and the entire backroom team have done a brilliant job recently and so it might be worth trusting them for a bit. Even if you decide that the jury is still out on Virgil van Dijk then it isn't on Sadio Mané, Mohamed Salah or even Andy Robertson.
Why is the fanbase allowing itself to become fractured over an area of business that those in power have proven to know how to get the best out of in the past? In the summer, the same people complaining that we haven't signed anyone were also saying that Monaco's Thomas Lemar wasn't worth £90 million. The club are apparently trying to get Monaco to sell for £60 to £65 million, which is far more in line with what the Frenchman is probably worth. Isn't it right that they get that decision correct rather than be held to ransom?
The thing I find most confusing about those attacking the club for 'not improving' is that we've literally just spent £75 million on the defender we wanted all summer and who will improve us markedly. On top of that, the transfer window is still open for a week and anything can happen before it shuts. Monaco are aware that Lemar wants to leave and probably fancy spending some money themselves this window. Liverpool may well be playing a bit of brinkmanship with them, so shouldn't we let that pan out fully before attacking them for 'not spending any money'?
Let Klopp Be Klopp
Jürgen Klopp is a manager who has, throughout his career, declared the importance of working on the training ground. He has always espoused the idea of making his teams stronger courtesy of his management rather than a chequebook. That doesn't mean that he hasn't strengthened when the opportunity has presented itself, just that he'd rather see if he can make a team add up to more than the sum of its parts by working closely with all of his players. Why, then, are so many people surprised by the fact that that's what he wants to do?
The vast majority of Liverpool supporters can't speak highly enough about the manger. They love his attitude on the sidelines, they love the football that his team's been playing this season and they love it when he gives an interview on American television and swears live on air. In fact, all but a few cranks love everything about Jürgen Klopp apart from when he does something quintessentially Jürgen Klopp.
The Coutinho sale is a prime example. From Mario Götze through to Robert Lewandowski, Klopp has allowed some of his most talented players to leave when they've had their hearts set on a move. The difference between those two and the Brazilian was that they both continued to give their all for Borussia Dortmund until the moment they left, whereas the Little Magician gave his manager the impression that he wasn't willing to do that if he was made to stay. Klopp didn't want to keep him, so Barcelona got their man. Those that profess to love the German couldn't believe that he didn't force the midfielder to stay, in spite of the fact that that's simply not how he operates.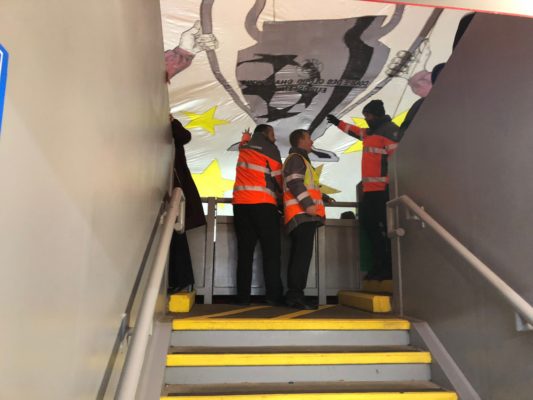 Manchester City's form this season has left some with the impression that we're well off the pace. The reality is that Manchester United are more like where the league leaders would be at this stage in any other campaign, meaning that we'd be ideally placed to launch a title challenge. Klopp is building a team that is learning lesson every step of the way and coming together more and more with each passing week. We might not win a trophy this time around, but the manager still deserves enormous plaudits for how much he's transformed the club.
We'll lose another game before the season's out. Let's just not lose our heads when we do.