If you follow me and a select group of others on Twitter then you'll no doubt have witnessed a somewhat intense conversation blowing up over the past few days. It's come about because some supporters, such as Mike Nevin, believe that Jürgen Klopp is getting a much easier ride from supporters than his predecessors. Others, like myself, feel that that is only partially true and, even if it is, isn't necessarily a bad thing. After all, the likes of Rafa Benitez and Bredan Rodgers were treated pretty disgracefully by large sections of the support base, so isn't it a good thing if the current incumbent is given more respect? Paul Cope wrote an interesting article for The Anfield Wrap discussing it all.
No-one has the balls to say he's making a pigs ear of managing the season. Mistakes in every department.

— Mike Nevin (@michaeltnevin) 24 October 2017
Paul's article explores the reasons for Klopp not coming under more criticism. Is it, for example, because he's such a nice bloke that it's generally seeming to win people over? Part of the conversation between myself and Mr. Nevin was around the fact that I wasn't sure what he wanted to happen. Was his point a call to arms? Did he want some sort of action to take place? Or was it merely an observation of a current phenomena that he found interesting, as Mr. Cope suggested. I like Paul and Mike a lot, they're both good blokes and big Reds. This article isn't a response to what they've said; rather it is inspired by it. As with any point, it's always worth going away and taking on board what the other side has said. If I remain entrenched in a position, refusing to budge even slightly on how I see things, then I may as well be a politician.
Is Klopp Escaping Criticism?
In any situation, the first thing to think about is whether or not the initial point is a valid one. Is it true that Jürgen Klopp is escaping the same level of criticism that was directed at some, if not all, of his predecessors? On that point I think there can be no argument. Despite having won a European Cup in his first year and an FA Cup in his second, I struggle to think of a more divisive manager amongst the fanbase than Rafael Benitez. Ironically, that division isn't as blatantly present now as it was back when he was our manager, with most supporters nowadays pretending they were always on the side of the angels. When the Spaniard was in the hot-seat there were Liverpool fans in the ground calling him a 'fat Spanish waiter', even whilst his team on the pitch was gunning for the title.
Good job I'm not in politics anymore. ten years ago I chanted you're just a fat Spanish waiter at rafa.

— Michael Burke (@MichaelBurke89) 23 October 2017
Nowadays, whenever Rafa returns to Anfield, he gets a hero's welcome. The ground is pretty much united in its affection towards a manager who was the last to offer any sort of genuine stability to the football club, in spite of the civil was that was taking place around him in both the boardroom and the stands. At the time, however, most of those same supporters were openly arguing with other; having stand up rows over his tactics and suitability as manager. Certainly there is no such division over our current manager. Even the mere suggestion from Mike Kevin on Twitter that Klopp's not having a great season has resulted in an exchange over one hundred tweets long, with most people arguing against him. Rafa, then, certainly had a much harder ride than the German.
What of Bredan Rodgers? Does that even need much arguing over? Some supporters took against him from the very moment he was appointed, mainly because of the man he replaced. Kenny Dalglish is one of the biggest legends in the history of LFC, up there with Shankly and Paisley and rightly having a stand named after him recently. It didn't sit well for some that he took us to two cup finals, winning one and coming within a whisker of the ball crossing the line to take the other to extra-time, but still got sacked. They were wiling to turn a blind eye to how poor we were in the league under King Kenny because 'Liverpool Football Club exists to win trophies'. Even so, the appointment of a young manager who had not proven himself rankled and the Northern Irishman wasn't helped by Being: Liverpool, the documentary sanctioned by the owners and taking supporters behind the scenes.
Do not feel sorry for Brendan Rodgers a bit man is a ultimate mid table fraud manager

— Jack (@Jackinho666) 18 October 2017
Certainly he didn't help himself at times, spouting quotes that wouldn't have sounded out of place in The Office and trying to hard to prove that he was a good manager with words rather than letting his team's football do the talking. He completely changed the way we played football, taking us closer than any other manager to winning the Premier League and completely reinventing Steven Gerrard's role at the club in his twilight years. Despite that, so many of our supporters continue to refuse to acknowledge the manager's role in our title challenge, declaring him to be responsible for the errors but nothing to do with the successes. Those, they say, were all down to Luis Suarez and Rodgers was nothing to do with it. No question, therefore, that Rodgers received far less support from the word go than Klopp continues to receive now.
Isn't It A Good Thing?
Paul and Mike are right in their declaration that it's an odd phenomena we're currently witnessing. My question is: does it matter? Surely we can all agree that the manager receiving support and backing from the fanbase is a good thing? For starters, I'm fairly sure we're all sick to the back teeth of changing who's in charge every time things aren't going absolutely perfectly. It's true that neither Rodgers nor Benitez received the same level of adoration from the supporters that Klopp's been given, but I think that's because we all got it wrong back then rather than are getting it wrong now. Giving Klopp the same amount of stick as two of the previous incumbents received isn't a solution to anything. Instead of asking why he's not being criticised more I think we should just be grateful that he isn't.
Klopp: "If I could come in today on this level that the team has now and I could say again 'doubters to believers' eh."

— Anfield HQ (@AnfieldHQ) 16 October 2017
To be clear, neither Paul nor Mike appear to be asking us to jump on the manager's back. I have no desire to put words into their mouths so if you'd like to know more about what they're after then I'd suggest you tweet them or read Paul's article. What I think they're trying to say is that we should all be able to talk about the manager in a more balanced fashion, free of any adoration that seems to have been in place since he was appointed. Certainly there's a minority of supporters who seem to think that we should be grateful that Klopp's taken on the manager's role. Not only is that not the case, nor should it ever be. Liverpool Football Club remains one of the biggest and most successful sides in world football, so the idea that anyone is doing us a favour by coming to us is a nonsense. Equally, though, criticism of him has to be balanced too.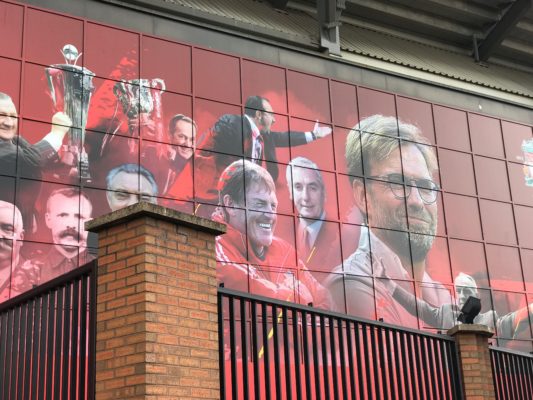 I've often talked in my pieces about the fact that we fell much further than a huge number of fans realised under the ownership of Tom Hicks and George Gillett. We came as close to going into administration as it's possible to get, avoiding it by a matter of days if not hours. That misery was compounded by the appointment of Roy Hodgson as manager. I firmly believe that we would have been involved in a relegation fight if the current Crystal Palace manager was allowed to remain in place for the duration of the season. (As a side note, I think the notion put forward by some portions of the press that Liverpool fans were unfair to Hodgson is a nonsense invented after the fact. Most supporters were willing to give him time when he arrived, with the hatred for him only arriving after we witnessed the performances and heard what he had to say to the media). Between our former owners and Roy Hodgson, we hit the lowest point in my lifetime as a club.
#lfc Hicks and Gillett nearly put us out of business. We had Hodgson and Konchesky. Now we have Klopp and kept hold of Coutinho. Perspective

— Syd Penfold (@dooleys73) 17 October 2017
It's been seven years since those two cowboys were kicked out of the club, but I'm not convinced that we've fully recovered – either behind the scenes or in the stands. I would put Jürgen Klopp into the same bracket as FSG: they have done well but could do an awful lot better. As I said a moment ago, criticism of the manager needs to be as balanced as any praise of him should be. There's no question that we're in a bit of a sticky patch at the moment; heavy losses to Manchester City and Spurs cannot be easily dismissed, regardless of any mitigating circumstances. That said, we're unbeaten in Europe and top of our Champions League group. We've also only lost three league games since February. The flip side of that is that we're ninth and twelve points off the top. Then again, we're only three points off fourth.
For every argument, there is a counter-point available if you're willing to look for it. Klopp should absolutely be criticised for certain things, yet he also took us to two cup finals in his first season and a top four finish in his second. The latter might not sound like much, but it only happened once in the previous seven seasons before his arrival. He has blindspots, there's no doubt. I cannot believe that he not only thinks Simon Mignolet is good enough to be our goalkeeper but also chose to reward him with a new contract last year.
I also think his tactics regularly ask too much of the players he has available to him. The counter-argument would be that we had the best record of all top six sides against the others under him last season, so he obviously knew what he was doing. Might we have given Spurs more of a game if our defence didn't repeatedly commit hari-kari against them? Who knows. He picks the defence, of course, so even that's on him.
In conclusion, there's no doubt in my mind that Mike and Paul have a point in their observations. That doesn't mean that something has to be done about it. The manager should be questioned, he should come under criticism. Yet we should also look at all of the facts when we're criticising him and make sure that we don't go too far. His tactics have occasionally been questionable, but an international football shouldn't play as poorly as Dejan Lovren did against Spurs. A top four goalkeeper shouldn't be jumping into his own players when under no pressure to palm the ball instead of punching it. They're not managerial instructions or tactics, they're just mistakes.
At the moment Klopp is still very much in credit, so let's keep giving him our support. We just need to make sure that it's not unequivocal support that ignores his faults.