Footballing rivalries will always dictate how people feel about clubs that aren't their own. I'll always believe, even if only slightly, that Manchester United probably wouldn't have won quite as many titles as they did during the 1990s, for example, if referees hadn't been so generous to them. We all know about the current Manchester City side, of course, who have won numerous titles in recent times thanks to the spending of billions of pounds in oil money. As for Everton….bless. Obviously supporters of those three clubs would also have less than generous things to say about Liverpool, up to and including the suggestion that our Champions League win last season wasn't as valid because it was a 'poor year for the competition'. It's rivalry. We're all guilty of it and it's folly to get caught up in world of trying to justify how we feel.
It's Vietnam v. Man City. A dictatorship with a shady leader & dodgy finances which few people visited before the 2000s – against Vietnam.

— Differently Dave (@GoldenVision90) July 27, 2015
On the one hand, then, it makes perfect sense that supporters of other clubs would scoff and mock the idea of Liverpool Football Club's slogan 'This Means More'. Do we really get to claim that winning games means more to us than it does to another team? Are we honestly saying that Evertonians wouldn't celebrate a league win as much as us? Ask a Leicester City fan how they felt about winning the League in 2016 and see if they were indifferent about it. Yet somehow there is a sense of truth to the idea that winning the league would mean more to Liverpool supporters right now. It's easy to be dismissive of marketing slogans and words that were invited by some bloke in a suit, probably based in London and having never visited Anfield before. But I also think it's just as important to hold your hands up sometimes and say they got something right.
We've Never Been Closer To Winning The League
Part of the reason I think the notion of 'This Means More' is a fair one to apply to Liverpool just at the moment is that the league feels tantalising close. I'm not saying this just to mock Evertonians, though I rarely need an excuse to do so, but part of the reason why the Blues don't feel it 'means more' to them is that they're not even close to competing for the Premier League title. In fact, it's entirely possible that they spend this season fighting for their Premier League survival. Whilst things aren't quite as dire for Manchester United, the club is certainly in enough of a pickle right now to mean that supporters are mostly just feeling a little bit lost rather than getting excited by the idea of a title challenge. As for City, they've won the title two years running and it's difficult to be quite as thrilled by the idea of a third, though there's maybe a degree more engagement from supporters at the idea of stopping us winning it.
Man City fans have gotten so obsessed with "stopping" Liverpool winning the league it is now getting in their players' heads. Different breed.

— Mrinal Narang (@narangmrinal) October 6, 2019
For the Reds, though, a Premier League title win hasn't felt closer in decades. We won the European Cup last season by seeing off a Barcelona team that had a three goal head start. Not only that, but we did at the same time as racking up ninety-seven points in the league, that would have been enough for a top-flight title any other season apart from the two that City won it. It feels as though the promised land is just within our grasp, if only we can have a few moments of luck go our way. An eight point lead in the league doesn't mean it's won, not by a long shot, but it puts us in a very nice situation. I'd far rather be eight points ahead of Pep Guardiola's Manchester City side than eight points behind them. The release at the end of the win over Leicester City last weekend was visceral, it was raw. It's only October and yet it felt as though it could be a season defining result. The rate that the Cityzens have gone at for the past two seasons means draws can't be enough. Wins mean more.
It's What We Want More Than Anything
The reality is that a league win is what we all want more than anything. It feels so achingly, desperately close and that means more because we would all give anything for it. Sure, the older supporters who saw us win so many titles in the 1970s and 1980s were just as thrilled by our Champions League win last summer and would be more than happy to see us defend it this time out, but for those of my generation we'd give anything for a Premier League winner's medal to be hung round our players' heads. Whilst we know it's October and we know it's far too early to be getting carried away with even an eight point lead, it will feel like we've thrown the title away if we don't end up lifting it from here and that would be heartbreaking in a way I'm not entirely sure the fanbase would recover from.
Wolves 2-0 City
This is unbelievable stuff really, 8 point gap at the top now, and Liverpool don't seem like stopping. Maybe it is the end of the 30 year road😭

— Blue is the Colour (@DaPulisicTrain) October 6, 2019
When Leicester City were clear at the top in December of the 2015-2016 campaign my Foxes supporting best mate was still confident that they'd miss out on the title but was proud of his teams accomplishment of even being involved in the race. We came too close last season to feel comforted by any glorious failure this time around. Winning the league would mean anything to any set of supporters, of course it would. But for Liverpool, after thirty years of watching rival teams win trophies and coming second time and time again, it just does feel like it means more. It might sound trite, it might seem like the sort of thing that is primed for Mickey-taking from other sets of supporters, but the reality is that there's some inescapable truth to it.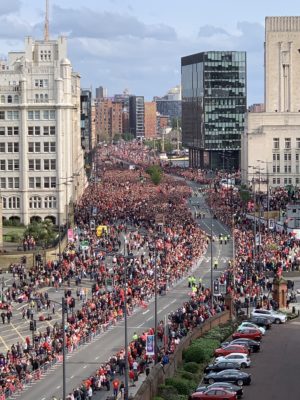 Liverpool Football Club doesn't have a divine right to anything. We're no more worthy of a league win simply by coming close a couple of times than Everton are guaranteed to stay in the Premier League simply because they've been in it the longest. Instead, such success has to be earned. It feels like we're really close to earning it, though. It seems as though, with a fair wind behind us, we could finally end the club's long and painful wait for a top-flight title. When it does eventually happen, whether this season or not, it will mean more.