Our win over West Brom at the weekend somehow felt like a crucial moment in the season. After the match pictures emerged of the players celebrating in the dressing room, something that Jamie Carragher has previously criticised Arsenal for when they did after grabbing fourth place. Yet this time, perhaps because I'm bias, the result felt more deserving of a moment's celebration. The fact that you can see some players in the photo with ice packs on, presumably nursing bruises after a very physical game, goes someway to suggest why the lads felt as though they'd achieved something.
A changing room celebration pic from Dejan Lovren.

Thoughts, @Carra23? pic.twitter.com/JzmKU4alIx

— This Is Anfield (@thisisanfield) April 16, 2017
Yet we're sadly not over the line quite yet. It felt like a big moment because Stoke and West Brom are exactly the sort of teams that we've struggled to beat this season but we emerged from back-to-back games against them with six vital points. Given Manchester United's win over Chelsea later on Sunday afternoon, the win against the Baggies proved to be even more important. So how should we approach the remaining five matches of our season? With Champions League qualification being more important than ever, in terms of both financial recompense and the ability to attract the players the manager wants, we absolutely cannot rest on our laurels.
Crystal Palace (h)
Ah Sam Allardyce. One of the Premier League's managerial mafia, somehow always involved in the conversation when a new job comes up despite being corrupt enough to have been sacked by the Football Association when England manager. Doubtless he tells his mates that he's the only England manager with a 100% win record, as he guffaws and sprays pie crumbs and real ale all over them. In virtually any other public facing industry the allegations that ended his time as England manager would have ended his career, but football is a different beast and clubs will turn a blind eye to all sorts when they need to.
So it is that Crystal Palace will rock up to Anfield with Fat Sam in the hot seat, hoping to get one over on a foreign manager and prove that there's nothing they offer that British coaches can't do. The good news is that the Eagles will be without Mamadou Sakho, who's been influential for them at the back since joining on loan from Liverpool in the summer. Whilst the debate rages around whether he should return to Anfield when the season's come to an end (he shouldn't and I've explained why here) the truth is that it's a good thing for Liverpool that he won't be able to line up for them.
This is one of three home games that we should be looking to win, with nine points putting us in a virtually unassailable position as far as the top four is concerned. I may not be Allardyce's biggest fan, but one thing I do admire about him is that he's pragmatic. He won't be preparing his time as if this the FA Cup final, instead opting for giving it a good go but not stressing too much if they go behind. He knows that they've got us then Spurs, but after that it's Burnley at home. That's why I think we should go at them hard and go at them early. Get a goal or two to the good in the first-half and they'll be happy enough to see out the game. Let them grow into the match, however, and they could take the confidence and cause us problems.
Watford (a)
Watford manager Walter Mazzarri is not convinced that his club are safe yet, despite hitting the magical 40 point barrier. That puts them twelve points clear of the relegation zone as things stand and means that the Hornets are one win away from being mathematically safe, presuming that Swansea lose at the same time. As we're taking on Crystal Palace this weekend, Watford are heading to Hull knowing that three points against their relegation rivals should be enough to keep them in the Premier League for at least another year. Let's hope very much that they get that win.
It would help Liverpool a lot if we were heading to Vicarage Road to face a Watford team ready to have a party, safety assured. They're one of the teams that we gave a good hiding to at Anfield, putting six past them and playing some sumptuous football back in November. If they're still looking for points to remain safe when we go to their place then it's entirely possible that they'll fancy seeking a bit of revenge. The last time Jürgen Klopp took a team to Watford he left with egg on his face, of course, going down to a 3-0 loss when Quique Flores was their manager and Adam Bogdan dropped the ball into his own net.
I'm not Simon Mignolet's biggest fan, yet even I'll admit to having significantly more confidence in him than Bogdan. The flip side of the who argument about wanting them to be safe is that if they are then they might play with a bit more freedom. Knowing you're not getting relegated can free players who have previously been playing with tension and the Hornets have already beaten Manchester United and Everton at home as well as Arsenal on the road. More than all of the others, this game feels as though it's going to be about not being complacent.
Southampton (h)
When Southampton arrive at Anfield on the 7th of May it will be the fourth time we'll have played them this season. The games that have come before didn't quite go the way we wanted, either. Yes we outplayed them at St. Mary's in the league fixture, having 65% of possession and registering fifteen shots compared to the host's three, but only two of our shots were on target and in the end they were able to hold out. They were the only team we failed to beat in November, yet what should make the lads sit up and take notice is the fact that it came on the back of that 6-1 win over Watford…
On paper this is the hardest fixture we've got left. Claude Puel knows how to marshal his team to cause us problems, as they proved when they beat us 1-0 in both legs of our League Cup semi-final match-up earlier in the season. They turned up at Anfield and frustrated the hell out of us, even though it was pretty much a full-strength squad that went up against them. Serious teams with serious claims of top four finishes can't lose at home to Crystal Palace or Middlesbrough, but Southampton have caused better teams than us problems in the past; they earned a 1-1 draw at Manchester City back in October, for example.
Having said that, Saints best performances seem to have come against us. They lost 5-0 to Arsenal in the FA Cup, 3-0 to Everton at Goodison Park in the league, lost 4-1 to Spurs at home and 2-1 away and even lost to Crystal Palace at Selhurst Park. We need to either put the last three games against them out of our mind or else use them as a desire to gain revenge for knocking us out of the cup. Whatever we do, though, we have to take the game to them and not let them get into any kind of rhythm.
West Ham (a)
It's been a curious old season for West Ham United. They're not the first team to struggle to adapt to a new stadium, but even they will have expected to do better since they left the Boleyn Ground and rocked up at the Olympic Park. Was Slaven Bilic's performance as their boss last year just part of the topsy-turvy campaign that saw Leicester City crowned champions, or is it this season that's the outlier? It's difficult to tell, but it's certainly no bad thing for us that they've failed to adapt to their new surroundings all that quickly.
Obviously our failure to reach the final of the League Cup means that we haven't had the chance we would have liked to play on a big stage, so Jürgen Klopp should have no problem persuading his players to treat this game like a cup final. There's an argument that that's why the Hammers have failed to make the Olympic Park their home: every team that turns up there wants to put on a show because it's such an impressive venue.
The issue we've got is that we've failed to beat them three times since Bilic's appointment. The 3-0 loss at Anfield in August of 2015 was one of the final nails in Brendan Rodgers' coffin, with Jürgen Klopp failing to fare much better when we lost 2-0 at Upton Park at the turn of the year. A 2-2 draw at Anfield this season is just one example of a game drawn that we should have won, so we really can't afford to make the same mistake again. I hope Klopp gets them geed up for this like it's the Olympic final, then we could do what City or Arsenal did there and put four or five past them.
Middlesbrough (h)
The last game of the season sees Middlesbrough rock up to Anfield. Everyone always talks about how dangerous it is to play teams fighting relegation towards the end of the season, yet the truth is if they're fighting relegation then they're probably not very good. It's only dangerous if you're complacent and, in fairness, Liverpool have been guilty of complacency on more than a few occasions over the Premier League years. At the time of writing, the Boro are six points away from safety with six games left to play. They're rapidly running out of time to stay in the top-flight.
The ideal situation is that this game is something of a dead rubber, giving both sets of players one last runout before the season runs its course. The worst thing that could happen is that Boro need to win to stay up and we only need a draw to get Champions League qualification. If we needed to win to guarantee a top four finish then I'd be confident that we'd manage it, but only a draw and suddenly I'm nervous because of that old complacency word I just mentioned. When we played them at the Riverside we beat them quite comfortably and I'd expect us to repeat that trick again at Anfield.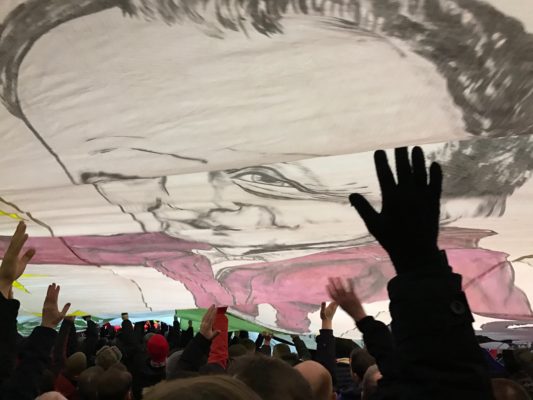 Few things are ever certain in either life or football, but with Manchester City, Chelsea and us still to play them you'd have to fancy that Middlesbrough are going to struggle to pick up the points they'll need for safety. Their results on the road are something of a mixed bag, having drawn with Arsenal and Manchester City but lost to Everton, Manchester United and Spurs. How much Jürgen Klopp will need to keep his players focused on this game and not thinking about their impending friendly in Australia will depend entirely on how results go for both teams in between now and the final game of the campaign. Top four is crucial for our development and, if we can get there, will represent real progress.