Given that we're in the middle of a mini-break, it isn't always easy to come up with content for blogs and websites. I was considering a piece on the idea that Liverpool have dropped more points from winning positions than most other clubs in the Premier League, but then I thought that having a look at the manager might be more interesting. After all, some people will make their judgement on what the German's done at the end of the season based on nothing more than what happens in the Champions League and whether or not we finish in the top four. For them it is binary – winning the Champions League would be an unquestionably excellent achievement, finishing in the top four is the 'minimum requirement' and missing out on both would mean it's been a terrible season. I'm a little more circumspect than that and think that laying out your stall on what constitutes 'success' before the season comes to a close allows for a more realistic appraisal.
I have long felt that if you decide that achievements are binary depending on success in competitions then you're always likely to make quite poor decisions about a player or manager's future. The adage that 'Liverpool Football Club exists to win trophies' is, for me, slightly misleading. After all, if we'd ended this season with an FA Cup, League Cup and Europa League treble but were relegated out of the Premier League, would it have been a successful campaign? I would suggest most people would be disappointed with us losing our top-flight status, yet we'd have won trophies and isn't that what that phrase suggests is all important? Those that point to Kenny Dalgish's League Cup win in 2012 combined with the club reaching the FA Cup final in the same season happily turn a blind-eye to Liverpool's appalling league form back then. We were good in the cups but finished eighth in the Premier League with fifty-two points. The truth, then, is that trophies are important but building towards something matters to.
Where We Have Been Isn't The Same As Where People Think We Belong
I can absolutely understand why supporters of other clubs find it funny to laugh at Liverpool fans and our 'this is our year mentality'. It's something I've long wrestled with. On the one hand, I absolutely think that Liverpool supporters, players and our manager should believe that we have a chance of winning every trophy we compete for each and every year. If we don't, what's the point in even trying? Yet on the other, I'm not sure where modern day Liverpool fans have got the idea that we 'deserve' to be challenging for the title from, exactly. This won't sit well with countless supporters, but the reality is that we haven't been a genuine force at any point during the Premier League era.
Since the First Division was re-invented by Sky Sports back in 1992, Liverpool Football Club has finished second on three occasions. In 2001-2002 Gérard Houllier's team finished seven points shy of Arsenal but didn't take the fight down to the wire, with the Gunners winning the title with two games to spare. In 2008-2009 things weren't all that much different, though the Reds were unfortunate to come up against a Manchester United side that simply didn't let up its charge to the top. We missed out by four points, meaning that the Red Devils won it with a game to go. The closest we've come was in 2013-2014, forcing Manchester City to win it on the final day of the season and losing out by two points.
Twenty-five league campaigns, three second-place finishes and only one that involved taking the race for the title down to the wire. In the ten seasons since the 2007-2008 season we've finished in the top four just four times. We've only done so in back-to-back campaigns once, which was nearly a decade ago. When you remove emotion and look at the cold hard facts, it's actually quite easy to see why some opposition supporters thing we're arrogant in believing that we 'deserve' to be fighting for titles every season. The simple truth is that we haven't won the top-flight for nearly three decades and the idea that some supporters are being snooty about the possibility of us finishing in the top four again this season is actually quite laughable.
Another Top Four Finish Would Be An Achievement
That's why I think another top four finish this season, even if it's not accompanied by a trophy, is something that should be celebrated. I know that the more old-school Liverpool supporters will disagree with that, but the fact is that getting into the Champions League matters. We'd all love for players to want to play for the club simply because of our history and reputation in the game and around the world, but that's not the way the game works. We have to be able to offer them something and the same sort of wage packets that Manchester United, Chelsea and Manchester City can promise them aren't on the agenda.
We can lament that fact, desiring new owners at the club or for the current ones to change the way that they operate, but that won't change anything. Personally I like that Fenway Sports Group want the club to operate within its means, though I understand why others don't. Regardless, having European football to offer will attract top-class players and qualifying for the Champions League several times in a row suggests to them that we're a team that is making it our business to constantly be at Europe's top table. It's why if we finish in the top four I'll be celebrating it as if it were a trophy – though that doesn't mean I think finishing in a Champions League berth alone will always be enough to stop Klopp from being under pressure.
You have to remember that we haven't done it twice in a row for nearly ten years. Whether Liverpool Football Club is 'European royalty' or not, we don't have a divine right to be in Europe's top competition. We have to earn it and we haven't done that anywhere near often enough in the recent past. Spending this season reinforcing the notion that we're a more reliable option than Arsenal and one of Chelsea or Tottenham Hotspur is useful for any number of reasons. That's especially true when you realise that consistency is key to a possible title challenge. Yes, Leicester City bucked the trend when they won the title two seasons ago having not challenged prior to that, but it's worth remembering that there's a reason that was a 5000/1 shot. Every other title winner in the Premier League era had finished in the top four the seasons prior to when they won it, with the only other exception to that being Chelsea's win last year.
Champions League Progress Is Also Worthy Of Respect
Rafa Benitez was an undisputed mastermind of European football. Two Champions League finals in two years was an incredible achievement by the Spaniard that quite rightly sees him revered by a huge number of Liverpool fans. Yet there's a huge difference between doing that with a team that had gained a decent amount of European experience in the previous four years thanks to both the UEFA Cup and the Champions League and one that hadn't made it to the knockout stages of the Champions League for nearly a decade. This side has gained European experience thanks to the current manager, with him masterminding its journey to the final of the Europa League in his first season. That he did that on the back of a tricky draw and with no experience of working with the players is all the more impressive.
Barring some sort of disaster in the second-leg in a fortnight's time, Liverpool will be playing in the Champions League quarter-finals. If that's where the journey ends then that's still a hugely impressive achievement. If we go on further then we should all be very excited about what that means for the future, even if we don't win it. I genuinely can't believe that some supporters are a bit disappointed with this season when you consider that we're heading into the quarter-finals of the Champions League and shouldn't be even remotely worried about the team that we draw in the next round. There's not one team that I think Liverpool will have no chance against, which is mightily impressive when you consider that the likes of Barcelona, Manchester City and Paris Saint-Germain could be in the hat. There's nothing I'd like more than to win it, but progress of any kind should absolutely be celebrated.
What Will Class As 'Success'?
Everyone will have their own answer to that particular question, but I'm putting on record right now that I would consider progress in the Champions League and a better points haul than last season to be progress. I would envisage that eighty points would see us finish in the top four, but even if it doesn't I personally won't be asking too many question. If you hit around the eighty point mark with a couple of games to go for five seasons in succession then one of those seasons will develop into a title challenge. That's the reality of the Premier League and I would fair rather Liverpool got eighty points repeatedly than seventy-six one year, seventy-five the next and eighty-three the one after that.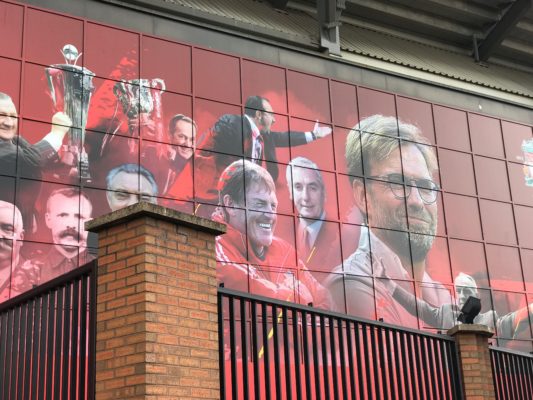 In all of those second-place finishes in the Premier League era, Liverpool have fallen away the season after. In 2001-2002 we managed eighty points, the year after it fell to sixty-four. 2008-2009's eighty-six point haul was followed up with sixty-three points the next time out. We all know what happened in 2013-2014, when our eighty-four points wasn't enough to claim our first title since the new format was introduced. What we've probably all tried to block out was the terrible season we endured the following year, when our points haul plummeted to sixty-two. It's boom or bust for Liverpool teams and title charges in recent times, so stability would be something that I for one would welcome with open arms.
Klopp's Not Perfect
None of what I've said here is to suggest that Jürgen Klopp is perfect or that no criticisms can be levelled at him. His substitutions mid-match don't always turn things in our favour, for one thing, occasionally leaving us looking weaker than before changes were made. As I mentioned in my intro, we've dropped points from winning positions numerous times this season and the manager has to shoulder some of the responsibility for that. It's something that goes hand-in-hand with his faith in players that is sometimes not particularly warranted. Where would we be right now if the manager had realised how weak Simon Mignolet was as soon as he arrived at the club, for example?
Some people might point to his decision to sell Philippe Coutinho as a weakness in his managerial style and I do have some sympathy with that viewpoint. Yet at the same time his faith in his own ability is something that's got him where he is today and if you took that away from him then where would we be? There seem to be some people who are desperate to attack him for the decision to allow the Brazilian to go, even to the extent that they're claiming with mystic sight that we'd go further in the Champions League than we do go if we hadn't sold him. Yet will those same people admit that he got the decision absolutely right if we achieve the seeming impossible and win the thing? After all, if you're willing to criticise him for doing something you don't like then you also have to congratulate him if he proves you wrong.
He's stubborn, which some people will feel is another thing to criticise him over. I'm interest to know which successful managers over the years haven't been stubborn, though. A lot of that comes down to that faith in his own ability as a manager that I've just mentioned. The development of players from Roberto Firmino to Sadio Mané via Andrew Robertson and even Ragnar Klavan would suggest that his faith isn't exactly misplaced. It's the difference between being obstinate and feeling that your methods are working exactly as you want them to. Ultimately he'll have to prove his worth by putting shiny silver things in the trophy cabinet, of course, but for now we're heading in exactly the right direction. Too many people have, perhaps, allowed the form of Manchester City to fool them into thinking this season is under-whelming. Regardless of what happens next, things are going very well indeed.