Joel Ormsby is a friend of mine. We met at the Birmingham School of Acting in 2005 when Joel joined the year below me. There were many reasons why we got on, perhaps not least of which was the fact that he's from Ireland and I'm from the North and people from the Ireland and the North generally tend to enjoy each other's company. Another thing that meant we got on was our love of football, despite the fact that Joel's a Manchester United fan. In many ways Joel, and a mutual friend called Aaron, taught me that there are some United fans out there that you can have a sensible conversation with.
Given that it's currently the international break and that that's about as appealing to most Liverpool fans as an evening with Roy Hodgson, I thought I'd interview Joel to see what he makes of our season so far. I often find that someone from outside the 'bubble', who has no vested interest whatsoever in putting a positive spin on things, can give you more of an honest assessment of how things are going than anyone else. I wondered what Northern Ireland's brilliant form of late could be put down to and if there's anything Liverpool fans can learn from the Green and White Army. Here are the full, unedited responses from Joel:
How did you start supporting Manchester United and how long have you supported them for?
The majority of Premier League watching fans in Northern Ireland (and indeed in the Republic of Ireland) are fans of either Liverpool or Man United. Theres a few fans of other clubs – normally whoever your uncle or dad might have had a trial for once – but mainly it's Liverpool and United. My family are all United fans, so I was born into it. No choice in the matter.
How much football do you tend to watch during the week?
As much as I can based on my work schedule, which is fairly hectic. I'll normally catch most of any games on a Wednesday after I've played five-a-side, maybe a game or two on Saturday and a game most Sundays.
I also watch all of the extended highlight shows and the start of Monday Night Football – you know, the bit before the actual football (although If i do have a Monday night off I'll often catch it as well.)
What are your earliest memories of supporting Northern Ireland?
I remember a time when I was in secondary school, probably around or 2003 or 2004, when you couldn't admit to being a Northern Ireland fan for fear of derision because they were so bad. They actually ended up holding the record at the time for the most minutes without a goal – 1298 minutes, which is two years and five days or thirteen and a half games.
Have you ever had more fun watching your national team than you are doing right now?
In short, not in my lifetime. I was born in 1988 and therefore missed watching any of the Spain '82 or Mexico '86 teams. We certainly have the strongest squad and manager we've ever had in the way he sets up the team against different opponents. It's incredible to think that after this upcoming weekend of international fixtures we could potentially be 6th in the world!
It is of course highly unlikely, give we would need to beat the Germans at home and hope that all the teams above us essentially lost their remaining games. Still, the fact that it is mathematically possible is crazy. We're a country of 1.7 million people! To put that into context, it's less people than live in the Liverpool-Birkenhead metropolitan area. (YES I GOOGLED THAT, IT'S ALL HERE)
The most pleasing thing recently has, of course, been the results. It's been good fun to see Northern Ireland play since the middle of that aforementioned barren run, to be honest. When we hit the post the fans would chant "A goal, we nearly scored a goal" and "We're gonna win 4-3" when down to the likes of Liechtenstein. When we finally broke the record for the longest period of time without a goal the fans went crazy and chanted "Championes!" and when we did actually manage to score the place went crazy.
Around the middle of that barren run is when the fans decided they would get a real party atmosphere going – because if you'd leave disappointed by the football you should at least fully enjoy the experience – and that's sort of held steadfast.
Why do you think Northern Ireland supporters are more into international football than England fans?
This is a big question and there's a whole host of possible reasons, which I'll perhaps try to touch on.
Firstly, with no disrespect to the Irish League, the standard is poor. Combine that with the often prohibitive costs of Premier League games; travel over the Irish sea; accommodation and so on; there's certainly the point to be made that it's the only chance that many people get to attend matches of any sort of professional standard.
It also probably helps that at the minute we are, of course, exceeding expectations – we're at our highest ever world ranking after all! Whereas I think England fans (and the media) have perhaps been more realistic about their chances in recent years, I could perhaps argue that England have played pretty boring football since Fabio Capello left the job. Steve McLaren, Roy Hodgson, Sam Allardyce and Gareth Southgate have all been poor and uninspiring managers and with that has come a certain amount of apathy.
For Northern Ireland international games feel like a huge event. There's the ever-growing repertoire of songs, the underdog status that we sort of still have as a country punching above our weight in the sporting world, and obviously the feel good factor. When the team are playing, the whole country gets a real lift.
That isn't the case with England. I don't think it helps that they only play at Wembley, but you can drive across most of Norn Iron in an hour or two so everyone can make one of our games game fairly easily.
I also think that we perhaps feel more connected to the players than England supporters do. There's a fair few fellas who ply their trade in the lower leagues in Northern Ireland and it's also probably part of our culture to let people know when we think they're getting too big for their boots. At away games, for example, fans often bump into our national team when they're on a night out after the game or on little trips they would take to a local viewpoint or tourist spot. Can you imagine that happening with the England fans and players?
What have you made of Liverpool's season so far?
I think your front six players are as dangerous as those of any team in the league. You also have some talented home-grown players coming through. You've certainly got the strongest bench that you've had in years. It seems like Gini Wijnaldum's transformation from winger / inside forward at Newcastle to box-to-box midfielder at Liverpool is close to complete. I think he's been a bit of an unsung hero for you this season.
What would you say to Liverpool supporters about the campaign from the point of view of a Northern Ireland fan?
I think that man Michael O'Neill and Jurgen Klopp may well be the 2 best man managers working in British football at the minute, actually. Obviously you're not defending particularly well at the moment and I know a lot of people put that down to the need for a possible replacement for Alberto Moreno, Simon Mignolet or a new centre-back (or perhaps all 3?)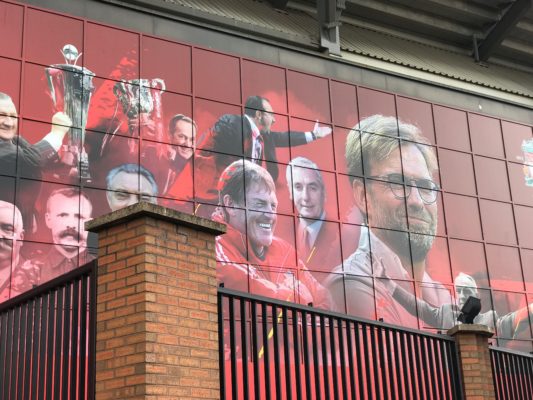 I would say this though: if we can qualify for a European Championship as first in the group (and become the first fifth-seeded team to ever do so) with two of our starting defenders playing below the Premier League at the time and our keeper playing in Scotland, then there's no reason why Liverpool can't make it work with the players they have.
Some may point to this as the poor quality of international football but that's not fair when you're up against great individual footballers. There are teams with poorer players that have conceded less than Liverpool. Obviously confidence and communication play a big part and that takes time to develop, but I would say that it's possible.
Something I'm a big believer in is the ability of the crowd to affect the game. Northern Ireland have been known to do well against big teams – indeed in the eight years or so before our recent successes we beat England, Spain, Russia and got an away draw with Portugal. If you look at our record in home games under both Lawrie Sanchez and O'Neill, it makes for pretty impressive reading.
I know of someone on a sports psychology course at a University in England who actually had a lecture on how crowds affect team performances that had a whole case study on Northern Ireland. So I think it's fair to say that the crowds at modern football need to do their bit to lift the team or give those defenders confidence. For years, when we made a comedy of errors leading to a goal, within 10 seconds of conceding someone is beating a drum and leading a chant of "Green and White Army!"
I believe it's the job of the fans to lift the players more than the other way around. Of course you have the right to boo as a paying punter, but I do think that the fans singing as loud as they can all game can lift a team. I've seen it happen enough times!
I mention this because when you think of great Liverpool sides and your European runs or, indeed, the team that came second a few years ago, Anfield was an absolute fortress. It was noisy, it was intimidating and I think it needs a bit more of this today. We've certainly always been hard to play against at home due to the atmosphere that the fans create.
From the point of view of a Manchester United fan rather than a Northern Ireland one, I really want Liverpool to do well. Seriously! The league is much more fun when Liverpool are doing well. It adds another subplot to the league and I love a bit of friendly rivalry.
Prediction time: How many points will Liverpool & Manchester United get? Where will they finish?
Like they used to say on the telly, it's no use looking at the league table until after 10 games. It's probably not best to make predictions until then too.
Liverpool can probably beat anyone on their day – they certainly have the firepower. You could potentially finish as high as 3rd I think, dependent on other teams injuries and/or more cohesion in the defence. If Harry Kane gets injured where are Tottenham's goals coming from, for example? However, I think it's more likely to be 4th or 5th – though you'll definitely finish above Arsenal!
I'd love to say I think that United will win the league, but I don't think that's true. Despite the fact that José Mourinho always seems to win in his second season in charge of a club, I think we'll probably finish 2nd or 3rd.
Conclusion
It's back to me speaking now, reflecting on what Joel's said. It's interesting that someone from the outside isn't talking about pressure on Jürgen Klopp or any other narrative that's swirling around the club at the moment. As supporters I think we tend to get caught up in the storm and can't see things from an outside point of view. Despite our defensive frailties and the fact that our forwards don't seem to be clicking at the moment, how many teams do you think will be looking forward to playing us this season?
It won't take much for us to suddenly click and once we get into a groove it will be very, very difficult for opposition sides to stop us going forward. As Joel said, the front six is as good as any in the league. Perhaps the key thing from Joel's words, though, is the affect that a positive crowd can have on how teams play. Northern Ireland aren't only doing well because the fans shout and cheer, but they might be getting an extra 5% out of their performances because of it. Whether it's in the ground or on social media, perhaps it's time for us all to adopt a more positive approach to Liverpool's season?