Speak to most Liverpool supporters and they'll tell you that they don't care what fans of other clubs think. Obviously there's an extent to which that is true; there would have to be given the manner in which those outside of Merseyside have enjoyed mocking us for thirty plus years. Yet I also think that there's an extent to which the lady doth protest too much. Everyone in virtually any walk of life appreciates the admiration of their peers. Last season Pep Guardiola took Manchester City to an unprecedented domestic treble, yet he spent most of the latter part of the season asking why his team wasn't being appreciated for its achievements rather than basking in the glory. It's a sign, perhaps, that even the most successful person in their field still wants to be shown the love for what they've done. Maybe you don't agree, but I personally am annoyed that excuses are being made for how phenomenal Jürgen Klopp's side actually is.
7️⃣0️⃣ – Liverpool reach 70 points after 24 PL matches. All other teams in top flight history needed at least 27 matches to hit 70, if they managed to at all (recalculated to 3 points for a victory).#LFC #WHULIV

— Gracenote Live (@GracenoteLive) January 29, 2020
The Reds are doing something unprecedented and are doing it when up against a Man City side that racked up one hundred and ninety-eight points across the previous two campaigns. Instead of talking about how amazing we are, the conversation has turned to whether or not the league is weaker than it's been in the past. It's a ridiculous conversation at the best of times, but it's even more offensive when you consider that no such conversation was had when Pep Guardiola was getting his team to one hundred and then ninety-eight points. The league is clearly not weaker, it's just that no other side can get close to Klopp's men. Whether they go the season unbeaten or not, whether they get over one hundred points or not, this will go down as one of the greatest football teams ever to play the game. That's something that is absolutely deserving of respect and it's high time that others started giving it.
It's Being Achieved Without A Sugar Daddy
Liverpool have spent money since Jürgen Klopp arrived at the club. The presence of Virgil van Dijk and Alisson Becker confirms as much. Unlike what José Mourinho did when Roman Abramovich took over at Stamford Bridge or Pep Guardiola has been doing at The Etihad, it hasn't been bankrolled by billionaires. Instead, the club is being sensibly run by people who have taken the time to understand English football and has made mistakes along the way. Opposition supporters will point to the high fees paid as if that proves that we've bought the title, but they refuse to acknowledge where the money for the purchases came from. If we hadn't sold Philippe Coutinho then we wouldn't have been able to afford the improvements in goal and defence. They were improvements that have completely changed the look of this team, but the rest of the side isn't made up of big money superstars.
Alisson has saved 35 of the last 37 shots he has faced on target

That's a rate of 95%

Thank you Coutinho 🇧🇷 pic.twitter.com/KeUiVMKQVr

— Carson (@WC_LFC_Torres) January 29, 2020
Trent Alexander-Arnold is a product of the Academy. Andrew Robertson was signed from Hull City in the wake of their relegation. Joe Gomez was brought in from Charlton Athletic as a youngster. That's the rest of the defence that is currently almost impossible to score against. It says nothing about Jordan Henderson, who was so unfancied by Brendan Rodgers that he was nearly given to Fulham in part of a swap deal with Clint Dempsey. What's the American up to nowadays? I ask, because the former Sunderland midfielder is the captain of the European champions and is likely to lift the Premier League trophy at the end of the season. Have a look how social media reacted to the signings of Mohamed Salah and Sadio Mané and you'll soon realise that no one was clambering for their signatures. It's also worth remembering that Michael Edwards still hasn't explained how he came up with the price for Roberto Firmino…
It's All About The Collective
Perhaps the thing that Jürgen Klopp has achieved more than anything else with this side is helping it to realise that you can't achieve anything unless you work as a team. You can see it every game when the likes of Jordan Henderson and Gini Wijnaldum move to cover the space left by Trent Alexander-Arnold or Andy Robertson when they move up the pitch to add to the attack. It's embodied most clearly by Roberto Firmino, whose goalscoring exploits have been lacking this season but whose movement opens up the space for his fellow attackers to move into. This is a gang of lads who know that the collective will always be worth so much more than individual glory. For proof, look at the fact that Mo Salah was the runaway top scorer in the Premier League two seasons ago but he ended the campaign with nothing to show for it in the sense of medals or trophy lifts. It will almost certainly be different this year.
That's 23 wins, now.

The same amount as Leicester recorded during their entire 2015-16 title winning campaign.

With 14 games remaining.

— Paul Anderson (@PaulAndo1987) January 29, 2020
I do wonder whether we'd be getting more appreciation for what we're doing if we played football that was easier on the eye. Guardiola's teams play in a way that's all about the players understanding his system, but their dominance on the ball means that they will always receive the admiration of others. Liverpool seemingly have to battle through every game to rack up the wins, showing a mentality that is second to none. That mentality is also deserving of praise, but instead too many people are suggesting that it's down to luck. You need a little bit of fortune to take ninety-seven points from the previous ninety-nine available, but luck alone won't do it. You need to have belief in your ability, trust in your teammates and a desire to succeed in order to do what we're doing. Last night is the perfect example. We got fortune when Trent's clearance struck the post, but the goal from Oxlade-Chamberlain was all about belief and skill.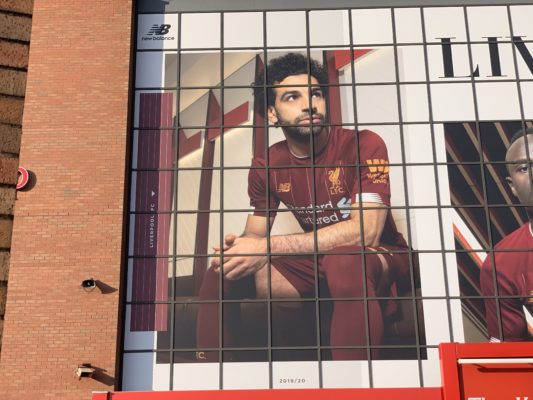 Plenty won't care that we're not getting the credit we deserve, but in years to come this Liverpool team will be looked upon as one of the best of all times. The saltiness of other fans won't stop that from happening.