There is one thing above all else that I continue to be amazed by: Liverpool supporters and their willingness to buy into any given media narrative. You'd have thought that Reds, perhaps more than any other set of supporters, would have learnt to take anything that members of the press say with a pinch of salt. Yet instead of remaining skeptical any time a story seems to pick up a head of steam, our fans tend to jump on board with it and soon enough it is accepted as common wisdom. If you don't believe me or you aren't sure what I'm talking about, take a trip back to Rafa Benitez's time at the club and the way that supporters were so quick to jump on board with the media's suggestion that he'd 'ranted' at Alex Ferguson or should have been sacked having 'not won the league' in 2008-2009.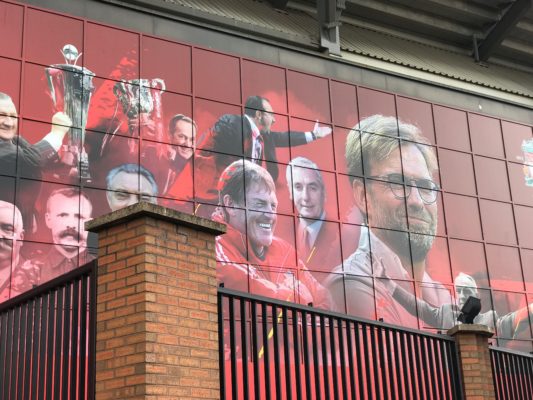 That sort of nonsense has manifested itself for Liverpool lately with the criticism heading Jürgen Klopp's way after he was less than friendly to Pat Davison when interviewed for Sky Sports in the wake of our draw with Everton in the Merseyside derby. It got to the point that some of our supporters sided with the Sky presenter rather than the club manager, in spite of the fact that the German was actually perfectly polite and even apologised at the end of the conversation. It also turned out that he was right to be so annoyed about the awarding of a penalty, with Dominic Calvert-Lewin quite clearly jumping into Dejan Lovren rather than being pushed by him. Without question, though, the oddest narrative that seems to have taken hold this season is the idea that we have a dreadful defence. It's not a narrative that I actually think holds much water, so I figured it was time to explore it in a bit more detail.
Saying We're Not Dreadful Doesn't Mean We Can't Improve
Before I begin to talk about the defence, I want to make clear that this doesn't mean I don't think we can't improve. Arguing with the narrative doesn't mean that I think Dejan Lovren, Ragnar Klavan and Joel Matip are the best defenders in the world. Though I agree with the manager's shout in the summer that there aren't many better defenders, that's only because I think he was misunderstood. The point I personally believe he was trying to make was that few defenders around would be a significant improvement to the players he currently has available to him. Had we gone out and spent £35 million on Michael Keane, for example, would he be £30 million better than Klavan? The Estonian has actually played well during his recent spell in the back four, with Lovren being nowhere near as bad as some of our fans are desperate to paint him as.
Jürgen Klopp revealed Joël Matip is back in training this week but should he return to the starting line up? 🤔

Ragnar Klavan & Dejan Lovren have conceded just 1 goals in the last 4 games together as a partnership. #LFC 💪 pic.twitter.com/grrpeF5DId

— LFC Transfer Room (@LFCTransferRoom) December 21, 2017
Again, though, this doesn't mean that I don't think there are any better players out there or that we won't be able to improve over the next couple of transfer windows. I am no fan of Simon Mignolet, for example, and I think that an improvement in the goalkeeper position would completely change the way our backline operates. Having someone who talks to his teammates would make a massive difference. Believe it or not, you don't have to declare our entire defence 'a complete joke' every time we concede a goal. Sometimes it's because of a refereeing mistake, whilst on other occasions the goal is a fluke. Other times still, the other team's attack just does something good and we aren't able to cope. How often do we refer to Liverpool's phenomenal attack but rarely give opposition team's the same sort of credit? Don't read this piece, then, and spend the whole time thinking I'm saying that we're all fine and dandy. My point is simply that things aren't as bad as some people want you to believe.
Players Taking To The Press Won't Jinx Anything
Another thing I'd like to point out whilst I'm thinking about it is that players speaking to press won't jinx anything. Likewise, my writing this column isn't 'tempting fate'. We could easily concede two or three goals against Arsenal, but it won't be because Simon Mignolet has had a chat with the Liverpool Echo. Equally the writing of this piece won't have anything to do with it, unless Arsene Wenger has decided to print it out and stick it on the dressing room wall, in which case I have a lot more sway in the football world than I currently realise. The reality is that we get a little bit obsessed with linking things, especially if we're able to point towards it as a negative. In the wake of everyone talking about how well Mohamed Salah is playing, for example, no one pointed to the interviews he did as the reason he failed to score against West Brom.
Our players patting themselves on the back for not conceding goals days before we play a rival pic.twitter.com/xbFgcvyDRD

— Omar (@Omzlfc) December 20, 2017
Yet defenders speak to the club website about the fact that they've tightened things up a little bit at the back and social media is alight with people saying they'll embarrass themselves against the Gunners at the weekend. Do people seriously believe that chatting to a paper or website will mean that the defenders walk into the game thinking they're the big I am? Do we think that Joe Gomez is so naive as to think that Lovren saying they're playing well at the moment means he can rest on his laurels? Or is it not more likely that heading into a game feeling confident might give the players a bit of self-belief? Certainly they're not receiving all that much support from people within Anfield at any given moment at present, so I for one applaud them backing themselves and feeling good ahead of a big game. Arsenal have Alexandre Lacazette, Alexis Sanchez and Mesut Ozil. If we concede it's not because someone spoke to James Pearce.
A Look At This Season's Results
On to chatting about the defence, then, and a look at the results that we've notched up so far. Excluding the Champions League qualifying matches and the League Cup against Leicester City, simply because I want to look more closely at the really important games, here's a list of Liverpool's results so far this season with the name's of the teams removed. In all instances, Liverpool's score is first and the other side's is the second:
3-3
1-0
4-0
0-5
2-2
1-1
3-2
1-1
1-1
0-0
7-0
1-4
3-0
3-0
4-1
3-0
3-3
1-1
3-0
1-5
7-0
1-1
0-0
4-0
The reason I've decided to remove the names of the teams is simple: it also removes the desire to say 'yeah but it was only X'. The list above contains the results of twenty-four different matches across the Premier League and Champions League. Of those twenty-four games, eleven ended without Liverpool conceding a goal. Perhaps even more importantly, only seven of those games resulted in the Reds conceding more than one goal. Given the desire of some to suggest that 'if we concede one we'll concede two or three', it appears that that is a narrative rather than a fact.
Again, I'm not suggesting that Liverpool's defence is truly awesome. There are obviously some problems with it that will be improved upon only by dipping into the transfer market. What I am saying, though, is that the system Jürgen Klopp is asking his players to adopt is not part of the problem. More often than not we concede because of individual errors rather than because we 'can't defend'. If other teams are depending on individual errors in order to find the back of the net then it might be time to admit that we're much better at the back than people are willing to accept. Supporters have kittens every time we concede a corner, but it's actually been a decent amount of time since we've conceded from one. We're not scoring a lot more corners than we're conceding, which feels like a genuine change in the water.
The Tottenham Game Proved A Turning Point
Having said that I wanted to remove the names of the teams in the above list, it's only right to talk about how there seems to have been a genuine turn around in how we've been defending since the match against Tottenham at Wembley. That Spurs beat us 4-1 might be used to point to our defensive frailties, yet the result is actually the exception rather than the rule. We conceded three to Watford on the opening day of the season, five to City at The Etihad and the four in the Spurs match, meaning that twelve of the twenty goals we've conceded so far in the campaign came in three different games. Follow the maths through and the result of that is that we've only conceded eight goals in the remaining fifteen league games, which is around half a goal a game.
The reds are conceding 0.4 goals per game in their last 9 compared to 1.7 the previous 9.

— Michael Lennon (@Dave_Angel_) December 20, 2017
Even more noteworthy than the lack of goals we've been conceding is the lack of shots that we've been giving up. Since our collapse at Wembley, we've allowed opposition sides twelve shots on target in nine league games. That is the sort of defending that you'd expect from a Manchester United side under José Mourinho, putting everyone behind the ball and making the game dour to watch. Instead we've been thrilling to watch and yet our defence hasn't been found wanting on any occasion. If you spend your time terrified of what's happening any time the opposition comes forward and convinced that we'll concede with every attack, I'd suggest that this is because of your own confirmation bias rather than any actual facts.
Conclusion
Jamie Carragher said recently that even he'd struggle in a Jürgen Klopp defence. The manager asks so much of his players, giving his centre-backs very little cover requiring a number six that helps the attack as much ad the defence. If a defender of Carragher's quality fears how he'd look in this backline, might it not be worth bearing that in mind next time we concede a goal and you consider jumping on the back of the players in the side? Those who are most vociferous in their critique of our defence think our players are dreadful, yet give them no credit when a club legend declares that not even he'd look good were he still playing today.
Klopp: "We are a team that is very offensive-orientated, but that doesn't mean you have to give any space away. The boys do the jobs now much more often." #LFC

— Neil Jones (@neiljonesecho) December 20, 2017
The German is determined to point out that this side defends as a team. If we concede a goal then it's just as likely that it will be because an attacker didn't press the defence or a midfielder failed to cut out a cross as it will be because of a mistake from one of our centre-backs or the goalkeeper. Next time someone talks to you about our dodgy defence then instead of agreeing with them, ask them to examine the last few goals we've conceded. The penalty against penalty shouldn't have been given. The goal from Willian against Chelsea was a fluke. The penalty against Brighton shouldn't have been a penalty. Take Willian's goal out and when did we last concede a goal from open play? The start of November when we played West Ham. Not bad for a 'dodgy defence'.