There is normally no need to build up a match between Liverpool and Manchester United. Though the game against Everton is our official "derby" match, the success of United during the Ferguson years combined with our perceived failure during that period adds a little bit of spice to proceedings as far as games against the Red Devils are concerned. Add in the José Mourinho factor and the longest international break in living memory and both sets of supporters were chomping at the bit for this game to kick off.
You can expect at least one goal and a result tonight. Just one 0-0 in 48 PL meetings between #LFC and #ManUtd. One draw in last 21

— Andy Kelly (@AndyK_LivNews) October 17, 2016
It shouldn't really be a surprise that it was a dull & drab event in the end. Games with such an outrageous degree of hype rarely live up to their billing and this was no exception. That Mourinho chose to adopt such predictably dull tactics also stifled the life out of the match and made it one of the most forgettable meetings of these two sides in years. What a joy for those of us who have to write about it…
Mourinho'd
We all know what José Mourinho likes to do. He is the master at shutting down matches and killing them dead. Neither his tactics for this match nor his team selection were a surprise to anyone who has ever watched a team he's managed. This game was essentially the one we should have all set through in 2013-2014, but for a misplaced pass and a now famous slip.
Yet is was somehow incredible to see a Manchester United side that had £200 million spent on it in the summer come to Anfield and show precisely zero ambition. No desire to win the game, no desire to attack, no desire to do anything except leave with a point. It's at times like this that it's important to be grateful that we don't have to sit and watch that type of football on a weekly basis.
There's nothing wrong with it, technically. It's a perfectly valid way of playing football and Mourinho himself would no doubt claim that it worked because he left Anfield with the point he came for. I was frustrated as anything less night, calling him all the names under the sun. Today I'm just bemused that it's being praised as some sort of tactical masterclass. It wasn't.
Cannot believe how boring that was, and we know who to blame. The most anti-football figure in football history.

— Henry Jackson (@HenryJackson87) October 17, 2016
To have a squad with the quality that Mourinho has at his disposal and use them to essentially show less ambition than Burnley or West Brom is embarrassing. To have spent so much money amassing that squad only to play Maruane Fellaini and Paul Pogba and use them as long-ball targets is laughable. Likewise the decision to play the talented and pacy Markus Rashford as an auxiliary defender.
Those claiming that it was all he could do given the form of both teams are naive in the extreme. Liverpool's goalkeeper has looked uncomfortable under crosses, the defence has struggled to deal with set-pieces yet United rarely tested them as they refused to move out of their own half. He also played like that in the Champions League final with Inter Milan, so let's not pretend it was a last resort due to having no time to work with the side.
35% possession for Man Utd… their lowest since records of such things began in 2003-04…

— Jonny Blain (@jonoblain) October 17, 2016
José Mourinho is lauded as a tactical genius but he's little more than Tony Pulis with money. It's a valid way to play the game, but that doesn't mean that those of us who like to watch actual football have to remain silent and not dare criticise him. It's anti-football and that he took the time to go back into the press room to tell a journalist that the United stats guy said they had 42% possession as opposed to the Opta defined 35% tells you everything you need to know about the man. Being proud of going to Anfield and having such a pathetic amount of possession is something I never thought I'd see from a Manchester United manager.
Of course the reality is that Mourinho setting up like that is the biggest compliment he could pay to Jürgen Klopp's men. The simple fact of the matter is that, right now, Liverpool are a better team than Manchester United. That is true when it comes to both teams' form and it's also true when you look at how the season is likely to pan out. Things can change in a heartbeat, obviously, and it would be folly to rule out Manchester United completely. Yet the Reds are playing exciting, attacking football that teams will struggle to contain whilst our rivals are slow, ponderous and boring to watch.
"A Mourinho masterclass"…. Yeah, if subject of that masterclass is how to impersonate a Tony Pulis team. pic.twitter.com/ItXm8cHMuJ

— Karl (@__karl__) October 17, 2016
Given that Manchester United spent £200 million on transfers this summer and still chose to come to Anfield and play like that should tell the Liverpool players everything they need to know. They are a force to be reckoned with and Mourinho knows it. It will take time for him to get his team playing exactly the way he wants them to, just as it's taken Klopp a while to get his players to completely understand his system. I wouldn't put it past them to have a decent cup run, but they lack the ambition to challenge in the Premier League if last night is anything to go by.
Ref Justice
Talking about referees is tedious. It's a genuinely difficult job and until they get given the help and assistance of instant replays it will remain almost impossible for them to get everything right. Yet I still feel the need to write something about Anthony Taylor's performance last night.
Before I get into this too deeply I'll confess two things: 1) I've never liked him as a referee, believing him to be one of the worst in the Premier League. He's no Lee Mason but he's really not far off. 2) I haven't seen any highlights of the game. My opinions here are based entirely on the way I perceived him to referee the game in the heat of the moment last night. Had I watched some of it back perhaps I'd be less critical. You might think I'm being overly harsh, so now at least you'll have an idea of why.
The league seriously need to look at how they appoint refs because they've embarrassed themselves there

— Ian Salmon (@IanRSalmon) October 17, 2016
Let's start off with his appointment in the first place. I'm sure you'll be aware by now, but Taylor lives just six miles from Old Trafford. Officially he's an Altrincham supporter, though it's worth bearing in mind that according to the Football Association's list not one top-tier referee supports a Premier League side. If you believe that then there's no helping you, to be honest. If you've got a referee who lives in central Manchester, why on earth appoint him to referee one of the city's club's biggest games of the season? Why give yourself that headache? Just to be able to say 'he's impartial, look!'? It's madness.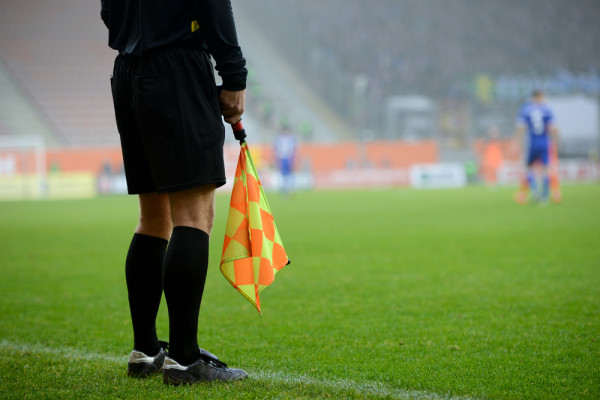 Everyone knows how José Mourinho gets his teams to play. They often put a 'reducer' on a member of the opposition early doors, knowing refs won't book or send players off that soon in a game. Taylor demonstrated how he'd referee the match when he let Marcus Rashford batter into James Milner after barely a couple of minutes without recourse. That allowed the United players to continually and consistently foul Liverpool players and get away with it. People don't like to see a referee be too liberal with their cards but that's an insane attitude to take. Their job is to referee the game by the rules of the law, not referee the occasion.
The answer is six. It took six fouls for Zlatan to get carded.

— Andrew Beasley (@BassTunedToRed) October 17, 2016
When you're up against a Mourinho side playing such dirty tactics you need a strong referee to stamp it out. Instead we got one that was practically born in the Stretford End. That's why I'm so confused about the praise he's been getting today. From where I was sat, admittedly in a partisan atmosphere, he was very generous to them and let us get away with nothing. It wasn't the worst refereeing performance we've ever seen but it was a demonstration of someone determined not to be intimidated, regardless of what was actually happening on the pitch.
Karius Criticism Is Crazy
First of all let me clarify something: I do not think that Loris Karius' performances so far for Liverpool have been flawless. Far from it, they've unquestionably been found wanting at times. Yet it's also entirely fair to say that the criticism that is being levelled at him from some quarters is madness.
Since coming in for the game against Derby the German has played four games, conceding two goals and keeping two clean sheets. One of those clean sheets was achieved last night and is our first in the Premier League this season. Stats don't always tell the full story, but that's not a bad return all things considered.
Karius vs De Gea. pic.twitter.com/qiRbYZYYPp

— LFC Fans Corner (@LFCFansCorner) October 17, 2016
For me the goalkeeper situation is rather simple. Simon Mignolet is not good enough to be our number one long-term. He's perhaps not as bad as I've thought in the past when compared to other goalkeepers in the top-flight, but he's nowhere near good enough. We know what Mignolet's ceiling is as a goalkeeper and he very obviously needs to be replaced.
Right now we have no idea what Karius' ceiling is. He could develop into one of the best goalkeepers in the league. Equally he could turn out to be not much better than his Belgian teammate. Only time will tell on that front, but in order for us to find out he has to be given time. At some point he'll face an actual shot on his goal and we'll be able to judge him on how he deals with it.
If you think that Simon Mignolet would have produced significantly better performances in goal over the last four games than Karius has managed then you're completely forgetting his performances over the past three years. He has never looked comfortable at dealing with crosses, often makes a mistake and has terrible distribution. All things that the German is being criticised for now, with the major difference being that Mignolet has been here for three years not three games. He's not developed as a goalkeeper at all.
If Karius had made countless mistakes and cost us points I'd understand those calling for Mignolet to come back into the side. But he hasn't. He hasn't looked as settled as we'd all have liked, but it's easy to forget that he's moved to a new country and is working with a defence hadn't met before signing in the summer. His injury meant he didn't even get to work with them in pre-season so he needs to learn how they work during matches. That's not ideal, but it's how it is.
I'll summarise like this: Is he worse than Simon Mignolet? No. Has he cost us any points thus far? No. Can he get better with time? Yes. Can Mignolet? No. The microscopic observation of him is neither helpful nor fair. He might be struggling with set-pieces and crosses but so did Mignolet. The set-pieces issue is clearly systemic, with Liverpool's defence as a whole struggling to cope. The crosses issue is one that has beset both goalkeepers and others besides, meaning at some point someone at the club might want to ask questions of a certain goalkeeping coach…