Is there going to be a point at which Liverpool Football Club get bored of being wasteful in the final third and weak at the back? I imagine you're very much bored of reading about it and I'm sure as hell bored of writing about it. Yet still we go on failing to score but being willing to concede at any given moment.
Somehow, despite the inevitably of the whole thing once the Reds went in 0-0 at half-time, there's something much more frustrating about it happening in this match. Perhaps it's because Manchester United are an appalling football team, lacking creativity and ideas and instead being happy to settle for solidity at the back and luck-taking at the front.
Obviously the age-old rivalry doesn't help the situation. Nor does the fact that United have now beaten us in four games in a row in the Premier League. They may have left with the three points but there won't be many of their fans feeling all that smug today. They are terrible and the future looks significantly brighter for Jurgen Klopp's Liverpool than it does for Louis Van Gaal's Manchester United.
Yet still we lament another missed opportunity to put pressure on the top four. We could go on and win the League Cup, put in a decent assault on the FA Cup and maybe even win a trophy in Europe, but the Champion's League will continue to elude us. The idea of watching Liverpool have to play 700 games in the Europa League next season is nearly as depressing as the thought of Simon Mignolet getting a five and a half year contract extension. Anyway, on with my match review.
Better In Both Boxes
Even in his twilight years, as the stranglehold of life under the blood-sucking Glazers took its toll, Alex Ferguson knew that the key to success in the Premier League was to be better in both boxes than the opposition. His search to replace Peter Schmeichel in goal took in numerous different goalkeeping options, settling on Van Der Sar for a time before putting his faith in the development of David De Gea.
Successful teams are either good in both boxes or outstanding in one. Those 90 minutes showed #LFC are neither of those consistently enough.

— Kristian Walsh (@Kristian_Walsh) January 17, 2016
Likewise in attack Ferguson explored his options, buying Robin Van Persie with full knowledge that he would only get one season out of him, but that his goalscoring exploits in that season would be so impressive that the Dutchman would win him one final Premier League title.
That ability to be so deadly at both ends of the pitch is what has propelled Leicester City to an unlikely title challenge and West Ham to a probable top ten finish. It was what brought Liverpool so close to a title in 2013-2014, only to be undone by our complete inability to defend.
It is that inability to defend that is seeing us get undone time and time again, whilst our profligacy in front of goal is also doing nobody any favours.
I wrote about Simon Mignolet after the Arsenal game, so I'm not going to do it in too much detail again here. After the match there was the suggestion from some quarters that there wasn't a lot the Belgian could have done about the goal, but I'm not sure that's entirely true. It's fair to say that he wasn't responsible for it in the same way that he has been for some others recently, yet he really should have done so much better.
— Sam McGuire (@SamMcGuire90) January 17, 2016
Why was he virtually on the floor when Marouanne Fellaini's header looped onto the cross bar? What was he possibly hoping to achieve? He dropped down almost in disappointment and frustration that United had scored, meaning he was about three foot tall when Wayne Rooney blasted his shot in. Could he have saved the follow up even if he hadn't been virtually kneeling down? Maybe not, but he would have stood a greater chance of doing so.
Liverpool have been poor at the back for far too long for the goalkeeper not to have to face questions for every goal we concede. He needs to be marshalling his defence, shouting at them to watch Fellaini, telling Ibe to get out to Mata and stop the short corner being taken. But he doesn't, because he's rubbish. We always seem like we're one good attack away from conceding and if Klopp wants to make us better at the back then he needs to abandon this new contract idea and start looking for a world-class 'keeper pronto.
Scoring The Goals
As for the final 3rd, the Reds desperately need someone who can play the piano. We've got loads and loads and loads of people who can carry it no problem. They're carrying it up stairs, through rushing rivers and over mountains, but they've no idea what noise it makes when someone hits the keys.
The team isn't bad, exactly. It's got plenty of industry and a good sense of which direction it's going in. It's just not good, and that's a major problem. It needs a sprinkling of stardust, someone to grab games by the scruff of their neck and make them work. Klopp's doing the best he can with what he's got, getting everyone playing to the best of their ability. But it isn't enough. It isn't even close to enough.
When rumours emerged of Liverpool having an £8 million bid for Shane Long turned down by Southampton it resulted in groans coming from the Anfield faithful. Yet is it really such a bad thing to do? We need a lad who can score goals and Long can do that. He might not be the best player in the league, but he's not the worst. In a world where Christian Benteke costs £32.5 million and Jonjo Shelvey moves to Newcastle for £12 million, is £8 million all that much for a lad who scores goals?
Adam Lallana & Jordon Ibe now 0 goals in 36 EPL appearances this season, 5 in 54 in all competitions

— Dan Kennett (@DanKennett) January 17, 2016
Liverpool have to take ten shots for every goal scored. The only team with a worse conversion rate, according to Opta, is Aston Villa. Ten shots to score a goal. How many times in a match do teams actually have a chance to get off a decent shot? I'm not talking about the kind of shot that Phil Coutinho has decided to specialise in of late, smashing it over the bar from 35 yards. I mean a decent opening that you could realistically feel might lead to a goal. Certain not ten a match, let's put it that way.
Those lads that are carrying the piano aren't doing much, either. Jordan Henderson is a fine footballer who has made a genuine and tangible difference to our style of play since his return from injury. He's not a natural goalscorer, though, as his tame shot straight at De Gea when he was in the middle of the box with the whole goal to aim for showed. That he had our best chances but couldn't finish any of them is reflective of how much work we need to do to sort things out in the final third.
United have had four shots on target against Liverpool this season. Scored four goals.

— Andrew Beasley (@BassTunedToRed) January 17, 2016
That Liverpool are so willing to concede goals at the back means that the lads at the front have to take their chances when presented with them. I can't even begin to imagine how frustrating it must be to see your team mates completely fail to defend with any degree of consistency, but it must be equally as annoying for them to have to watch you dominate a game without ever really looking like you're going to lay a glove on your opponents.
Arguably the most frustrating thing about yesterday is that United didn't even have to work hard to get the win. They defended resolutely, yes. David De Gea made a couple of excellent saves, granted. But was there any backs-against-the-wall, last ditch tackling thrown in when they were under a never ending assault from Liverpool's forwards? If there was I must have missed it.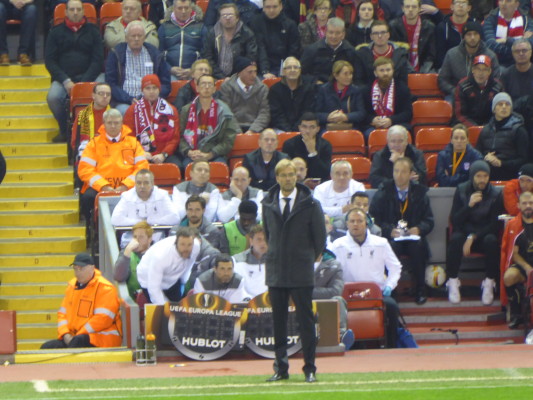 Jurgen Klopp has a huge job on his hands to turn things around for Liverpool Football Club, not just on the pitch but off it, too. He's doing his best with what he's got to work with, getting the Reds to create chances even if they can't finish them. He's also slowly but surely turning around the defeatist attitude that has pervaded Anfield in recent months.
Rayo boss Paco Jemez after Valencia draw: "There are some days when you think 'God, football is shit'. We beat them in every department."

— Richard Martin (@rich9908) January 17, 2016
Yet there was no sense of urgency to put United under pressure for the last 10 minutes or so after Fellaini's goal. There was no bombardment, with De Gea pulling off a series of world-class saves to keep them in it. There was just a slight push forward from the Reds. More of a polite enquiry than a door busting, rigorous question and answer session.
The future is bright for Liverpool under the German manager and only the wilfully ignorant or the stupid would argue that we're unlikely to challenge in the coming years as long as he gets support from the powers that be. Right now, though, we're stuck in Groundhog Day without the wit of Bill Murray to keep us entertained. Buy a goalkeeper, buy goals. Even if one of them is a Long shot.