One step forward, two steps back seems to be Liverpool Football Club's motto under Jurgen Klopp. Defensive solidity combined with the development of a winning mentality has been the key to the club's recent 1-0 wins, only for the same old problems we've seen far too often to rear their ugly heads and put paid to any sense of a run we might have been enjoying of late.
Let's make no mistake, Jurgen Klopp is a brilliant manager who will get the Reds back where they belong before too long, but right now there are serious problems in Liverpool's ranks that can only be papered over so much before cracks become more like chasms. Yes he's working with someone else's squad; yes we've had serious injury problems that can't be ignored or forgotten; yes we've shown some signs of development. But why are we still repeating the same mistakes, week in, week out?
In recent weeks, as the transfer window creeps ever closer, Jurgen Klopp has suggested that he has no desire to dip into the market and bring in some reinforcements. The notion of January being a difficult time to buy is being trotted out again, as is the suggestion that the manager wants to get to know his players better before he decides if they need replacing. In truth, though, if he doesn't look to bring in a couple of players then he really will need his head examining.
It's commendable for Klopp to say he wants to work with these players but too many of them aren't good enough. Same shortcomings repeated.

— Tony Barrett (@TonyBarretTimes) January 2, 2016
Here we look at some of the key talking points from today's game and ask what the Reds need to do differently after yet another appalling away result. As always we'd love to hear from you, so leave a comment in the box below or drop us a tweet and tell us if you think we've got anything wrong or missed out a major talking point.
Creatively Lacking
Liverpool's lack of creativity should now be a genuine concern for the manager and the players. Whether it's because of a mental block based around the club's recent inability to break down stubborn defences or it's because of a lack of talent within the squad, one thing's for certain: If Liverpool don't start to score goals they'll be lucky to finish in the top ten, let alone the top four.
The fact that Christian Benteke seems to be able to score if he has to make an instinctive decision but can offer virtually nothing else going forward is definitely limiting our options in the final third. Yet that is not an excuse for Philippe Coutinho to consistently shoot from 25+ yards virtually every time he gets the ball. Some might say there's 'no movement in front of him', but why not recycle possession? How about moving things around to stretch the defence or wait for a better opening to present itself? All that happens when Coutinho has yet another shot off-target is that we lose possession and have to start again.
Benteke diabolical so far today. Came out second half, all over them, but no goal threat whatsoever. Not even winning his headers.

— Neil Docking (@NeilDocking) January 2, 2016
The diminutive Brazilian is a world class talent and should have a team built around him, but the fact that he seems to want to shoot every time he gets on that ball should be cause for concern for Klopp and all of Coutinho's team-mates. Meanwhile Benteke has acknowledged that his manager wants him to offer more movement, yet he doesn't actually seem to be doing any actual running. Between the two of them the frustration level of the fans must be astronomical.
Firmino, Ibe, Coutinho and Can all started today's game, but none of them did anywhere near enough to ask questions of West Ham's defence. Can was working in a deep-lying midfield role and hit the bar, so perhaps he might say he did the best that he could in the circumstances. Ibe is young and seems to be learning all of the time, but at some point someone needs to teach him not to just run into the opposition's defenders. Coutinho we've already covered, whilst his compatriot seems to have such a heavy touch that he should probably consider working in construction rather than in Liverpool's midfield.
Liverpool have now scored zero (6) or one (10) goals sixteen times in the PL this season – more than any other team.

— Andrew Beasley (@BassTunedToRed) January 2, 2016
Speaking on BT Sport Michael Owen, who is normally something akin to the pub bore, made the good point that Liverpool never looked like scoring. We have now played Newcastle, Watford and West Ham, all teams that the Reds should be putting to the sword, and have managed zero goals from a combined total of 45 shots. The lack of creativity in the final third is the sort of thing that should send Jurgen Klopp running into the transfer market with his credit card waving around. Whether it will or not remains to be seen, but one thing's for certain: This Liverpool squad is nowhere near good enough.
Stupid Football
There's no way of knowing how things are off the pitch without resorting to stereotypes, but on the pitch Liverpool's players seem to be remarkably stupid. This manifests itself in a number of ways, not least of which is the fact that they seem to make idiotic choices with their passes and their movement. We've discussed before on here the idea that it would be nice to freeze-frame the match and ask a player what exactly they think their pass is going to achieve even if it is successful, so often are the choices we make completely braindead.
Today the players displayed another moment of absolutely idiocy that lead to West Ham's opening goal. With Alberto Moreno lying injured on the floor after a foul by Enner Valencia, West Ham broke forward and attacked down Liverpool's left-hand side, safe in the knowledge that our left back wasn't there. We know what happened next, of course, with West Ham scoring 21 seconds after the foul was committed.
There are legitimate questions to be asked of the referee, questions that we'll come to shortly. Yet why did not one Liverpool player think to foul a West Ham player and allow us to regain our shape? Why were the Hammers allowed to keep playing to their heart's content, hitting us on the break and attacking our weakest area without one man in white doing something to stop their advancement?
Fair enough no issue with west ham not kicking it out but we have to just foul one of there players and be smart Stop the game

— Sean Rogers (@Sean_Rogers) January 2, 2016
Time and again Liverpool display a complete lack of on-field intelligence. Far too often we're found wanting when the match we're playing in requires a bit of quick thinking. How often do we see other teams foul one of our players when we're on a quick counter-attack? Conversely, how rarely do we make a similar decision when a team appears to be turning us over? Today we allowed West Ham to cross the ball repeatedly, despite the fact they are a team set-up to benefit from good crosses. Why did no one on the pitch think to do more to limit the crosses into the box that the London club seemed to be able to do at will?
In the game against Sunderland during the week Liverpool had plenty of chances but failed to capitalise on any of them. Jurgen Klopp must have been thinking that you can lead a horse to water but you can't make it drink. Once the players cross the white line there is still plenty the manager can do, but the lack of in-game intelligence from the players on the pitch is genuinely worrying.
It's also not even as if we don't have players with experience or ones who are shy about giving away a free-kick, either. Lucas Leiva ticks both boxes, with enough on-pitch experience to know how to kill a game combined with a seemingly consistent desire to give away stupid free-kicks week in, week out. Yet instead of doing that we allow West Ham to do whatever they want moving forward and also give them as many set-piece opportunities as we possibly could.
With Milner and Henderson both due to return to the squad sooner rather than later they will bring a degree of intelligence with them, but will it be enough to keep the team from making stupid mistakes on a game-by-game basis? Is the sort of intelligence we need to display the kind of thing that can be bought in the transfer market, or is the kind of thing that can only be taught? Whether it's the former or the latter, January needs to see Liverpool become on-pitch members of Mensa before it's too late to do anything about it.
Refereeing Consistency
Refereeing is a difficult job at the lowest levels of the Football League, let alone in matches when your every decision is scrutinised by millions of people around the world and tackle are shown in slow-motion from ten different angles on HD TVs. Anyone who thinks referees should never make mistakes doesn't understand real life or what it is to be human.
Emre Can got booked for the same kind of tackle vs Sunderland and he won the ball. Laughable inconsistency

— Paul Tomkins (@paul_tomkins) January 2, 2016
Is it too much, however, for referees to be consistent from one match to another? Against Sunderland Emre Can made a tackle from behind that the referee not only decided was a foul but also felt was a bookable offence, this despite the fact that Can actually got the ball. Today we see Valencia do a virtual carbon copy tackle on Moreno only to see the referee decide there was nothing wrong with it, despite the fact that he made no contact with the ball.
Of course no tackle is ever truly identical, with angles and locations on the pitch all changing on a tackle-by-tackle basis. Yet the Football Association really needs to tell its referees what type of tackle is a foul and what type isn't. How can Emre Can win the ball but be penalised for a tackle from behind if Valencia can tackle from behind and not be penalised?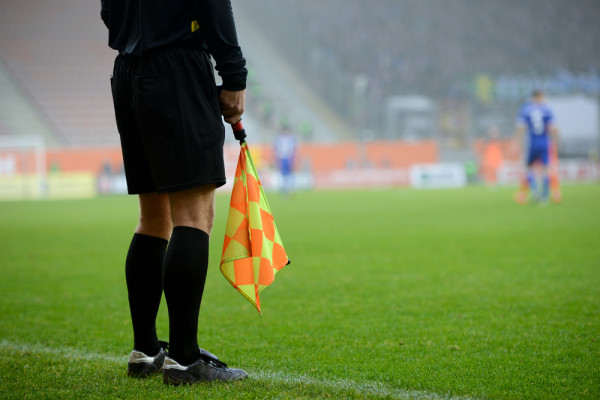 As it happens Bobby Madley wasn't even consistent within the match itself, so there won't be any surprise if he makes a different decision when faced the same scenario next week. Most football fans are intelligent enough to know that the men in the middle will make the occasional mistake. Why, then, can't the organisation that is responsible for them all do something to help them out? Until that happens we'll be doomed to be utterly infuriated with refereeing errors on a weekly basis.
None of that excuses the Liverpool performance, of course. The Reds should still have defended better for the first goal and they wouldn't have scored if the ref had allowed them to play another 90 minutes. That doesn't mean you should never ask questions about referees, however. It isn't making excuses or saying that Liverpool should have won. It's simply holding the authorities to account; something that should happen regularly in all walks of life.