I really want to write a match report that doesn't mentioned Istanbul. For Liverpool fans the comparison between the greatest night the club has enjoyed in its recent history and yesterday's turnaround by Newcastle couldn't be further away from each other. On the surface that's a totally fair point.
Yet for Newcastle fans there's a different perspective. Yes their club has been up and down between the Premier League and Championship like a yoyo under the rule of Mike Ashley. But the appointment of Benitez as their manager has given them unexpected hope. There seems to be a feeling from the Geordies that staying them up with him in the dugout might just give them a chance at stability for the first time in years.
Yesterday wasn't equatable to Istanbul on a serious level, even for the Newcastle fans. If anything it was a capitulation by the Reds rather than a fightback by the Magpies. But don't under-estimate how important it could be for the North-East club in their fight for survival. The only major trophy Liverpool won after that night in Turkey was the FA Cup, yet it still signalled the start of a new era of supremacy at Anfield. It's entirely possible that yesterday's draw could do the same at St. James' Park.
A Game Of Two Halves & Other Cliches
The first-half look like Sunday in the park with (St.) George. A pleasant stroll around the Anfield turf, with Sturridge's goal after less than two minutes a signal of what was to come. In some ways Liverpool looked as if they were going to carry on from where they left off against Everton. Everything was too easy. There was no need to come out of second gear against a Newcastle team that looked like what they are: relegation fodder.
Lallana's goal after half an hour seemed to seal the deal. Before yesterday Newcastle had only scored two goals away from home twice all season. Added to that was the fact that Liverpool have only failed to win when 2-0 up at half-time at Anfield fourteen times in the club's existence. It's fifteen times now.
Third time this season we thought we'd won the game at half time. Stop reading your press, lads.

— Karl (@TheCenci) April 23, 2016
The Reds were playing within themselves in the first-half, but they came out as if the game was already won in the second. Newcastle didn't do anything special, they just had an extra spring in their step as Liverpool seemed to put on their slippers and light a cigar. If the first 45 minutes were about the Reds making it look all too easy, then the second 45 were Newcastle showing us why were can't afford to rest on our laurels.
Decisions change games, of course, and I'll come back to the referee a bit later. But the thing that made Liverpool's capitulation so much worse was that we've been here before, almost literally. The last time Liverpool had a 3pm game on Saturday was a home match against a team from the North-East that is involved in the relegation dogfight. Back then it was Sunderland who we led 2-0 against before drawing 2-2. Back then a howler from the goalkeeper was to blame.
Whilst Liverpool's form is generally good, that's the 3rd time in 10 PL games they've been 2-0 up and failed to win. Need to see games out.

— Andrew Beasley (@BassTunedToRed) April 23, 2016
Read that tweet from Andrew Beasley again. Three times in ten games Liverpool have been 2-0 up and failed to win the game. Three games that should have been won have resulted in two draws and a defeat. Add in the 1-1 home draw against Norwich and that is three points from twelve. Win those twelve points, as the likes of Manchester City or even Manchester United would do, and we're nine points better off. Those nine points put us on 64 points and above Arsenal in fourth spot.
Consistency Is Key
If Jürgen Klopp really wants to get Liverpool firing on all cylinders in the league next season then the biggest thing he'll have to do is sort out the team's consistency. Nights like the win over Dortmund are brilliant. They're wonderful. They're what Liverpool Football Club should be about. But they're not enough.
Turning it on against the big boys is all well and good, but it's also completely pointless if you can't beat the league's cannon fodder. Yes Benitez has got Newcastle organised. Yes they earned a hard-fought draw against Manchester City in the week. But they're still down at the wrong end of the table for a reason. So are Sunderland and so are Norwich.
7 pts dropped from being 2-0 up against Sunderland, Southampton & Newcastle. Hopefully reminder to Klopp, some average players still remain

— Match ticket NOTOUTS (@ticketsNOTOUTS) April 23, 2016
Are those poor performances against teams at the bottom of the league entirely down to the personnel Klopp has available to him? Or is it a mental problem that has pervaded the dressing room gradually over a few years? It seems hard to believe that a team with the experience of Kolo Toure, the rejuvenated Dejan Lovren, the intelligence of Joe Allen and the sheer talent of Daniel Sturridge doesn't know how to see a game out, after all.
I've long had a theory that the reason Liverpool haven't won the league since 1990 is that the team and the crowd needs the pressure of a result. There seems to be a mental disconnect between the run-of-the-mill league games the team has to play week-in, week-out and the big shiny prize at the end of it. Dortmund is the perfect example. Does the team produce that performance is they're 3-1 down at home to Watford in the middle of January?
Liverpool home to bottom half sides since the start of last season:
P18 W7 D8 L3 F28 A20
Jeez…

— Andrew Beasley (@BassTunedToRed) April 23, 2016
I hate to say 'read that tweet from Andrew Beasley again' again, but do. We've won 7 (SEVEN) games against bottom half sides at home out of eighteen. We've conceded twenty goals against those teams. That's slightly more than a goal every game. How can a team possibly have any hopes of winning the title if they can't consistently win against teams that are meant to be much worse than them?
The result against Newcastle was a disappointing one, but it is the latest in a long line of terrible home results that stems back a year and a half at the very least. Klopp has turned us all from doubters to believers, but his next trick is to turn us from a club for the big occasion into a machine that gets results on a regular basis against the sides that have grown too accustomed to getting a point or more at Anfield.
It's Time To Help Referees Out
I'm no great lover of referees. I understand it's a difficult job, but I'm also not sure it's as tricky as some of them make it look. I'm also more than a little bit suspicious that some of the men in the middle dislike some clubs and favour others. Andre Marriner is definitely one of those referees that I genuinely believe has a problem with Liverpool and his refereeing of yesterday's match pretty much confirmed as much as far as I'm concerned.
The Reds had two stonewall penalties turned down by the West Midland ref, with the tackle on Daniel Sturridge about as obvious a foul in the box as you're likely to see. I was at the opposite end of the ground to where it happened and yet it looked as clear as day to me even from that distance. How Marriner ruled it to be anything other than a penalty is something I can't get my head around.
Klopp: "It was a clear penalty on Daniel Sturridge (Tiote challenge). I don't know why the ref didn't whistle." #nufc #lfc

— Lee Ryder (@lee_ryder) April 23, 2016
Regardless of my personal feelings about referees and any bias, perceived or otherwise, how long will it be until the Football Association stops messing around and offers referees the support that is easily available to them? Every place in the Premier League is worth millions of pounds, so are we really going to decisions that have huge financial implications to be made by people who will, understandably, not get everything right all of the time?
Technology won't solve everything. Plenty of the decisions that get made on a weekly basis are debatable even when you slow them down and view them from several different angles. Yet plenty of them are easy to figure out when you have the benefit of video analysis, with both of yesterday's shouts being cases in point.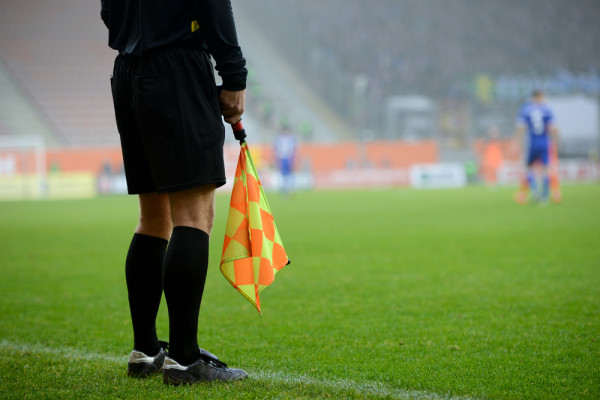 With rugby, tennis, cricket and most of the other biggest sports in the world using video technology on a regular basis, it's quite embarrassing that football is still so far behind the times. Liverpool's top-four challenge was always likely to be a struggle, but now it's an impossible task. The two points were dropped because the team didn't perform well enough, but the referee certainly didn't help.
The Goalkeeper
Before the game all of the talk was about Mamadou Sakho's club-imposed suspension for taking a banned substance. The makeshift defence Klopp had to deploy in the Frenchman's absence certainly looked less than capable when faced with the pace of Andros Townsend and the strength of Aleksander Mitrovic. But they certainly weren't helped by the goalkeeper.
#LFC have 8 keepers > 50 apps since 1960. Only James has worse conversion ratio from winning position than Mignolet 79.0% v 79.4%.Rest > 80%

— LFC Match by Match (@LFCMbM) April 23, 2016
It's not just his brainless decision to come for a ball that he was never ever getting to. It's his complete inability to communicate that causes the most damage. Time and again yesterday he failed to talk to his defence or offer them any instruction from the back. That's criminal at the best of times, but when you've got a rookie at right back and a centre-back pairing that haven't played together that often, you really need a goalkeeper who is keen to have his voice heard.
The Liverpool Echo didn't give Mignolet a rating after the derby, citing the fact that he had nothing to do for the majority of the match as reason enough exclude him. Against Newcastle yesterday he faced three shots on target and conceded two of them. If Klopp thought we could get away without upgrading the goalkeeper this summer then his performance at Anfield will have reminded the manager that a new shot-stopper is the most urgent need of all.