The return of Rafa Benitez. Again. It's interesting that he's been back at Anfield a number of times now but every time he returns people react as if he's not been here since he left the club. I love the Spaniard. He gave me the greatest night of my life back in 2005 and created one of the best Liverpool sides I've seen – until now. I completely understand why he's hero-worshipped by some and I totally get that he deserves a huge amount of respect, not only for what he did for the team but also what he has done over the years for the Hillsborough families. Yet I can't pretend that I don't feel a little bit uncomfortable about the way that some supporters seem to prefer him to the current manager. There remains an undertone from certain quarters that suggests Jürgen Klopp doesn't deserve respect for what he's achieved so far because some fans didn't love Rafa, which is just bizarre. This side might be the best, most balanced one I've seen during my lifetime and the German deserves a huge amount of credit for putting it together.
Great to see this man back at Anfield! 😄👋 pic.twitter.com/63ejkiPbXF

— Liverpool FC (@LFC) March 3, 2018
He knows, of course, that the number of trophies he puts into the cabinet will ultimately dictate how he's viewed as Liverpool manager in the future. Had we won the League Cup or the Europa League in his first season, the monkey would already be off his back and we'd be talking about just how much he can achieve instead of some people wondering whether he'll end his career at Anfield with nothing. It's a bizarre mindset as far as I'm concerned and I'll talk a little bit in this piece about why it is that the manager deserves far more respect for what he's achieving. That's not to say that Benitez didn't deserve respect, obviously. Winning the European Cup and the FA Cup in your first two seasons before challenging for the title is a brilliant achievement. I just think it's odd how some supporters want to put Klopp down in relation to the Spaniard, whilst also not acknowledging that Rafa took over a much more stable side than our current manager did. What were the big turning points from our former manager's latest return to the club?
van Dijk Is So Impressive
I'll be honest, I didn't really know what to expect from Virgil van Dijk. I knew that he was a solid defender, but I didn't see enough of him at either Celtic or Southampton to get a real sense of what he would bring to the team. I was excited because Jürgen Klopp wanted him and it was clear that top sides such as Chelsea and Manchester City were chasing his signature. Yet I have to admit that I've been blown away by just how good an influence he's been on the rest of the team. That's not just in terms of calming everyone down, either. The way he directs play with the vast majority of his headers gets us moving in a way that few other centre-backs manage to pull off.
Will go unnoticed as he didn't have too much to do but thought Van Dijk was imperious throughout again. Always in the right place and aerial ability is something else. Wins headers it doesn't look physically possibly for him to win.

— Jack Sear (@JackSear) March 3, 2018
It's not just that he wins headers but he aims the ball really specifically at one of his teammates, making it clear that it's for them or setting them off on the attack. He makes it look easy, too. The fact that he's doing that at the same time as adding that calm to the defence that I mentioned a moment ago means that he's changing things in more ways that I imagined he could. The defence as a whole appears ten times more relaxed than it did before he came in, so I'll be interested to know how they play the next time he's not in the side adding that sense of calm. It's also intriguing to not how much the goalkeeper has improved with him in the team, too. The save he made on the stroke of half-time was world class. Long may this continue.
It's Time We Gave The Manager More Trust
I hinted at this in the introduction, but I have found myself wondering what Jürgen Klopp needs to do to earn the respect he so obviously deserves. He was the driving force behind the van Dijk signing when so many people said that he should have bought a second-choice defender when we couldn't get him. When we sold Philippe Coutinho in January very few people thought that we'd do well if we didn't bring in a replacement, but rather than miss him we seem to be thriving now that we can't depend on him when the going gets tough. He was an exceptional talent, but the moment it became clear his heart wasn't in it the manager moved him on and worked with the lads that did.
Remember when Alex Oxlade-Chamberlain left Arsenal saying he wanted to play central midfield and was met with near universal derision? #lfc pic.twitter.com/kQp3vGNN3h

— Dan Kennett (@DanKennett) March 3, 2018
Then there's Alex Oxlade-Chamberlain. When Liverpool were linked with him, the general feeling amongst most supporters was one of apathy. His performances at Arsenal were never strong enough to truly catch the eye, but it was obvious that he had talent. The extent to which this manager appears to have unleashed it in a way that Arsene Wenger couldn't should be a matter of genuine concern for fans of the Gunners. As Andrew Beasley pointed out on Twitter, he's now scored two goals and managed four assists in his last ten games, which is more than he managed in five out of six seasons at The Emirates. We're no longer talking about the transfer committee, just a manager and his team who have got virtually every decision bang on the money.
Don't Boo The Referee If You Think VAR's A No-Go
The referee made two genuinely appalling decisions at the end of the match. Twice Mohamed Salah was fouled rather blatantly in or close to the penalty area. Twice it couldn't have been more obvious and twice the referee waved away our appeals. The crowd went absolutely bonkers at the man in the middle, with good reason to in my opinion. I couldn't help thinking, "If only there was some sort of video review system that the official could use in order to help him get big decisions right". There has been yet more chatter about the use of the Video Assisted Referee this week. There remain countless people that object to its introduction, believing that it ruins the 'pure' nature of football. I think they're absolutely wrong in their dislike of it.
Good job it didn't end up affecting the result because that's one of the most comical refereeing performances all season. Absolutely horrendous.

— Joel Rabinowitz (@joel_archie) March 3, 2018
I don't think it's perfect. But I also think that it's currently in a trial period and the powers that be have an opportunity to iron out some of the kinks and get it right when it's introduced properly. At that point it's entirely reasonable to hope that it will, in the vast majority of cases, assist referees rather than hamper the game as a whole. Still people object. I can understand some of the criticisms, yet I also think that if you're against its introduction then you have no right to complain about refereeing decisions moving forward. As long as they are humans they will never get things one-hundred percent correct and if you're not willing to allow the authorities to do something to aid them then you can't then moan about it when things don't go your way.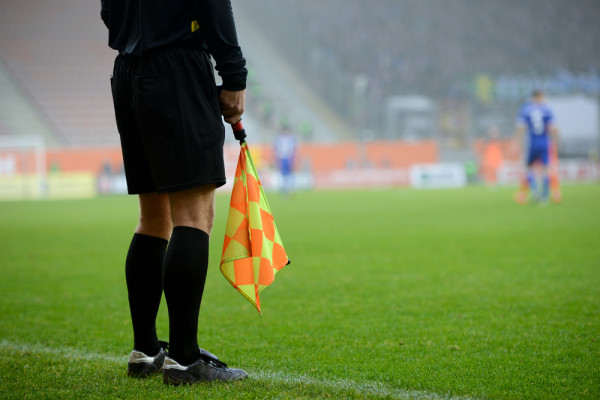 In many ways, today's match could have been so much worse. Imagine for a second that Manchester City hadn't displayed their seemingly impossible form and this was a more 'normal' season. Liverpool would be right in the mix for the title right about now and today's match against Newcastle could have been important enough to put us close to the top of the table. Two incorrect refereeing decisions might have proven to be the difference between winning the league and missing out on it. Imagine that being the case when the ability to help the referee make the right decision is available but has been rejected because of seemingly quite backwards reasons? In my opinion, today proved exactly why we should all be moving with the times.
When Will We Stop Laughing At Poverty?
I don't want to get too high and mighty. This isn't a place for social commentary, after all. Yet when you hear Newcastle supporters singing 'Sign on, sign on, and you'll never get a job' it's difficult to stop yourself from reacting. A recent study revealed that around 120,000 people have died as a direct result of the austerity policies instigated by the current government. They are driving people into homelessness, causing unemployment in larger numbers than in living memory and quite literally killing people. Should people from working class cities such as Liverpool and Newcastle really be laughing at each other? Should we joke about 'signing on' because it lets us 'score points'?
"Sign on, sign on" and "you'll never get a job" from the Newcastle fans pic.twitter.com/JfFldiJoVM

— Nic (@nic_shout) March 3, 2018
I won't use this blog to try to influence how people vote, though I don't think it would be a massive shock to anyone if I revealed my own political leanings. Yet I do think that using football as a means of humiliating others is something we should all be trying to discourage as much as possible. It might only seem like a joke when supporter sing the likes of 'Sign on' or 'Feed the Scousers', but we live in an era when people are having to turn to food banks simply to survive. As the money in football grows and grows, the people who go to watch it have less and less of it in real terms. I will never be able to stomach jokes about people needing jobs and I wanted to take a brief moment to say as much. It was a pathetic tagline from an elite that we're 'all in it together', but some of us really are. It's time to start acting like it.