Like it or not, Jürgen Klopp has potentially dug his own grave by selling Philippe Coutinho and not replacing him. Personally I am fully behind the German, believing that the second a manager stops doing things how they want is the moment that they're in trouble. Yet the race for a top four finish is tightening and it is absolutely vital that we're one of the teams that finishes in the Champions League places. You have to feel that Arsenal are too far away from the other teams to claw themselves back into the race, but then again Arsene Wenger has made it his career to get them there or there about at the end of the season. We had a chance to push ourselves five points clear of Spurs today, but instead remain just two ahead. If we tail away in the final months of the campaign and finish fifth or sixth then questions will no doubt be asked of Klopp's decision to sell the Brazilian and leave us short in midfield and attack.
Biggest thing for me in that game was how much we missed Coutinho. So many opportunities for through balls just not taken.

— Neil Seasman (@NeilSeasman) February 4, 2018
Ultimately though, whether you agree with the decision or don't, the Brazilian is no longer a Liverpool player and the manager had to play a team that he thought was capable of beating Spurs tonight. A win would have put us in the box-seat for the top four, a loss would've seen us slip behind them and given them the advantage. The draw leaves the status quo as is, but both sides will probably be seeing it as something of a missed opportunity. Tottenham are a very, very good side. When we beat Manchester City there was a feeling amongst the majority of Liverpool supporters, justified in my opinion, that us and them are the two best teams in the country. Spurs should definitely be part of the conversation, however, and I'm desperate for us to pip them to the Champions League places in order for their excellent squad to be picked apart by football's circling buzzards. For me, today was the quintessential game of two halves, with us dominating the first-half and them looking much the stronger side in the second. Here's what I took form the game.
Karius Is Correctly Liverpool's Number One
Anyone who has been reading my blog or Twitter account for the past couple of years will know that I'm not a fan of Simon Mignolet. Far too often he concedes goals that I think a better goalkeeper deals with, regularly seeing the first shot on target hit the back of his net only for those that like him to say that he's still a 'good shot-stopper'. The problem is that I haven't been convinced by Loris Karius either, despite really wanting him to succeed in order to oust the Belgian for good. The simple truth is that neither are really good enough to be our goalkeepers long-term, given that both are able to concede daft goals on a regular basis.
Not having his defence slander today. Thought Karius, VVD and Lovren were excellent against a very good attacking side and on another day neither penalty is given and Wanyama puts it row z. We looked so much weaker when Matip came on 🤔

— We've got Salah (@Lpoolbanter) February 4, 2018
My feeling on the matter is that if both goalkeepers are going to concede silly goals then you pick the one that allows your team to play most in the manner that you want it to. For all that he's not perfect, the German showed today why he's the man Jürgen Klopp should stick with for the rest of the season. He was fast off his line a number of times to deal with things, including when he raced out at one point in the first-half to deal with a on-rushing Spurs player and closed him down brilliantly. It turned out the chance was offside, but Karius didn't know that and dealt with it exactly as you'd want him to. He is far more decisive than Mignolet in virtually every circumstance and the defence seems to be so much more settled with him in there.
I don't think it's a coincidence that the manager has chosen to make his compatriot our first-choice goalkeeper at the same point at which Virgil van Dijk has come into the team. The two already seem to have something of an understanding, with the Dutchman happy to tell Karius to come out and the German equally happy to do so in a manner that you simply can't envisage Mignolet doing. You could see the assuredness in defence today most notably when Spurs were awarded a corner or free-kick close to the box, given that everyone at the back seemed so much more comfortable and confident with what they were doing. He got a number of good punches on crosses into his box and, in my opinion, was unlucky with the goal.
Thought Karius was brilliant today. No fault on the pen (Kane dived) and second he stopped a very good cross and the clearance from the defender let him down.

— Kyle (@23KGraves) February 4, 2018
Some people on social media were suggesting that he should've caught the cross or got more on his punch, but I'm not sure either criticism is fair. The cross had a decent amount of pace on it and if he tries to catch it but fails then it's almost certainly a goal. He gets the ball out to the edge of the box and Emre Can needs to clear it, with Alex Oxlade-Chamberlain then compounding the issue by not closing down Victor Wanyama quickly or efficiently enough. That Wanyama then scores a goal he's unlikely ever to do in the rest of his career just puts the icing on an unlucky cake. All-in-all I thought Karius played well and performed in a manner that suggests that a run in the team now that he's more settled might see him developed into a decent 'keeper. I'm still hoping we see a world-class one like Jan Oblak or Alisson Becker, but I hope that today's performance stops me having to watch Simon Mignolet ever again.
Mohamed Salah Is Sensational
I have been waiting for some time now for a match report in which I didn't have to write about Mo Salah. The Egyptian King has been an absolute revelation, heralding little fanfare when he arrived but now being touted as a likely Real Madrid target in the summer. There was a point midway through the second-half when I felt that we were asking too much of him, that we were too reliant on his brilliance. The goal he scores to make it 2-1 showed exactly why it is that the lads on the pitch keep turning to him. Having run his socks off for ninety minutes, the forward simply danced through the Spurs defence and scored a goal that deserved to be the winner on virtually any stage. He's absolutely sensational and is as much of a joy to watch as Suarez used to be in Red.
25 – Mohamed Salah has netted 20 goals in just 25 games in the Premier League; the fewest appearances of any Liverpool player to reach 20 goals in the competition. Lightning. pic.twitter.com/zwMvDfhrdA

— OptaJoe (@OptaJoe) February 4, 2018
Whilst Roberto Firmino is the man who makes this side tick, Mo Salah is the knife that allows us to be surgical when it's needed. Sadio Mané continues to struggle, getting a few chances tonight but failing to do much with the ball when he did. Thank goodness for his fellow African, therefore, who is still rivalling Harry Kane for this season's Golden Boot. In the absence of the aforementioned Philippe Coutinho, Liverpool need a linchpin to produce moments of magic and it continues to be Salah. At some point Los Blancos might prove to be too irresistible a draw for him, yet he must feel like the king the Kop proclaims him to be every time he steps on the Anfield turf. He's got a boss song, he's loved here in a manner that he hasn't really been anywhere else but in his homeland so far in his career and he's another reason why it's vital that we finish in the top four. We simply cannot afford to lose him this summer.
Video Assisted Refereeing Cannot Be Introduced Soon Enough
The match against West Bromwich Albion demonstrated both the best and the worst of the possibility of introducing Video Assisted Refereeing into the Premier League. Supporters had no idea what was going on half the time and it took far too long for the officials to come to a decision. What a kick in the teeth for VAR's critics, therefore, that tonight supporters had no idea what was going on half of the time and that it took far too long for the officials to come to a decision. The only difference between the two was that VAR got all of the decisions correct in the end and John Moss and his team most definitely did not.
Shocking officiating at Anfield today John moss would be out of his depth in Sunday league and that linesman🤭he just wanted attention the 2nd spurs Penalty was awful VVD actually pulled out of it and Lamela flopped like a fish @FA need to take action on simulation #LFC

— DB🇮🇪 (@Dbuck5488) February 4, 2018
I haven't seen the first penalty back so I can't comment, though it certainly looked as though Harry Kane made the most of it. For the second I cannot believe that some people genuinely think it was a nailed on penalty, with Érik Lamela hitting the floor as though he'd been shot when Virgil van Dijk hardly touched him. Would the referee have thought it was a penalty even on watching it on repeat thanks to VAR? It doesn't really matter, given that Lamela was offside when the ball was played in anyway and Video Assisted Refereeing would have spotted that. Believe it or not, I don't actually like talking about the officials. I do it fairly regularly simply because I feel that the standard of officiating in this country is really, really poor. Today was a case in point, with John Moss being too unfit to keep up with the play most of the time.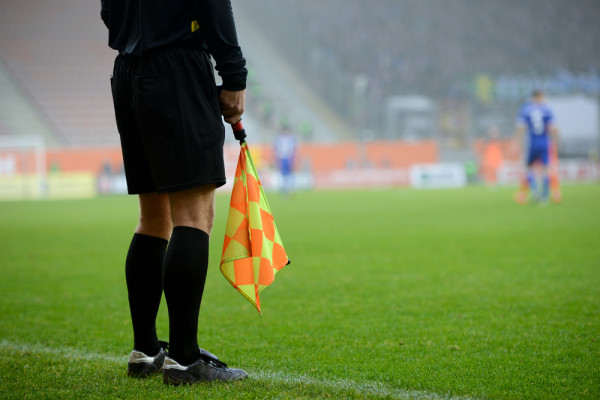 The annoying thing about the penalty decision in the death of the game is that I thought it led to a fair result. Liverpool were unlucky not to go in three or four to the good at half-time, which we would've done but for a lack of clinical finishing in the final-third. Yet Spurs definitely had the best of the second-half and a draw was ultimately what both teams deserved. To get results against the biggest teams in the league you need to play well but have a little bit of luck. The Reds mastered the first part of that, in the main, but had no fortune whatsoever. The reason I'm so in favour of the introduction of technology to Premier League football is that referees shouldn't dictate the outcome of a game by making incorrect decisions. Despite a draw probably being what both teams will feel they deserved to take away from Anfield, the home side would be five points clear of the visitors tonight if John Moss and his team had officiated the game correctly or VAR was there to help. It's the 21st century, let's move with the times.