When West Brom turned up at Anfield in the league game a few weeks ago, they had no intention of doing anything other than frustrating the Reds. They succeeded, of course, though they did owe that to a generous refereeing decision over a handball that wasn't. Any notion that they might have turned up this time around and been a bit more attacking because it was an FA Cup match will have been dismissed once they saw Swansea City get a win against us by putting eleven men behind the ball and hoping for a miracle. In hindsight, the thing that annoyed me the most about the loss to the Welsh side is that it's allowed Carlos Carvalhal to pretend he's some sort of tactical genius, when Liverpool could easily have scored four past them if players had taken their chances.
🏎️ 🚦

"If you put a Formula 1 car in London in traffic, the Formula 1 car will not run very fast."

Carlos Carvalhal likens @SwansOfficial's win over @LFC to stopping Formula 1 car!https://t.co/2y6MuHiYuP pic.twitter.com/jnOCU5Kpcm

— Sky Sports PL (@SkySportsPL) January 23, 2018
Alan Pardew didn't crow and show off after the Baggies left Anfield with a point in mid-December, certainly not to the same extent that Sam Allardyce did when a Dominic Calvert-Lewin dive rescued a point for his Everton side the week before. Nothing irritates me more than giving middle-of-the-road managers an excuse to give it the big I am, so I didn't want to see Liverpool struggle to break down West Brom in the same way that they had done in the league or against the Swans last Monday. I wanted the Reds to start fast and keep the pressure on from the get-go, pinning Pardew's side back and never relenting. This is a side that doesn't know how to play in fourth gear, so I hoped that we wouldn't even try. Klopp's side normally responds well to setbacks, with the loss to Spurs being followed by eighteen games unbeaten in all competitions. All I wanted to know was how well we'd respond to our defeat in Wales. Not well, was the answer.
Did The Manager Go Too Strong?
I want Liverpool to win the FA Cup. I'm bored of conversations about Jürgen Klopp not having won anything yet and the Reds not having lifted a trophy since 2012. Six years feels like an eternity in football terms. Yet I did think that the manager went too strong with his line-up. As much as I'd like some silverware, I want us to finish in the top four in order to attract top-quality players again in the summer. If Klopp is determined not to go into the transfer market this month then we're going to be asking a lot of the likes of Roberto Firmino, Mohamed Salah and Sadio Mané by playing them every week. It's interesting that he's rotating the goalkeepers due to concern over needing to drop one of them in due to injury, but he doesn't seem to feel the same way about Danny Ings and Dominic Solanke.
Tonight's team to face @WBA…

Moreno returns to the starting XI. Can wears the captain's armband. #FACup pic.twitter.com/qdwq2X6uwj

— Liverpool FC (@LFC) January 27, 2018
Many people thought that he'd got his team selection wrong when he played the 'weaker' squad against Everton and went strong against the Baggies in the match that followed, so perhaps the manager thought that those players deserved the chance to redeem themselves. He's shown precedent for that in the past, often picking players who've played poorly against teams the opportunity to show that it was a one-off. The issue that Jürgen Klopp had was that going so strong from kick-off meant that he had few options off the bench to rescue the game.
Rotating So Many Defenders Left Us Weak At The Back
There's an inherent contradiction in what I'm about to say, given that I wanted the manager to rotate his starting eleven more. Yet the fact that he swapped three of his back five left the defence looking as though they'd never even met each other before. Trent Alexander-Arnold is a real talent and he played a number of searching balls that were reminiscent of peak Steven Gerrard. He's still young, though, and the rest of his game looked very shaky indeed. Given Joe Gomez's high-profile mistakes in recent matches I can see why the manager chose to mix things up at the back. The problem is that Alexander-Arnold was really poor, especially with his crossing, and his defending was shady throughout as well.
I think if Trent Alexander-Arnold tried crossing the ball another 1736 times… it still wouldn't beat the first man.

— Matt Lawrenson (@lawrenson9) January 27, 2018
When the left-back has also missed a good number of games and isn't the most phenomenal defender at the best of times, that leaves you looking like you're weak at the back. Despite being here for some time, the jury is still out on Joel Matip and Virgil van Dijk can't solve all of our problems himself. Add to that Simon Mignolet, who did absolutely nothing of note tonight, and you can see that Jürgen Klopp's decision not to fix key areas at the back are coming home to roost. Nathaniel Clyne's continued absence combined with the fact that Loris Karius hasn't done enough to stake his claim in between the sticks means that we're likely to see games like tonight time and again.
It's important not to get too carried away, of course. In the wake of the Manchester City result there was a general feeling that this Liverpool side is the second-best in the country. My major concern is that we're seeing the same deficiencies that were there when Klopp arrived at the club and not enough is being done to address them. Andy Robertson has impressed but he's not someone you want to be relying on for a full season, with Moreno no better on that front. The goalkeeper has been a problem position since the days of Brendan Rodgers but we're still talking about it. Klopp has my complete faith, yet my concern is that he's giving too much of his own faith to players that simply aren't good enough for the rigours of a season-long campaign.
VAR Is In A Trial Period, Not Its Final Phase
It's odd to be writing a review of a football match and one of the major talking points not being the football. Then again, prior to tonight Liverpool Football Club had never been involved in a game that featured the trialing of a new use of technology. The introduction of the Video Assistant Referee into football has been a controversial topic, mainly because most people don't seem to understand that it's in a trial phase. Critics seem to think that the way it's being used right now is how it will be used when it's rolled out properly, but that's simply not the case.
I think there should be a limit of VAR referrals per game, similar to cricket, won't waste so much bloody time then

— Freddie Harden (@FreddieHarden15) January 27, 2018
From referees through to footballers, via supporters and managers, everyone is learning from how the technology is working. In tonight's game it was clear that there are a number of learning opportunities before VAR is fully introduced. For starters, it obviously took too long for Craig Pawson to give the penalty when Mohamed Salah was dragged back in the first-half. There's no way that things can take four minutes if they hope to use the technology in a way that doesn't kill the game.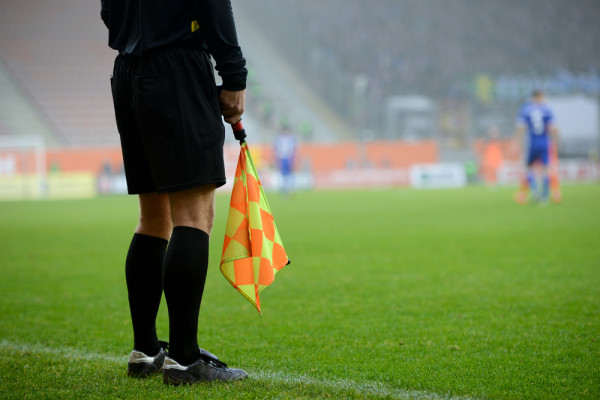 Then there's the fact that supporters in the ground will have had no real clue what was going on. They knew that the referee was reviewing every incident, but past that it wasn't clear what was happening. I wasn't actually at Anfield tonight but I could tell watching at home that the Kop wasn't happy. I think the booing on the half-time whistle was aimed at the officials rather than the team, for example. I believe that in some sports in America the referee's conversation is broadcast to the crowd via the PA system of the stadium, which would help in informing the crowd and keep them interested in what's going on.
VAR is never going to work if people fume at it for disallowing a goal rightly and giving a penalty rightly.

— Philip Blundell (@PhilBlundell) January 27, 2018
Whether you're for or against the introduction of VAR, the most important thing to bear in mind right now is that it's not in its final stage. The teething problems that we're all witnessing will hopefully be ironed out as much as possible. That some people won't have enjoyed how it was used tonight doesn't make it terrible, it just means it needs to be perfected if it's going to be successful. If Roberto Firmino had scored his penalty then the score would have flipped from a potential 3-1 to 2-2, which is impressive when you think about it. I'm a fan of the introduction of technology to help referees get decisions right, but I do think it's got to be done in the right way. That, it seems, will still take some work.
Henderson Looked Good But Midfield Is Becoming An Issue
It will pain the haters, but Jordan Henderson looked good when he came on. He was moving the ball around quickly, playing a mix of intelligent passes and searching ones and he didn't seem to be suffering from his injury at all. That was in marked contrast to Emre Can, who was really quite poor for the second game in a row. Perhaps the German's head is already in Turin, though I think it's more likely that he's simply not suited to these sorts of matches. He is too slow and ponderous in position when he's got time to think, instead needing the game to be played at one-hundred miles and hour so that he can constantly be involved in it.
That's entirety fine, of course. He was imperious against Manchester City and looked every inch the player that his fanboys think he is. The problem is that he either needs to do that far more consistently or else not be selected for these kinds of games. Henderson, meanwhile, suits the matches when the ball needs to be turned over quickly to get us moving forward. Perhaps the manager felt as though he wasn't ready to play an hour or so after his injury and if that's the case then we desperately need to be heading into the market for another midfield option. Gini Wijnaldum goes missing far too often, Alex Oxlade-Chamberlain is taking time to settle and anyone who's read this blog before knows my opinion on James Milner. Right now, the midfield is looking like a problem.