In the wake of the capitulation at The Vitality Stadium last week I tried to stay positive. I thought Bournemouth targeted our weaknesses very well and I hoped that the Liverpool team would respond to the set-back with a white hot anger that would see West Ham given an almighty hiding. How you respond to set-backs is key and I honestly thought that our result on the South coast would wake us up and see us return to winning ways.
Slaven Bilic has proved a bit of a pest to #LFC – 3 wins and a draw at West Ham and obviously a Europa League exit too when with Besiktas

— Andy Kelly (@AndyK_LivNews) December 11, 2016
Evidently I was wrong. The result against West Ham doesn't bother me as much as the performance did. It was lacking in energy, effort and focus. We were sloppy in possession, dopey at the back and the goalkeeper is giving the manager a question that really shouldn't have been asked. As for the crowd, it was actually vile to be stood on the Kop and listen to some of the stuff being said. So where did it all go wrong for the Reds today?
The Goalkeeper Problem
Haven't we been here before? I honestly feel like I've written dozens of think pieces about Liverpool's goalkeeper at one point or another. I'm quite sure that this isn't the last time that I'll walk away from Anfield with people talking about the man between the posts, either. What I'm tempted to do is write my piece here and then just refer you back to it in the future. This may not be definitive but it's about as close as I'm likely to get.
That starting position when the ball is hit is flatly insane. #LIVWHU pic.twitter.com/OdyXVjewZj

— Empire of the Kop (@empireofthekop) December 11, 2016
I'm not a Karius cheerleader. I'm more than aware of the fact that the German has struggled since he was brought into the side at the expense of Simon Mignolet. He hasn't been the goalkeeper we all expected him to be and it genuinely says something that that's the case, given that Mignolet's stock was so low all Karius had to do was catch the ball and not fall over.
Yet there seems to be a narrative that has grown over the last few weeks as he's struggled to settle that Mignolet was having an amazing start to the season. That is simply not true. Our first league clean-sheet of the season came when Manchester United arrived at Anfield and it was Karius who was in goal then, not Mignolet. In the five games Mignolet played in the league we conceded eight goals.
Karius may not care what @GNev2 thinks but making the odd save might strengthen his case.

— Gary Lineker (@GaryLineker) December 11, 2016
A look back to the Leicester City game will tell you all you need to know about Mignolet. He made some good punches and looked assured, then he played a pass to Lucas with a Leicester player bearing down on him. There's no question the mistake was the Brazilian's fault but why is the goalkeeper giving it to him in that situation in the first place? His head then went completely and he came for a ball he was never going to reach and the Foxes nearly equalised. Karius isn't doing well but the solution isn't on the substitutes bench.
I'm also baffled that no one seems to be talking about John Achterberg. Since the former Tranmere Rovers goalkeeper arrived we've seen a dive in form from José Reina, Brad Jones diving the wrong way at shots, Adam Bodgan conceding directly from corners, Simon Mignolet conceding virtually every short on target and now Loris Karius falling apart. It's all well and good saying the goalkeepers aren't good enough but can we not take a closer look at the person in charge of their development?
Reina doing well for Napoli and Brad Jones winning Dutch League goalkeeper of the year. Neither brig trained by Achterberg are they

— The Anfield Chat (@TheAnfieldChat) December 11, 2016
Here's the thing: I don't know what goalkeeping coaches do. I have absolutely no idea. But if there was a consistent problem in the defence across several managers and numerous different defenders wouldn't you look at the person in charge of training the defensive line? What about the attackers? If they were all over the show with their shooting and the bloke that was looking after them was Sean Dundee, would we all pretend it was fine?
People who know and watch the Bundesliga maintain that Karius was a brilliant goalkeeper over in Germany. Of course the 'weight of the shirt' is something that countless players have struggled to cope with, but I don't know whether that's what's going on here. Mignolet isn't the saviour any more than Karius is a genius and I think the biggest problem the goalkeepers have got has a jersey with 'JA' imprinted on it.
Reverting To The Mean?
There's a question that's been niggling at the back of my mind for a while now: Are we going into a slump at the moment or are we simply reverting to the mean?
The Reds had a very tough start to the season and it was difficult not to get carried away after victories away to Arsenal and Chelsea and a 4-1 thrashing of the Premier League champions at Anfield. We were supposed to struggle with the opening fixtures of our campaign but instead we came through them with flying colours and entered the title race in a season when we were only supposed to be challenging for the top four.
FT: #LFC 2 West Ham 2: Another setback for Klopp's side. Dominated 2nd half but didn't do enough to win the game. All very flat.

— James Pearce (@JamesPearceEcho) December 11, 2016
Yet the last couple of games have seen a decidedly flatter Liverpool. Sunderland played a very defensive game against us but were they somehow more defensive than the side that lost 3-0 to a genuinely dreadful Everton side, or conceded four at home to Arsenal? We weren't at our best against the Black Cats and a 2-0 win might just have papered over the cracks. Likewise we laboured to a 2-0 win over Leeds, albeit with an entirely different starting XI.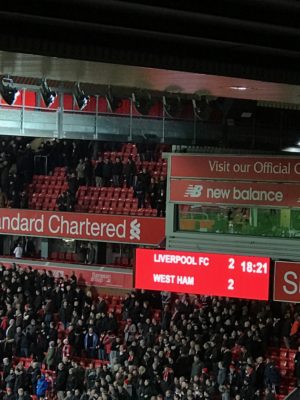 The loss at Bournemouth was disappointing but I'm not convinced it was a massive surprise. As a team we've kept just six clean sheets in nineteen games in all competitions so far this season. That's really very poor for a team that wants to compete at the highest level. Much like in 2013-2014 we've gotten away with it because our attack has been so good, but you can't aways outscore the opposition. In their last six league games Chelsea have scored fourteen and conceded just two. In the same amount of games we've scored seventeen and conceded nine.
This weekend last year Liverpool drew 2-2 with team whose name begins with 'West'. They were 1-0 up, went 2-1 down & equalised through Origi

— Sachin Nakrani (@SachinNakrani) December 11, 2016
In the last two games it feels like we've thrown away any potential title challenge and it's easy to get carried away with the emotion of that. But if we seriously want to compete at the top end of the table then we simply have to find ways to grind out wins during a period when we're not playing well. For the most successful teams that starts with a defensive unit that doesn't concede goals. For all of the talk that we limit the number of clear cut chances on our goal, we keep conceding. Whatever the solution is Klopp has to find it quickly.
More Refereeing Problems
I've said it before and I'll say it again, talking about the referee is boring. It's an easy excuse to blame the man in the middle for all of your woes and every set of supporters in the land thinks that the officials have it in for their team. It's not true, of course, and being a referee is a very difficult job and they don't get equivalent praise for what they get right compared to the criticism sent their way when they get something wrong.
Having said all of that, I thought Mark Clattenburg was appalling today. How he didn't give a penalty when Adam Lallana was hauled over at the end of the first-half I'll never understand. It was one of the most blatantly obvious spot-kicks I can remember seeing in some time and he was looking straight at it. It appeared to me that he was determined not to give it just to show that he won't be intimidated by a hostile atmosphere emanating from the Kop.
45+1: Calls for a penalty, but Mark Clattenburg points for a corner…

We hit the bar but a free-kick is given to West Ham.#LIVWHU pic.twitter.com/zKUYB7C07C

— Liverpool FC (@LFC) December 11, 2016
It was a terrible decision and one that I didn't expect to see from someone I consider to be one of the best referees in the country. I bring all of this up to make a point: The notion that 'these things iron themselves out of the course of a season' is a nonsense. If we get given a penalty that we shouldn't have had when 4-0 up against someone with five to go, is that the same? Does it level things out?
It will take a remarkable set of circumstances for it to happen again that we're 2-1 down at home against a bottom ten team the day after the league leaders have won, needing a win to keep pace with them and the referee gives the penalty rather than waves it away. That was a crucial moment in the season and all we wanted was for the referee to do his job. We didn't play well today but if he applies the laws of the game then we probably come away with a win. Winning when not playing well also requires a level playing field and that's what the referee is there to provide. Clattenburg failed in that duty and should receive criticism for it accordingly.