In 2005 Liverpool progressed in the Champions League in the unlikeliest of circumstances. Nobody really expected the club to make it out of the group stage in Rafa Benitez's first season, but progress we did. Once we made it to the knockout stages everyone thought that Juventus in the quarter-finals would be a bridge too far, especially given that the second-leg was away from home. We did what needed to be done at Anfield, however, before holding on in Turin and progressing to the semi-finals. At that stage we faced an English side that were the runaway leader of the Premier League, a team so far ahead of everyone else that the league was as good as a procession for them in the final stages. They still needed to win the title, of course, and they had a chance to do just that in the domestic match that came in between the two Champions League legs. Does any of that sound familiar?
The last time I heard a rippling Liverpool atmosphere during a European Cup Tie was in May 2005 against Chelsea during a European Cup Semi-Final. Hope @LFC will make a spicy, spine tingling atmosphere tonight against https://t.co/PMJKLenI3U. An awesome game ahead! #UCL pic.twitter.com/7khjcvtysD

— Mvuyisi Tyiwani (@MercurialSoul22) April 4, 2018
Obviously this isn't 2005, Jürgen Klopp isn't Rafa Benitez and Manchester City are most definitely not Chelsea, even if their success is built on the back of a rich benefactor. Yet the point remains that Liverpool have been here before, which isn't something that Pep Guardiola's side can claim. You can argue all day long about whether or not experience matters; after all, not one of the players that lined up for Benitez thirteen years ago is still at the club as a player. Certainly before tonight City's fans were happy to claim that it would make zero difference, that there's no such thing as European pedigree. Reds, on the other hand, believe that it's in the DNA of the club. There's no way to prove either argument, of course, so in a sense it's pointless even talking about it. Similarly, there's no point talking about Jürgen Klopp's experience of going up against Pep Guardiola and getting the better of him, given that everything goes back to the beginning each time their teams go head-to-head. What, then, can we make of the first-leg's result?
Atmosphere's May Just Make A Difference
As soon as Liverpool and Manchester City were drawn against each other in the Champions League, our supporters began to talk up the importance of the Anfield atmosphere and theirs proclaimed loudly that it wouldn't make any difference. Their players have been to more hostile places, they said, they've already played at our place too. They happily ignored the way that the Man City defenders seemed to wilt for a ten minute period during the Premier League match in January, when Liverpool had them absolutely rocking and the crowd played their part. I don't know whether the City players under-estimated the crowd as much as the supporters did, but they certainly struggled to cope in the first-half and couldn't get their rhythm going in the second period.
Liverpool Welcome their team bus at home to Manchester City tonight #LFC pic.twitter.com/opQUmLZau5

— FootballAwaydays (@Awaydays23) April 4, 2018
The welcome that the Liverpool team received on the way to Anfield was absolutely incredible. It's been brilliant in the past, but it was something else tonight. It should be noted that some absolute morons have too go too far and I was really disappointed to learn that Man City's coach's windows were smashed by some clowns. The welcome is about letting the home team know we're behind them and the away team know that they're in for a battle, but it's never been about physically intimidating them. As good as the idea of lining the streets is, I'd rather we stopped it in the future than doing that sort of nonsense.
Back to the game, though, and what a difference it will have made to the players – on both teams. Our lot looked like they could run through brick walls, with the volume going up to a level that Anfield won't have experienced for decades. The addition of the extra seats in the Main Stand mean that more people were inside the stadium than since the days before it became an all-seater and it certainly showed. Perhaps now even the most cocky of City fans won't be so blasé in the future when we talk about the atmosphere that our ground can create on a European night. Make no mistake, this is a phenomenally brilliant side that Guardiola has put together but even they didn't know how to cope with the force of our supporters.
Hearing rumours that some Manchester city fans are having to admit that atmosphere is a factor in football games. More to come

— John Gibbons (@johngibbonsblog) April 4, 2018
If you were inside Anfield tonight then give yourself a pat on the back – you were superb. When ties are played over two-legs the home leg can be crucial, so it's brilliant that both the players and the supporters did their job and took the game to Manchester City in a way that they simply haven't had to cope with at any previous point during this otherwise almost all-conquering campaign from a domestic point of view. Nights like tonight enter the records of huge nights in the Liverpool record books, when one of the best teams in world football simply couldn't cope. Teams can think they know how to cope with it, but unless they've experienced it they really have no idea. Don't believe me? Just ask Leroy Sane.
Trent Was Awesome
I'll be honest, I was worried about Trent Alexander-Arnold going into this match. Against Manchester United he was caught out a few times and José Mourinho's men took full advantage. That was concerning, but he's young and you can forgive certain mistakes in someone still learning his game. Yet he repeated essentially the same mistake against Crystal Palace and gave away two chances, one of which led to the penalty. I confess, therefore, that I was concerned about him going up against the likes of Kevin de Bruyne, Leroy Sane and David Silva. I absolutely did not need to be. He was phenomenal tonight, giving Sane absolutely nothing and making him look like an entirely different player to the one that tormented us in the league game a couple of months ago.
Excellent again from TAA against Sane.

— Neil Jones (@neiljonesgoal) April 4, 2018
When you talk about younger players it's easy to get carried away about the sort of player that they might become, but with Trent it's entirely fair to point out the player that he already is. His power, pace, skill and ability to read the game mean that he's got so much to offer us at such a formative stage in his career. It's an easy comparison to make, but there's something about him that reminds me of a young Steven Gerrard. It's not just the local thing, though that certainly helps. It's the way that gives his all to get the team over the line and keeps on running. He doesn't let his head drop either, which it easily could've done given his mistakes in the last couple of games. He'll make more mistakes in the coming weeks and months, that much is certain. He's still young enough to point out that it would be daft to suggest otherwise. Tonight, though, he can hold his head up high as City targeted him repeatedly and he has all of the answers.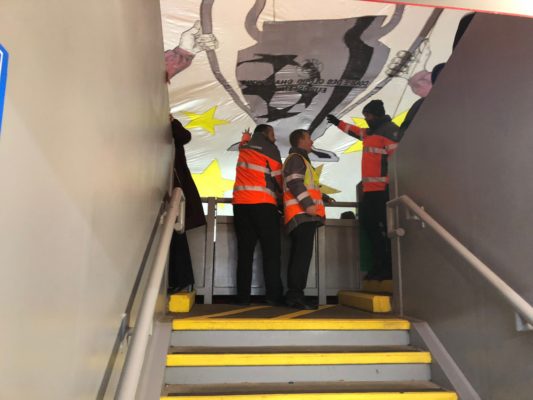 As much as Trent deserves all of the credit, tonight was a massive performance from the entire team. In the first-half they did everything that they possible could to answer the call of the Kop and put the match to bed as quickly as possible. In the second-half we saw a side of this team that we haven't necessarily seen often enough. To a man, they defended like lions, closing down City and blocking off all of their options. We didn't give them an inch and managed to contain one of the best attacking sides in the country, if not Europe, to zero shots on target. That's Liverpool, with a 'poor goalkeeper' and a 'dodgy defence' not letting a Pep Guardiola team have a single shot on Loris Karius's goal. Whatever happens next week, that's a performance for every single player to be incredibly proud of.
It's Only Half-Time
I know that this is a massively negative point to end on, but it's really important that we remember that it's only half-time in this tie. Manchester City beat us 5-0 at The Etihad in the Premier League earlier this season. Yes, we had ten men for most of the match but you can't tell me that Pep Guardiola's side doesn't have the ability to do that even if we manage to keep all eleven men on the pitch. They're a truly sensational team and if we give them even an inch in the second-leg, if we're even slightly off our game, then they'll get back into it early doors and it will make the second-leg even more tough.
Where a long long long way away from that team!!! Great display by the reds there get in klopp lad!!! No plan B well we saw how good we can be at both ends of the field tonight… Just beat the favourites for the cup there.. only half time tho but I'd have took that at half time! pic.twitter.com/pPkGHOY03D

— steven lowe (@lowey1978) April 4, 2018
Tonight is all about celebrating and there's no question that we'd have taken that scoreline before a ball was kicked, of course. We might have taken 2-0 if Mo Salah hadn't felt a twinge in his groan and Jordan Henderson hadn't been sent off, but taking a three goal lead to The Etihad with no away goal for the opposition is the stuff of dreams. Given the away goals rule, a goal for us at their place will make their job very, very difficult. It's half-time and they have the ability to beat us next Tuesday, but that's a result every single Liverpool fan will be bouncing up and down over tomorrow morning. Guardiola's side are brilliant and tonight we humbled them. What a difference that might make in the future as the two sides battle it out for supremacy in the Premier League.