There was pretty much no way that tonight would turn out as anything other than an anti-climax. When you beat a team 7-0 on their own ground, setting your club team record for an away win in Europe at the same time, everyone expects the home game to be nothing other than a cakewalk. The expectations for Maribor were so low that most of the home crowd were surprised that they could tie their shoelaces. Their last visit to the UK ended in a 6-0 loss to Chelsea, with their six visits to these shores ending with an average scoreline of 13-2. Whichever way you look at it, Liverpool were expected to win this game comfortably.
There must be about 2000 spares knocking about for tonight.

— Ian Ryan (@Ian1892T) 1 November 2017
If you didn't already know that supporters were expecting us to batter the Slovenian side then a quick look at Twitter would have confirmed as much. Every other tweet on my timeline seemed to be someone saying that they had a spare ticket going. The manager might have wanted to tell everyone that we weren't going to be complacent, but at a time when money's tight it was hardly surprising to see so many decide their cash could be better spent elsewhere. The question was, would the players be like the supporters and fail to turn up? Or would it be a repeat of the game at the Ljudski Vrt Stadium?
This Was Good Practice
Despite the team's obvious and repeated defensive failings so far this season, José Mourinho showed that even the most experienced and moneyed of teams won't turn at up Anfield with all guns blazing. Perhaps only Manchester City will have the confidence to come at us on our home turf in a fully attacking manner, with pretty much every other team we're going to face likely to turn up and park the bus. Figuring out how to pick the locks of those deep-lying defences will be key to any success we'll enjoy this season. It might not have been fun to watch, then, but the defensive display from Maribor gave the Reds a chance to get some practice in against precisely those sorts of tactics.
This has been a theme of 2017. We must've seen it at least 15 times. And until we prove we can overcome it, opponents will keep doing it.

— Dan Kennett (@DanKennett) 1 November 2017
The more that it works, the more teams will turn up and do it. We're at our best trying to counter those tactics when we move the ball quickly. This isn't a team that can play at half-pace, so I can only assume that Jürgen Klopp decided to let them save their legs in the first-half in order to turn of the pace in the second. In many ways the game was identical to the match against Huddersfield on Sunday, with a slow and measured first-half and a much more pacy second one. There was even a missed penalty to complete the comparison! Deep-lying defences won't be easily unlocked by slow football and it's bizarre that a side that so regularly took teams apart last season playing at tempo would play without it this time around.
We're Better When We Move It Quickly
Is it a tactic from the manager? We've all seen the stats about the press being significantly reduced this season and we've now witnessed two games in a row where we've been slow out of the blocks. That's to say nothing of other games earlier in the campaign when we did exactly the same thing, with our draw against Seville in this very competition coming because of a lack of quick and intelligent movement. It's difficult to imagine that it's not a tactic, considering how often it's happening and the fact that the manager isn't doing anything to counter it.
I know it's not easy playing against a side content with sticking all ten outfield players behind the ball but we're not helping ourselves

— Sam McGuire (@SamMcGuire90) 1 November 2017
It would have been an understandable choice tonight, of course. I've already spoken about the extent to which this game was seen as a routine win before a ball had been kicked, so if the German had made a choice to save the legs of his players by asking them to start slowly and work their way into the game over time it would have made sense. Even so, the first two goals and the penalty came about because of quick, intelligent movement around the box. The second in particular was a delightful goal to watch, with the passing leading to James Milner's layoff for Can too much for Maribor to keep up with. If it wasn't a tactic then did Klopp get his starting eleven wrong?
Did The Manager Get The Team Wrong?
If you want a team to move the ball quickly and for players to add pace to your team then there's absolutely zero point playing both James Milner and Emre Can at the same time. They both have attributes that they bring to the side, but having them in the same midfield is never likely to make an opposition team quake in its boots. I've been critical of Milner in particular recently, though the former Aston Villa and Manchester City man has only been doing what he's always done – putting in a stint but being unremarkable. Can, meanwhile, is obviously a player full of ability but with a change of pace more reminiscent of an ocean liner than a sports car.
Exactly the kind of game we could do with Coutinho in midfield. Henderson, Can and Milner all too safe and static at the moment.

— Joel Rabinowitz (@joel_archie) 1 November 2017
The manager would no doubt point to the injury to Gini Wijnaldum early in the first-half as being problematic, but the reality is that we looked far too slow and ponderous before that happened. Without Philippe Coutinho and Adam Lallana Jürgen Klopp's choices are limited, of course. Even so, I would have liked to have seen Klopp throw his 4-3-3 out of the window for once and play a side that made the most of the players he had available to him. It would have been nice to Alex Oxlade-Chamberlain start in midfield rather than the front three, for example, with Daniel Sturridge up-front alongside Dominic Solanke.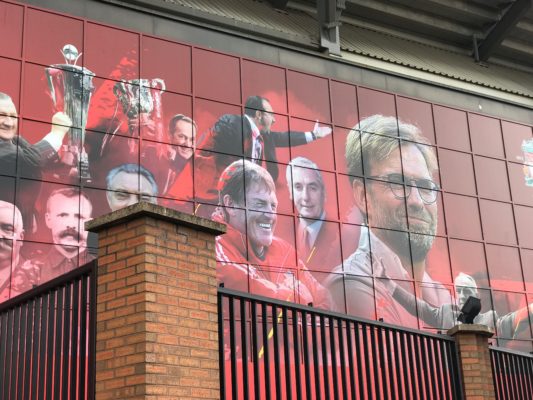 This might seem a bit churlish after a 3-0 win, but I'm starting to get a bit concerned about what, if anything, the manager's learning from our poor performances. Seeing the same line-ups play the same formations against teams that will play in the same way feels like it will backfire at some point. Selecting players that have a natural inclination to move slowly and try to unpick a lock rather than force it might cause trouble on a day when things don't click moving forward. Hopefully I'm wrong and we continue to rack up the wins like we have in our last two games. Unlike some supporters, I'm more than happy to be wrong if it means Liverpool are winning!
We Can't Complain About Regulation Wins
Let's be honest, we can't turn our noses up at two regulation wins in a row. Under previous managers these became so common they were boring, but they've been so rare in recent times that we're now not used to them. Such is the surprise, in fact, that it's actually worth celebrating racking up two back-to-back regulation 3-0 home wins. I said after the Huddersfield game that it might take a while for Liverpool supporters to get used to boring first-halves but victories coming at the end of the end of it all. It might take the manager just as long. He's used to heavy metal football and going hell for leather, so it's going to be against his nature to play in this more conservative style.
Feels a lot like Sat. First half of toil and then goal early-ish in second half. Now can #LFC make it as regulation as Huddersfield became?

— Andy Kelly (@AndyK_LivNews) 1 November 2017
As long as we keep picking up victories then it really doesn't matter whether we're slow, quick or somewhere in the middle. I've got a suspicion that the manager is so panicked about the amount of games we've got to play in December and January that he's doing his best to save his players's legs. After all, that was the point last season at which the wheels fell off our campaign, when losses in the FA Cup and League Cup combined with disappointing draws in the league to leave us off the pace in all three.
He'll want to avoid a similar thing happening this time around, which might explain away our more cautious football. Again, though, regulation wins are nothing to complain about and if Klopp, his backroom staff and the players themselves are getting used to picking up some standard wins then I don't think anyone will be complaining.
Oxlade-Chamberlain & Salah
Alex Oxlade-Chamberlain finally got his Anfield start and he took his chance with both hands. He was particularly impressive in the first-half when plenty of the other players were lacking drive and decisiveness. He was a bit quieter in the second period, though he still played some brilliant balls into the box that no one was there to get on the end of. If he was playing well enough to justify his price tag, Mohamed Salah continues to be the signing of the summer. His goal today was his tenth of the season and he is absolutely on fire at the moment. For all that the manager made some mistakes this summer, a huge amount of praise is deserved for the arrival of the Egyptian.
A 10th goal already for Liverpool for Mo Salah. A magnificent signing, and a bargain.

— Henry Jackson (@HenryJackson87) 1 November 2017
This is a stat I've mentioned before, but Liverpool conceded 21 goals in the first-half of last season and were second in the league. During the second-half of the campaign we conceded another 21 goals, yet we barely scraped our way into fourth. What changed from one part of the season to the next? The loss of Sadio Mané for a long period of it. Mané is out again right now, but we're not missing him because of our new number eleven. His goal was well taken from a brilliant ball in by Trent Alexander-Arnold, unlocking the Maribor defence and sending us on our way to three points. We're not just one more win away from qualifying for the knockout phase, which is exactly where we should – and want to – be.