There were a number of question marks swirling around prior to kick-off, not least of which was regarding Jürgen Klopp's decision to drop Simon Mignolet in favour of Loris Karius. Arsene Wenger had a similar trick up his sleeve, bringing in Alexis Sanchez for what is likely to be his final appearance in an Arsenal shirt, but not selecting the club's record signing Alexandre Lacazette. Another question revolved around the idea of whether or not the Reds could handle such a big match on the back of playing in midweek in the Champions League qualifier. We're going to have to do it enough times now we've made it through to the group stages after all.
Confirmed #LFC team and subs to face @Arsenal pic.twitter.com/mCuwhBbTWf

— Liverpool FC (@LFC) August 27, 2017
For me, Arsenal currently have the feel of Liverpool at the start of the 2015-2016 season. I like Brendan Rodgers as both a man and a manager, but he shouldn't have kept his job after we lost 6-1 away to Stoke. For the Gunners, it feels as though Wenger is a dead man walking. No one really knows why he didn't go in the summer, with supporters now fighting amongst themselves over him and players seemingly not playing for him. Right now I'd be absolutely amazed if he lasts the full season and I'm not sure there's a Jürgen Klopp waiting in the wings to take over from him and rescue the club's season. It's a sad state of affairs for a man who changed the face of English football. So how did the Reds pile on the misery for the manager?
Our Midfield Won The War
It's easy to see why the front three will get all the headlines. They've lined up together for two games now and each of Mohamed Salah, Sadio Mané and Roberto Firmino have scored in those two games. Yet the midfield was truly immense today, with all three of those selected by Jürgen Klopp winning their battles and helping us to dominate the game. Jordan Henderson was once again guilty of a few too many loose passes, but he also made some brilliant ones that set our electrifying wingers away. As I said the other week, you don't get the raking passes without a couple of them going astray.
This is Liverpool WITHOUT Coutinho and Lallana btw. Arsenal making it easy for them but still Liverpool's attack is frightening.

— Spencer FC (@SpencerOwen) August 27, 2017
If we're able to keep Philippe Coutinho then the link between that midfield and attack will get even stronger, which is a prospect that should absolutely terrify opposition defences. You'll feel for whichever of our middle three has to drop out of the side for him, however. Gini Wijnaldum was the obvious candidate prior to today, struggling to get up to speed in our first two league games. Today, though, the Dutchman was absolutely superb. He consistently took the mickey out of Arsenal's midfielders, turning them inside out and leaving them on the floor with no idea how they got there. It's also worth mentioning that until Friday he was home in the Netherlands for the birth of his son!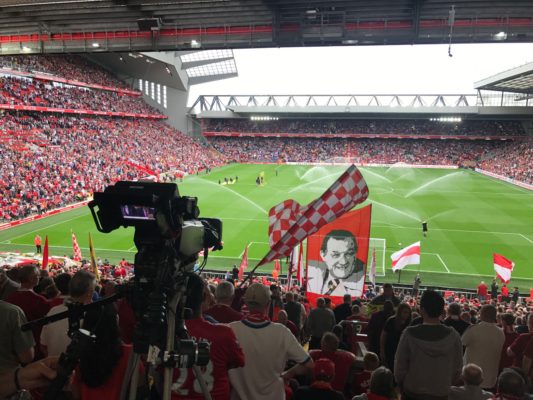 And then there's Emre Can. I've been critical of the German in the past, mainly because he seems to need someone else to dictate the pace of the play and can't do it himself. He struggled a little bit during our last campaign but he was carrying an injury for a large part of it. Once he'd managed to shake it off he grew into the season and started to earn his place in the team. He's seemingly been getting better and better since then and any doubts over his ability have been washed away. He absolutely ran the game today and the easy majority of right-thinking Liverpool fans will want to know why his contract situation hasn't been sorted out. Unless he's demanding £350,000 per week and to live in Jürgen Klopp's house, there's unlikely to be a demand we can't and shouldn't meet.
Emre's contract needs sorting out as soon as. He's really his his stride this season. Massive, massive heart. Exceptional in midfield today.

— AttackoftheKop (@AttackoftheKop) August 27, 2017
There may well still be question marks about the midfield's ability to help the team break down deep-lying defences, yet those questions are from last season and haven't really been asked this time around. One thing that is without question is that we do look a little bit light in the middle of the park. Yes we're still waiting for Coutinho and Adam Lallana to come back, but even if they do they're not battlers in the same way that Henderson, Wijnaldum and Can are. That's why we've been chasing Naby Keita all season, because the RB Leipzig man can do the job of two of them. Still, today is all about the midfield that took to the pitch and absolutely destroyed Arsenal's side.
Liverpool's Attack Is Devastating
I get the feeling that it's going to be really difficult not to talk about Liverpool's attack after every single game this season. Our defensive problems are well documented, though even they might be being exaggerated somewhat. Yet one thing that cannot be argued with is just how good we are going forward. I was delighted that Mo Salah got a goal by racing through a bunch of players. The Egyptian has actually been rather wasteful since arriving on Merseyside, believe it or not, and he missed a golden opportunity during the first-half today after brilliant work from Can. His speed will always cause problems, though, and if he continues to get into dangerous positions then he'll score double-figures for us without question.
12 – There were just 12 seconds between Arsenal taking a corner & Mohamed Salah scoring Liverpool's 3rd goal of this match. Counter. pic.twitter.com/GtuKyl4PyB

— OptaJoe (@OptaJoe) August 27, 2017
When I got into the car on my way back form Anfield this evening I put on BBC Radio Merseyside to listen to supporters praise the team after a stunning victory against a supposed top four rival. Instead what I heard was someone complaining about the fact that we don't have a centre-forward who can score twenty-plus goals a season. That might well be the case, but in Roberto Firmino we have one of the best forward players in the league. His work-rate is second to none and he couples that with an ability to score big goals when it matters. Up until lately he's been something of a secret weapon, keeping us ticking over but in a way that means he's completely under-estimated by our opponents. The scary thing is that he wasn't even at his best today and yet still scored one and was involved in the others.
Moaning Mike who called Radio Merseyside might want a striker who'll score twenty goals, but the truth is that we have three front players who could easily get into double figures themselves. One man who scores twenty isn't as good as three who score ten to fifteen apiece and that's also a lot harder for the opposition to defend. Even if Arsenal had been able to take care of both Firmino and Salah today then they would still have been undone by Sadio Mané. The more we're able to get all three of them onto the pitch at the same time the more likely it is that we're going to win football matches. They are simply devastating, each offering something different that defences simply don't know how to deal with.<
Firmino, Salah & Mane for less than £100m – we moan about recruitment but that's utterly ridiculous… #LFC.

— Si Steers (@sisteers) August 27, 2017
I have no idea what's going to happen with the Coutinho situation before the end of the window, but I have to admit that the prospect of the Brazilian pulling the strings behind this front three is an incredibly alluring one. South American's may always have a desire to play for Barcelona, but it's difficult to understand why he'd want to considering we appear to have brought Barcelona to Merseyside. There may be a temptation for the manager to tell the owners he's happy to sanction Coutinho's sale, considering how much he'll feel the trust has been broken between the pair. It's a temptation he desperately needs to resist if Liverpool are to have any hopes of causing trouble in the Premier League this season. Our attack is frightening, but add him into the mix and it just might become irresistible.
Goalkeeping Problems
Whichever way you look at it, Liverpool Football Club has a goalkeeping problem. I'm on record as not being a big fan of Simon Mignolet, believing as I do that the goalkeeper's inability to communicate with his defence is a big part of the reason we still look dodgy at the back from time to time. Loris Karius was the man that Klopp brought in last summer to solve our issue between the sticks, only to drop the German when he struggled in a couple of league games. The decision to remove Mignolet from the match day squad altogether was a genuinely odd one, leading many to speculate that there was a rift between the Belgian and his manager or that the club was about to accept an offer for his services from elsewhere. Both theories that Klopp dismissed when he confirmed that Mignolet would start in our next match against Manchester City.
So after all that analysis of Klopp "resting" Mignolet, Karius hasn't had to make a save (despite trying really hard to have to make a save)

— Rory Smith (@RorySmith) August 27, 2017
Perhaps the German was telling the truth when he said he merely chose to rest the goalkeeper after four gruelling fixtures in a short amount of time recently, though I have been wondering why Klopp chose to keep both Karius and Danny Ward at the club if Mignolet was going to be sticking around for the season. Karius had nothing to do today and yet did his level best to gift Arsenal a couple of opportunities, messing around on the ball and causing Anfield as a whole to have kittens. I genuinely believe that Klopp sees his compatriot as the club's long-term answer in goal, but the more games he has like that the harder he's going to find it to win over the supporters. I've never wanted a player to do better than I did today, yet when you win a match 4-0 and still have to say something about the goalkeeper it's suggestive of the fact that all is not right. Mignolet's not the solution to our problems, but I'm no longer sure Karius is either.