Three losses in the last four matches. No goals scored in those three games. A poor showing against West Ham that saw us scrape a win. An exit from the FA Cup and barely hanging on to our place in the Champions League. No wonder everyone thinks that Liverpool are A CLUB IN CRISIS.
Except no one with half a brain thinks that.
There's an obvious reason why members of the media are peddling such a story, given that it will allow them to sell papers, get viewers and generally just generate interest in a manner that the truth simply doesn't. I also understand why opposition supporters are jumping all over any slight crack in this Liverpool team's veneer, such is their fear that it will rightly be called one of the best sides ever. As always, though, I've no idea why some of the club's supporters seem so desperate to suggest that we're falling apart at the seams. Is it really just desperation for clicks and RTs?
I've no idea where this 'we have to win the Champions League as well or the season is an anti-climax' narrative came from. But it's absolute nonsense. How quickly we've become spoiled. And we haven't even won the league yet.

— Chris Hewitt (@ChrisHewittLFC) March 4, 2020
The sad reality is that, certainly in the world of social media, positivity generates more Retweets, Follows and Likes than positivity. Whilst I'm as guilty of the next person of having a reactive moment or two on Twitter, I generally think that I'm quite level-headed and sensible most of the time. I have three and a half thousand followers. Meanwhile, people suggesting that 'only' winning the Premier League this season will be an anti-climax have eighty-seven thousand followers. It's shock-jock style work to boost Twitter popularity at a time when doom and gloom seems the best way to 'sell' things. It's behaviour that I'll never understand and can't get on board with. Don't get me wrong, I do understand the argument that a season that now has nothing in it other than the title will feel briefly like a disappointment given the promise that came before, but it won't actually be disappointing. Plus, there is no crisis.
Mitigating Circumstances
There are two ways of thinking about football, in my opinion: the reactionary way and the sensible one. Those that opt for the former of those two options will never be able to be persuaded to relax and look at what's actually happened over the past couple of weeks. All they want to do is throw the baby out with the bathwater, cry about impending disaster and forget everything that's gone before. The best thing that sensible people can possibly do with those sorts of football fans is smile politely, nod and walk away. They're the people in the pub who talk to themselves and argue with anyone that comes close to them. They will never be pleased, constantly feeling dissatisfied regardless of what they're presented with. I'm also at least mildly suspicious that they're mostly very young, having not watched Liverpool long enough to understand just how massive a Premier League title will be regardless of everything else.
Liverpool got Simeone-d, had a complete aberration vs Watford, then half a team lost to Chelsea's half a team. It's very far from a crisis, and they are at home to Bournemouth next. Watch out for narrative merchants!

— James Yorke (@jair1970) March 4, 2020
People that are more sensible will happily look at the mitigating circumstances of the last few games and realise that all is not lost. As soon as the Champions League draw was made those same sensible people realised that Atletico Madrid was the worst possible draw for this Liverpool side. Diego Simeone knows how to set up a side to be defensive in a manner that the Reds have struggled with in the past, yet barring a fortunate goal we'd have left the Wanda Metropolitano with a very respectable 0-0 draw. Watford was an unquestionably poor performance from the entire team, but our first-choice back four wasn't playing and the midfield is struggling at the moment. Similarly on another day we score early on against Chelsea and it's entirely different game, but instead a mistake from the otherwise exceptional Adrian and suddenly we're chasing a goal with a front three that doesn't really know each other. Hardly call for alarm bells to ring.
Henderson Is A Huge Miss
The most major mitigating factor in all of this is the absence of Jordan Henderson. The Liverpool captain has spent his career failing to get the respect he deserves from some quarters of the fanbase and the media, but surely everyone now sees exactly what it is that he provides to this team. The second that we signed Virgil van Dijk there were calls for him to be given the captain's armband. Perhaps now those people making those demands will see that being a captain is more than just being the best player on the pitch. It's about dragging your teammates through difficult spells even when you're not playing all that well yourself. It's about putting pressure on the referee every time he makes a decision. It's about setting an example through your work rate and your running. It's also about stuff that mostly happens off the pitch that the majority of supporters never even see. Henderson offers all that and more.
Again, loads of poor performances, but Fabinho's form is a big worry. With Henderson out, he has to be much better. He's been pretty crap in every game since he returned.

— Ste Hoare (@stehoare) March 3, 2020
Henderson is the manager on the pitch. He knows what Jürgen Klopp wants from his team and continually barks orders at them. He also does so much water-carrying for others that it allows them to just focus on their own game. Nowhere is that more evident than in the performances of Fabinho, who has been off the boil since returning from injury. He's having to cover a huge amount of midfield space without Henderson doing his running, meaning that the midfield looks wide open every time we play. Gini Wijnaldum also offers some of the running that Henderson does, but he's looked tired recently. Missing the both of them and depending on an ageing Adam Lallana and an inexperienced Curtis Jones was always going to leave us looking light in the middle, even if Fabinho was on-song. The fact that he isn't means that we've looked overrun there recently, which is something the manager needs to sort out quickly.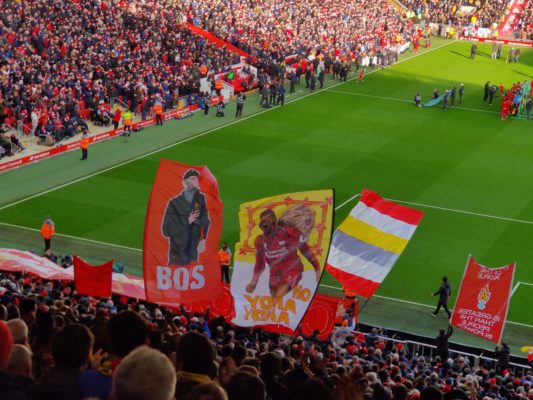 Beat Bournemouth and get a result against Atletico Madrid and all of a sudden the season will start to look nice and rosy again. Yet if we do get knocked out of the Champions League then it's worth bearing in mind that Simeone's side is brilliant at what it does and was always going to be a challenge. It won't mean we're having a crisis. We're four wins away from a first league title in thirty years. I'll take that 'crisis' at every time of asking.