The start of the season is now just days away, with the Reds due to start their campaign against West Ham United on Sunday afternoon. Last summer I wrote a prediction piece for the campaign ahead and stated that it's important to have an idea of how you think things should go in order to avoid a feeling of disappointment if there are shifting tides along the way. Some people like to say things like 'fourth place again isn't good enough', for example, but that completely ignores the context of the situation. If we finish fourth with seventy-five points and didn't do anything in any of the other competitions then I'd agree it will have been a disappointing campaign. But if we end up fourth having won a cup, reached the final in two others and racked up eight-seven points then that's an entirely different matter. Context is always key when evaluating a season and a club's achievements during it.
2nd : Liverpool FC

It's Klopp's year to deliver a trophy for Liverpool. An A+ Transfer window which has fixed major concerns in GK, and midfield to challenge for the title has increased expectations. Will be difficult if another deep run in Europe

Key Players: Salah, Mane pic.twitter.com/oxLzZhLQbW

— Malolan (@ElegantEden10) August 5, 2018
Last season I said we'd finish third, win the FA Cup, make it to the semi-finals of the Champions League and the quarter-finals of the League Cup. Sufficed to say, I'm not disappointed that we didn't do what I'd predicted! I think the journey to Kiev did far more for the club's standing than winning the FA Cup would've done and if you don't believe me then have a look at Arsenal. The Gunners won three FA Cups in four years but in the same period became a laughing stock amongst the rest of the Premier League, whilst civil war raged amongst a fanbase that half wanted Arsene Wenger gone and half wanted him to be given a lifetime appointment. There's no point in setting specific tasks that you'll be disappointed if the club don't achieve, mainly because it leaves you looking too rigidly at what you want and expect. Here's my look at what the Reds might hope to do in the season that's about to start.
The Premier League
Let's be honest, this is the one that we all want. If you could offer any Liverpool supporter a trophy right now then 99% of them are taking the Premier League. It would be a joy to silence the Manchester United fans who think they're still cock of the yard, to say nothing of Pep Guardiola and the nouveau riche of their neighbours. Yet we also have to acknowledge that it will be incredibly difficult to pull it off. City racked up one hundred points last time out, which is incredible. To put that into perspective, the Reds have only managed eighty points or more four times since the Premier League began and have never broken the ninety points barrier. We will almost certainly have to win at least thirty games if we're hoping to put pressure on the Cityzens in the chase for the title, which is one hell of an ask from the players.
Any Liverpool fan expecting us to win the PL this year needs to remember Man City finished 25 points ahead of us last season.

Honestly, I think we're more likely to win the CL.

— "The Raid" = WOW (@JesalTV) August 6, 2018
Yet it's also something that we might just be able to do. Yes, we finished last season with seventy-five points but it's easy to forget that we took our foot off the gas in our concentration on the Champions League. If we really felt there was something there to be won, do we honestly drop six points to Everton, West Bromwich Albion and Stoke City? I don't think so. At that point we pretty much knew that a top four spot was a given and that a European Cup final was awaiting us, so it's no surprise that we didn't go all guns blazing for a second or third place finish. Rightly or wrongly, Jürgen Klopp prioritised the Champions League and our Premier League form took a hit as a result. No, six points from those games doesn't put us anywhere near one hundred, but it puts us on eighty-plus without even really trying.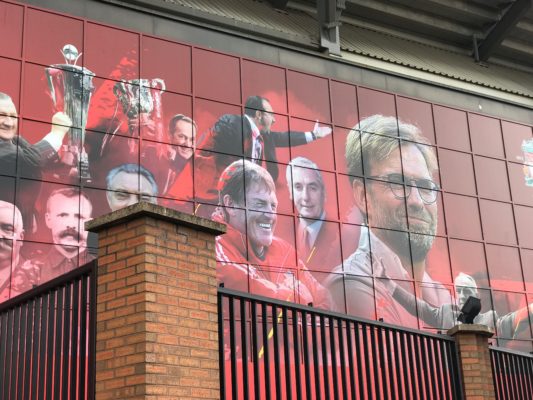 The key thing as far as I'm concerned is that we've strengthen in some previously problematic positions. We haven't had a goalkeeper who genuinely excites and looks dependable since the days of Pepe Reina under the coaching of Xavi Valero, yet that looks to have been sorted with the arrival of Alisson Becker. In midfield, there's long been a huge amount of graft but not much invention, which the signing of Naby Keita will hopefully help us deal with. Everyone who's ever read any of my stuff will know how much I adore Jordan Henderson, but Fabinho will allow Jürgen Klopp to look at options when it comes to his defensive midfielder and pick the right horse for the right course. Meanwhile, whilst everyone would've loved us to sign a backup for the front three, getting two of them tied down to new contracts and opening talks with the third may prove to be just as important.
This is the most confident and excited I've ever been heading into a season as a Liverpool fan. What excites me most about this current core of players is that is has depth, a real spine and seemingly great camaraderie within the squad on and off the pitch. Jurgen Klopp ❤ #LFC

— Josh Hawkins (@JoshHawkins96) July 31, 2018
That means that we have an enjoyable combination of an exceptional manager, a brilliant spine and a winning mentality achieved by doing what nobody thought we could do in reaching the final of the Champions League. Some teams in the division like Wolverhampton Wanderers and Fulham have strengthened, but plenty of others haven't. It means that we could well notch up a decent whack of points without even really needing to break a sweat against the 'lesser lights' of the Premier League. Get a few wins against teams that we either drew with or lost to last time out and all of a sudden we could be in a really exciting position at the turn of the year. What I'm most interested to see is whether Pep Guardiola concentrates on his club's European exploits or decides to put everything into another league win. If it's the latter then not even our new-look side will be able to stop him, but if it's the former then there might be a gap for us to exploit.
My Prediction: 1st
The Champions League
Last season was a thrilling, captivating and joyous ride that had a bitterly disappointing ending. Yet how many teams in Europe will be desperately hoping to avoid coming up against the Reds this time around? I'm not sure any of the continents top clubs will be thrilled at the possibility of having to face us, whilst we'll be buoyed at our achievement last time out and will surely remember what we did to Manchester City and Roma on our way to the final. There's absolutely no reason why we can't achieve the same thing again this year, though hopefully with a more satisfactory ending. My hope is that we're knocked out in the quarters or semis because the manager has prioritised a league game, knowing that the title is within our grasp. The players have now tasted European success and will unquestionably be keen to have another sip, so don't think that we'll be rolling over without a fight if we end up being drawn against one of the European giants.
English Teams that have won the Champions League

Liverpool 5
Man United 3
Nottingham Forest 2
Aston Villa 1
Chelsea 1

Man City 0
Arsenal 0
Spurs 0

— 🇵​🇦​🇹​🇷​🇮​🇰 (@SwissHulkXS23) August 5, 2018
The Reds aren't destined to win something this year and anyone who thinks that a trophy is locked in needs to give their head a wobble. That being said, I think we've got more of a chance of picking up some silverware than we've had in about ten years, so a lot of it will depend on luck. We've got a squad with decent depth, yet if we pick up one or two injuries to key positions then that will be pointless. If Virgil van Dijk is missing for any length of time, for example, then our defence will suddenly become a lot less solid than it's felt of late. With that in mind, will the manager choose to rotate his squad between Premier League and Champions League fixtures? If he does and he favours the domestic division then our European form will almost certainly suffer as a consequence. As I say, I think we've got the ability to do well in Europe but if he's given a choice and we're doing well in both competitions, I hope the manager prioritises the Premier League.
My Prediction: Quarter-Finals
The Domestic Cups
I honestly don't know how things will work out in the domestic cups this year. I think Jürgen Klopp will really fancy winning one of them, but I also think that he'll want to use them as a chance to give the outskirts of his squad some playing time. I can imagine the likes of Daniel Sturridge, Joe Gomez and Dominic Solanke being asked to essentially win us the League Cup, foe example. That competition remains one that Liverpool have long had an association with, up to and including the fact that it was the last trophy that we won. It's also one that the manager might feel he's got a bit of a personal gripe with, given how we missed out on it to Manchester City in a penalty shootout during his first season. It's over reasonably early in the campaign, too. That will allow Klopp to get his players to put it in the cabinet, get a taste for silverware and then push on and try to win one of the others that we're involved in.
Been a STH @LFC for over 25 years. Seen us win domestic leagues, fa/league cups and 5 European Cups. Seen some incredible players. But not been this excited for a team, a manager or a season for a long time. Something seems right about this squad. Up the reds #YNWA

— Gavin (@Gavin_71) July 28, 2018
When it comes to the FA Cup, it's more of a slog to win it. Though it doesn't start until the new year, once it's underway it's fairly relentless for the teams that do well in it. Success in the FA Cup might well give us silverware, but at what cost? The result of progress in the competition is a fixture pileup that can leave players fatigued, which is problematic when you remember that there aren't enough alternatives for our front three. I've been really impressed with Xherdan Shaqiri and believe that the manager and his backroom staff think they know what it will take to get the most out of. Daniel Sturridge, meanwhile, has sucked the majority of fans into believing that he's back and can offer something this season. Even so, if any of Roberto Firmino, Mohamed Salah or Sadio Mané are out for any length of time I wouldn't want either of them needing to be depended upon. Risking their fitness in a pileup of fixtures in order to try and progress in the FA Cup isn't, therefore, on my list of priorities.
My Prediction: League Cup Winners | FA Cup Semi-Finals