Every now and again I do these pieces, looking in at the state of the football club and what's to come. More often than not it's a look at the next ten games, sometimes specifying one competition and others looking at them all. Now, as the Premier League and Champions League take a breather for some entirely pointless internationals, it felt like the right time to look at our next five games across both of those entities. It might feel to most supporters as though Europe is the only thing to concentrate on, but I'm not sure that's true. For starters, I'm not entirely sure that there's any reason why we can't excel in both. I also think there's an extent to which we might be left a little bit disappointed and heart-broken if we put all of our eggs in the European Cup basket. After all, Manchester City will be heading into this tie as favourites and, even if we beat them, we could well draw Barcelona or Bayern Munich in the next round and find that our race is run.
We're in a position at the moment where it's vitally important that we continue the feeling of progression. Allowing Champions League disappointment to see us fall apart and somehow drop out of the top four would kill that sense of progression stone dead. I don't think that that's even remotely likely, of course, but it must be avoided at all costs and the only way to avoid it is to ensure that we go hell for leather in both competitions. In seasons gone by, there's been a sense of it being now or never. 2013-2014 feels like the definition of that, with the unexpected tilt at the title coming out of the blue and giving the supporter-base a sense of faux-post traumatic stress when we came so close but missed out. It doesn't feel like that's the case at the moment. Instead it feels like the manager knows what he's doing and that we're building towards something. There's a sense that the club is pulling together and heading in the right direction. How, then, might the next five games affect that?
Game One – Crystal Palace – Away
I think there's a sense amongst the fanbase that this match is something of a given. I can understand why, too. We've been playing really well against those lower sides in the league, with only the loss to Swansea putting a fly in the ointment and giving those that insist we're 'poor against the weaker teams' an excuse to trot out a now disproven line. Plus, there's the Roy Hodgson side of things. The owl-faced loon isn't a manager that many Liverpool supporters have got a lot of time or respect for. The extent to which he was the wrong manager for us simply cannot be understated.
From his evident contempt towards Scousers through to his willingness to kowtow to managers like Alex Ferguson and José Mourinho, the fit wasn't a good one. That he was so happy to throw his own players under the bus in order to spare any criticism on himself wasn't really seen as 'the Liverpool way', either. Supporters would be forgiven, therefore, for thinking that these three points are as good as a given. A team fighting relegation, managed by a man that we all dislike intensely, shouldn't be too difficult to beat, should it?
The problem we've got is that the fit does seem to be much better for Hodgson at Crystal Palace. Born in Croydon, he's got a lot more in common with the Londoners who support the Eagles than he ever had with us. Having played for them during his youth and being on their books when he first turned professional adds to that sense of connection. You can tell that the players believe in him far more than ours ever did, too. They came within a whisker of taking points off all three of Tottenham, Chelsea and Manchester United recently, even going two-nil up against the Red Devils before they snatched the points with a screamer from Nemanja Matic, who will never score a goal as good as that again.
That leads me to thinking the game is going to one of two ways – either we're going to batter them or they're going to win. I somehow can't see us snatching the points with a last minute winner like all three of our top four rivals have done. Whether it be Sam Allardyce with Everton, Alan Pardew at West Bromwich Albion or, potentially, Roy Hodgson, we have a penchant for giving second-rate managers an excuse to act like they're tactical geniuses. The return to fitness of former Red Mamadou Sakho and Palace danger-man Wilfried Zaha isn't ideally timed, either, nor is the fact we've been in the middle of an international break and Jürgen Klopp has therefore lacked the time to work with his players. This won't be a walk in the park, but win it and we'll find ourselves ten points clear of Chelsea. There's no guarantee that we'll still finish ahead of them, but it certainly increases our chances.
Game Two – Manchester City (First-Leg) – Home
I don't think I need to say too much about the importance of this match, do I? The two legs together are our most important matches of the season, with a place in the Champions League semi-finals at stake. It feels as though there's more than that wrapped up in this one, though. Man City fans have taken to Twitter in the wake of the draw to say that atmosphere doesn't make a difference to results, to claim that their players have played in more intimidating atmospheres and that the idea of famous Anfield European nights is just a myth. It would be immensely painful if they were proven right. It's not just the potential of progressing in the European Cup at stake here, therefore, but also the supporters's reputation as being capable of giving the players an extra ten percent in their legs in the biggest games.
That's to say nothing of the fact that there's a very real possibility of us and City being the two best teams in the Premier League for next few decades. We might not finish second in the table this time around, but in terms of exciting and watchable football, we are the second-best side in the division at the moment. If we end up battling it out with Pep Guardiola's side for the next couple of seasons, this tie could have long-lasting effects on the mentality of both teams. Win and the players will feel as though they've got the upper hand over their counterparts. Lose and the opposite will be true, with everyone involved in the club perhaps feeling that they're not quite at the same level as the winners.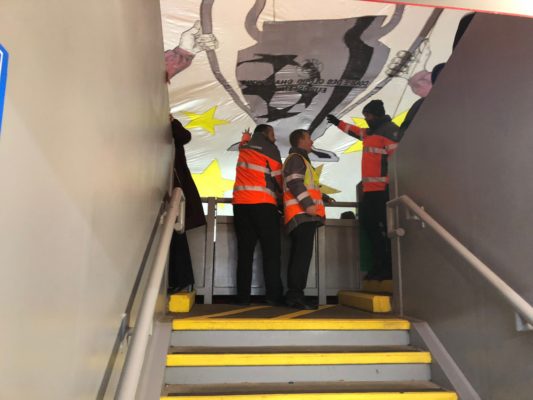 That might be complete tosh, of course, but these things make a difference. I don't think we'd have gone on to have the same success as them, but I can't help wondering what would've happened if we'd beaten Manchester United in the FA Cup in 1996. They say that history is written by the winners and that's a perfect example of that. Though both Liverpool and United players were often out drinking and both sets dated pop stars, only one of them were nicknamed the 'Spice Boys' and had a reputation for not taking their training seriously. What will be the 'Spice Boys' moniker of our current crop, should they constantly be also-rans? The first-leg of this European Cup encounter won't dictate the final result, but it will have a huge influence on it. Let's make life as tough as we can for the citizens for leg two.
Game Three – Everton – Away
The Merseyside Derby slotted right in the middle of two Champions League encounters – what could possibly go wrong? I understand why most supporters think we should go as strong as possible against Everton and I'd be very tempted to do as much myself. Yet I also remember only too well the moment that Ramiro Funes Mori very deliberately attempted to break Divock Origi's ankle in the 2015-2016 season, when we were in the middle of another European campaign. It's impossible to say for sure that we'd have won the Europa League that year if Origi had been fully fit, yet we do know unquestionably that we didn't win it when he was injured. Can we all say without doubt that Wayne Rooney or one of Everton's other players wouldn't leave one in on Mo Salah or the like before the second-leg against City?
It goes without saying that we want to win for pride, but whatever happens in the first-leg we'll be wanting to head into the return match full of confidence and believing that we can keep on winning. Everton's season boils down to this game, essentially, given that they're not going to get relegated and are unlikely to make the European places. They've had two bites at the 'beat Liverpool' cherry, so this is their final chance to do it. Don't think that Sam Allardyce wouldn't love to wander around like the cock of the yard either, pretending that he's some sort of brilliant operator by taking three points off us. He did it after the game at Anfield in the league, despite only managing to scrape a draw because of terrible refereeing. There's a lot riding on this match in terms of our confidence and mentality, but I'd still be tempted to rotate heavily in order to avoid the possibility of any players picking up injuries. Danny Ings hat-trick, anyone?
Game Four – Manchester City (Second-Leg) – Away
It's difficult to talk about the second-leg without the context of the result of the first-leg. Hopefully we'll be heading to The Etihad with City needing to score so that we can play counter-attacking football against them. It's when we're at our best, so being able to soak up the pressure and then go at them would be a good thing. Regardless, I'm not convinced that having the second-leg away from home is as bad as some people do. For every goal that we score, they'll effectively need to score two depending on the overall scoreline. Would you fancy needing to score two goals for every one of those scored by this Liverpool team? It's crucial that we emerge from the first-leg at Anfield as close to unscathed as possible so that we turn up at their place and still be in the tie.
When we played Borussia Dortmund back in 2016, their supporters seemed to feel that we were only there to make up the numbers and that Jürgen Klopp's former team would brush us aside with ease. In the end we left with a more than respectable 1-1 draw and that Liverpool team was a lot weaker than the current iteration. Yes, we lost 5-0 in the league game against City earlier in the season and if you're looking at the Premier League matches for information then they won 8-4. Yet the sending off of Sadio Mané completely changed the complexion of that game and we were very much still in it before that happened. Presuming that the European referees aren't quite as card-happy as Jon Moss was, what will happen when it's eleven-versus-eleven for the ninety? Hopefully we'll find out – and hopefully we'll be pleased with the answer.
Game Five – Bournemouth – Home
Depending on the result of our game at The Etihad and the overall tie, there's a real chance that this match could suffer a little from 'after the Lord Mayor's show' syndrome. Win and the excitement of a European Cup semi-final will make this one seem entirely irrelevant. Lose and the game will be full of actual importance but an entirely deflated atmosphere. No one will be in the mood to play it, from the lads on the pitch to the folks in the stand. Yet if we are knocked out of the Champions League then ensuring a top four finish in the Premier League will take on added importance and this may be the perfect game to get us back on track. If we've beaten City then we'll be wanting to continue the feel-good factor and give the players a raucous return.
I'll be honest, I expect us to take three points from Bournemouth regardless of the result of our Champions League encounter. My feeling is that, of our final five game, we'll win three, draw one and lose one. Which order we do that in is obviously the thing we'd all love to know now, if I'm right. Yet I really don't think that Bournemouth will give us much trouble. They haven't travelled particularly well since the turn of the year, losing 4-1 to Huddersfield Town, 3-0 to Wigan Athletic in the FA Cup and only getting a 2-2 draw with Brighton & Hove Albion. In amongst all that, though, they beat Chelsea 3-0 to mean that we can't take three points for granted. Whatever happens, we've got an exciting, and season-defining, few matches in front of us.