It's difficult to talk about Liverpool supporters, for any number of reasons. What do I mean by 'Liverpool supporters', for example? Is it just the people who go to games? Am I only talking about the fans who interact with others on Twitter? Does someone from Australia who gets up in the middle of the night to watch games have as much right to call themselves a Red as someone with a season ticket on the Kop? Perhaps most importantly of all, what right do I have to pass judgement on other Liverpool fans? They're all entirely valid questions.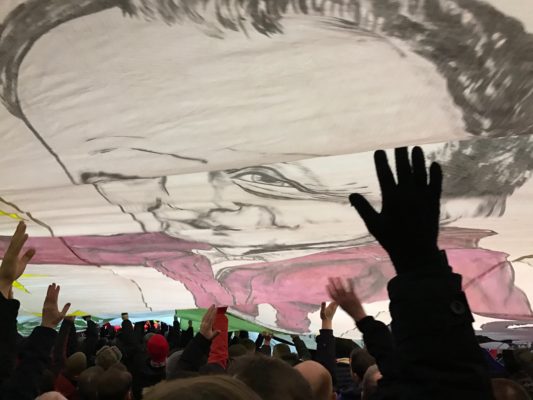 To answer the last one first, I don't have any right to make judgements about other fans. What I'm going to say in this piece isn't gospel. Plenty of people will disagree with a lot of what I've got to say and that's absolutely fine. These are only observations I've made that have become more stark in recent times. Ultimately it is my firm belief that we all want exactly the same thing, which is for Liverpool Football Club to be as successful as possible both on and off the field. You might recognise yourself in some of what I say here. If that's the case I'd ask you to have a think about why you act the way you do. If you ask that and feel that it's entirely justified then of course that's fair enough.
The Negativity Has To Go
I pride myself in following some really good people on Twitter. Generally speaking they're all full of sense and excellent ideas. Sometimes we all say something a bit mad of course, I wouldn't even begin to claim innocence on that front. On the whole, though, I've unfollowed or blocked all of the nut jobs and generally I have an enjoyable time on Twitter. Some may say I'm shouting into an echo chamber, but to be honest I don't really care if that's the case. I'd rather hear from people I agree with than get wound up reading the idiotic opinions of morons.
I was quite surprised over the weekend, therefore, to see so much negativity surrounding Liverpool's chances of capitalising on the results that went our way in other matches. Manchester United, having led 1-0, drew 1-1 with Swansea City. Manchester City were losing twice to a very poor Middlesbrough side and were fortunate to get the draw in the end. Arsenal continued their poor form for the season and lost to Spurs, suggesting that this may well be the first season that Arsene Wenger will miss out on Champions League football.
Yet rather than celebrate, the response of loads of otherwise sensible Liverpool fans was to say, "We'll drop points to Watford now". When did this negative mindset begin to take over the way that our supporters see things panning out? We used to be the support base that Evertonians and Mancunians mocked for believing 'this is our year', yet now we're not even convinced that we can beat Watford? When the second goal went in against Crystal Palace nearly a fortnight ago there was no sense of a fightback from the Kop. Instead there was little more than resigned disappointment.
I understand that supporters may feel that sort of thing has happened too often recently. Since the days of Rafa Benitez came to an end we've become somewhat accustomed to narrowly missing out; last year we were two games away from doing a double and ended up with nothing. Even if you move away from cup finals and talk about nothing but ordinary games you'll doubtless remember how we played against Watford last season, Swansea in this campaign and 'that f*cking Crystal Palace match' two years running.
Yet for some reason Liverpool supporters appear to have happily taken on the narrative being run by the country's press that we struggle against the 'lesser' teams in the league. Narratives do my head in. Consider these results:
Liverpool 4 – Leicester 1
Liverpool 5 – Hull 1
Crystal Palace 2 – Liverpool 4
Liverpool 6 – Watford 1
Middlesbrough 0 – Liverpool 3
Liverpool 4 – Stoke 1
There's no question that we've lost games we shouldn't have, drawn games we shouldn't have. It's also fair to point out that those big wins came earlier in the season and we haven't see a repeat of them since the turn of the year. But the notion that we've had problems against sides lower down the league all year long is just untrue. Equally it's worth bearing in mind that the sides we're competing against for a top four spot haven't exactly been firing on all cylinders all year long, as this shows:
Watford 3 – Manchester United 1
Stoke 1 – Manchester United 1
Leicester 4 – Manchester City 2
Everton 4 – Manchester City 0
West Brom 3 – Arsenal 1
Crystal Palace 3 – Arsenal 0
With three games left for us to play, it's vitally important that our supporters stop feeling as though we're the only side in the race for the top four that is capable of dropping points against the smaller sides. Manchester United fans will boast about their side's unbeaten run, happily ignoring the fact that they've equalled the Premier League record for home draws in a season. Arsenal appear to be bottling it at even the slightest sign of adversity, whilst Manchester City have had a mixed bag of a season during Pep's first year in the dugout. When you add into that the fact that José Mourinho is playing with the most expensively assembled squad in the history of this country and Guardiola has the Sheikh's billions to play with, it's fair to suggest that their seasons are far more underwhelming than ours.
There seems to be a downbeat nature to Liverpool's support right now because it looked as though we could have put a title challenge together earlier in the year. Had you told people in August that we would be battling for third place and a points tally close to eighteen points improved on last year, the sensible fan would have ripped your hand off for it. Of course we'd have loved a title challenge and it's the nature of the dropped points that hurts the most, but we cannot let that take away from what has been a campaign of improvement under Jürgen Klopp with a squad that has been ravaged with injuries at crucial moments.
The worst thing about the negative attitude is that supporters appear to be taking it into the ground with them. As soon as things look as if they might not be be going our way the Anfield crowd has become uneasy this season, moaning and groaning and generally giving off an air of disappointment. Whilst that's understandable to an extent, it's the job of supporters to support and who knows how different things could have been this season if we'd done just that. Take the crowd's reaction to us conceding a set-piece or corner, for example. It's no wonder the players aren't confident considering how their supporters react to that situation.
Liverpool have three games left to secure a top four spot. It's more than doable, especially considering two of those three games are at Anfield. I'm hopefully of us gaining all nine points, but I think five or six will be enough to ensure we're playing Champions League football next season. Instead of looking behind us to Manchester United and Arsenal teams that have struggled for consistency all season long, let's look ahead to a third-place finish. As supporters our job is clear – get behind the team 100%.
It's Ok For People To Change Their Mind
There's another curious habit that seems to be sweeping through the world of LFC social media: the inability to accept that situations change. At the time I write this there's no question that Emre Can has been putting in some of the best performances of his Liverpool career. When he scored the overhead kick against Watford on Monday night the immediate response from some quarters wasn't to be blown away by the skill it involved, but rather to say something along the lines of 'And some supporters were saying we should sell him…!'.
Whilst he's playing well now, it's entirely fair to suggest that he wasn't at his best when he was struggling to get into the team. We now know that he was nursing an injury, but that doesn't alter the fact that he didn't have great form back in September, October and November. To say that fans weren't allowed to be disappointed in him and question the contract situation back when he wasn't at his best is just silly. It doesn't mean those same people can't see what he's offering the side right now. One of the biggest mistakes we make as football fans is to believe that we have to stick with our opinion come hell or high water.
I've been guilty of this myself, of course. I've very much struggled to adopt my thinking about Simon Mignolet. Ultimately I can't get my head around the idea that everyone accepts Liverpool's defence needs to be improved but people are happy to keep the goalie who has been our number 1 over four seasons when we've conceded around fifty goals in each. Yet at the same time I'm more than willing to admit how much better his game has been for the majority of the season. He's looked more commanding in his box, he's pulled off some big saves and has generally out-performed his previous efforts between the sticks.
.@GagsTandon @AnalyseSport @DanKennett @StatsSwearwords Simon Mignolet Aerial Duels/Claims/Punches summary as discussed on latest pod pic.twitter.com/o4FTOcH5Np

— AIUnderPressure (@AIUnderPressure) May 4, 2017
The issue with Mignolet has never been that he can't save or play well in patches, it's all about his consistency. When he was dropped for Brad Jones under Brendan Rodgers he came back in and looked like a different player. It soon fell apart, however, and he returned to his inconsistent ways. So yes, I'm not jumping whole-heartedly onto the 'Mignolet's brilliant' bandwagon, but I'm willing to admit he's enjoying his best period in a Liverpool shirt. That doesn't mean that anyone was wrong to criticise him in the past, though. We need to stop holding each other to thoughts that have been shared from the past.
Conclusion
Liverpool supporters used to be impossible to break the spirit of. Without an overwhelming feeling that everything will work in our favour it's unlikely we'd have come back from 3-0 down in Istanbul, for example. We need to shake off the fear over other fans mocking us for being relentlessly positive, for it is that positivity that has seen us do things other teams can only dream of.
Our support base isn't perfect but neither is our squad. If it was then we'd have won the title this season. It's perfectly ok to have an opinion about a player that differs from someone else's. I understand that there's something of a contradiction between saying we all need to get behind the team and that it's ok to have negative opinions of players, but there you go. Above everything else football is a sport full of nuance. The key to enjoying following Liverpool is to accept that we're all Reds and we all want to same thing – to see our football club succeed.