In a blog post last week I had a little look at where everything had gone wrong for Liverpool Football Club in January. If you haven't already then obviously I'd encourage you to give it a read. If you can't be bothered then I'll sum up what I think were the major issues that saw us pick up just one win in the entire month: Player absences, a drop in form and a weak squad. Those things, combined with the fact that we'd been very unlucky with certain decisions and the notion that it hadn't actually been that terrible a month, means that we're in a recoverable position.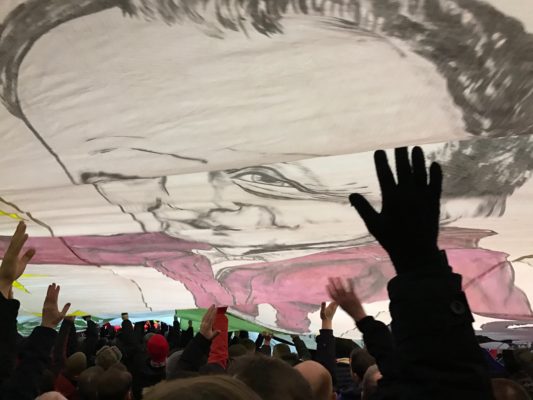 The big question is: What does Klopp need to do moving forward? Here I'll attempt to find some answers to that particular conundrum. Obviously our win over Tottenham changes the complexion of things slightly. The win over Spurs was overwhelming and total, with the Mauricio Pochettino lucky to head back to London with just two goals against his team's name. If I felt confident that we'd play like that in every game moving forward then I might not bother with this follow up post. Sadly this Liverpool team is about as consistent as a Simon Mignolet goalkeeping performance, so nothing is a guarantee. Here, then, are the things we need to do moving forward:
Improve Our Squad
Arguably the most important thing that the manager needs to do is also the one that can't be done right now. If one of the big problems that Liverpool had over January was the weakness of our squad then it naturally follows that we must improve on said squad. I'll be honest, if you're hoping for a host of names of players that I think we should sign then you're going to be disappointed. I rarely watch matches that the Reds aren't involved in, so I have no clue about the talented lads across Europe that would make a massive difference to our starting XI.
What I do know, though, is that too many of the players in our current squad aren't reliable enough in the long-term. I have to hold my hands up and admit that I was pleasantly surprised by the level of Lucas Leiva's performance against Spurs. When I saw his name on the team sheet I feared a mauling, but he proved me wrong with a dominating display that ensure that Harry Kane didn't get a sniff. However the truth of the matter is that he's a converted midfielder who is getting slower with every passing day. Can he really be relied upon to produce the goods week after week?
You can add a whole host of names to Lucas'. The performance of Gini Wijnaldum against Tottenham showed exactly why Emre Can shouldn't be starting games for us. He might develop into a brilliant player further down the line, but Daniel Sturridge is a brilliant player now and yet shouldn't be in the starting XI. They're both examples of talents who simply don't suit our style of play. Klopp needs to find some lads who do suit our style and upgrade to them. Likewise he needs to find suitable understudies for the likes of Philippe Coutinho and Sadio Mané, especially with the latter obviously being so crucial to the way that we play.
As I say, this is something that can't happen immediately. It's also true that the level of player we'll be able to sign depends entirely on whether or not we qualify for the Champions League. Supporters might not like it, but the reality of football is that talented players go where they'll be able to play in the best competitions. That hasn't been Liverpool for far too long, with the club having failed to qualify regularly for Europe's premier competition since the days of Rafa Benitez. Get into the top four is absolutely vital for our hopes of signing the best players that Klopp wants and that want to play for him.
Play Loris Karius
Simon Mignolet earned lots of plaudits for the save he made from Son in the game against Spurs at the weekend. It was a fine, if not spectacular, save and the Belgian's all-round performance was decent enough. The problem with Mignolet is not that he never makes those sorts of saves or gives those kind of performances, however. The issue is that we'll get 'good' Mignolet for a while and then he'll chuck in the sort of performance that we saw against Hull, where he fails to deal with an easy enough clearance and suddenly we're 1-0 down. Pretty much anyone who knows football knows that Simon Mignolet should be on his way this summer.
I'm quite sure that Jürgen Klopp was hoping that Loris Karius would solve that particular problem. The second the German shot-stopped had recovered from his broken finger he was put into the first-team. The issue was that he hadn't yet settled into life in English football. He had some difficult performances and became the centre of attention, with the likes of Gary Neville getting on his back and doing their best to unsettle him further. Even some Liverpool supporters developed selective amnesia over Mignolet's time at the club and decided that Karius wasn't good enough.
In truth I don't know whether Karius is good enough or not. I'm quite certain that the level of performance we witnessed from him isn't a true representation of his ability – if it was he wouldn't have been getting games for Mainz and we would never have signed him. We need to find out just how good or otherwise he is. Can he cope with the physicality of the Premier League or not? The only way we'll get an answer to that question is, quite obviously, by seeing him play regularly in the Premier League. We know that Mignolet's not good enough, is Karius?
It would be a big call for Klopp, of course. I felt that the Spurs match would have been the perfect one for him to come in for, especially considering Mignolet's mistake versus Hull. Everyone would have understood the manager's logic, yet he choose not to make that decision. What he and Liverpool fans need to know is how many goalkeepers we need to by this summer. If Karius comes in for the rest of the season and proves to be good enough, Klopp could choose to use Danny Ward as our number two next season with the German as our out-and-out number one and Mignolet someone else's problem. If he struggles like he did earlier in the season then it's back to the drawing board and two new 'keepers need to come in in the summer.
Play The Best Players
This seems too simplistic a solution and in a sense it is. One imagines that Jürgen Klopp would very much have liked to have played his best XI all season long, but as I discussed last week that option was taken out of his hands owing to injuries, the Africa Cup of Nations and the continued but unsurprising incompetence of FIFA. Even the side that so comprehensively out-played Spurs wasn't what you assume would be the manager's first-choice line-up, with Lucas needing to be called upon to deputise for Dejan Lovren.
The fact is, though, that Klopp made the Wijnaldum v Can debate a thing when it really didn't need to be. One of those players fits perfectly into a side that likes to move the ball quickly and put opposition defences under pressure with a smart interchange of passes. The other is slow, ponderous, takes too long on the ball and tends to cause our attacks to breakdown because defenders have enough time to reset themselves whilst he takes repeated touches in order to look for the right ball to play.
Don't get me wrong, I don't think Emre Can is a bad player. I just don't think he's good enough to play in this team and I'm disappointed to see his name on the team sheet. Yes he was impressive against Chelsea and won the physical battle at Old Trafford when we played Manchester United, but it's not enough. Our biggest issue is beating the so-called 'lesser teams' and Can is not the sort of player that can aid us in our desire to break them down. When he starts running it's almost as though he needs to get a push start and he isn't intelligent enough on the ball to cause anyone any problems.
Equally neither Daniel Sturridge nor Divock Origi can add much to this team when it's at its free-flowing best. Sturridge will almost certainly be sold this summer and I think that will be the ideal solution for all parties. He doesn't suit Klopp's style of play in the same way that Sergio Aguero doesn't suit Pep Guardiola's at Manchester City. It's not a slight on either player, it's just a fact. Origi has youth on his side and last season in matches such as those against Borussia Dortmund he certainly proved his worth. He's still developing and may yet come good, but for now I'm not keen to see either of them in the Liverpool team unless the majority of other players have lost limbs.
Klopp Needs Time
Football is very much a 'now' business. Games are taking place right now. Points are available right now. Someone wins the league each season and Leicester City showed last term that it doesn't always have to be the team that is the best on paper. Because everything feels so immediate it's easy to imagine that Jürgen Klopp has been in power for long enough to mean that it's fair to judge him. That simply isn't true. Yes the German came in reasonably early last season, but he's still only been in charge for a little over a year. He has only had one summer transfer window – when the most business gets done – and one pre-season with his players.
We've blown this season. We haven't been good enough when it mattered. Simple fact though: Liverpool will win the league under Juergen Klopp

— Ian Salmon (@IanRSalmon) 4 February 2017
Supporters might love the idea that a manager comes in and everything changes overnight, yet things very rarely happen like that. As I've already said, the squad isn't good enough. Klopp's improved it, but it wasn't good enough before he arrived and he's done the equivalent of making wine out of vinegar so far. Most managers need at least three summer transfer windows to improve personnel to a suitable degree and the German's only going to be heading into his second when May comes around. Do you honestly think that Klopp, a ruthless manager who once sacked his own close friend, doesn't want to improve upon Lovren, Milner, Sturridge et al? Of course he does, but that's not something that happens without time.
It's also entirely fair to say that Klopp's learning things himself. It's a concern that Liverpool have struggled for two Januarys in a row, especially considering that that is the time of year that the manager is used to having off back in Germany. If we suffer at the same point next year then it will be fair to ask questions of him. Maybe he thought he'd sussed it this year, tried something and realised his mistake? Maybe he knew he'd struggle if certainly players were injured, those players got injured but there was nothing he could do to fix things? It's impossible to tell, but he's one of the best managers in the world and anyone thinking of giving him anything other than plenty of time is little short of an idiot.