Last year's march to the Champions League final was one of the most thrilling journeys that Liverpool fans have enjoyed in years. There seems to be a strange desire from some at the moment to constantly put down supporters for being excited about winning football matches, as though if you don't get some sort of silverware at the end of it then it's a complete waste of everyone's time. The reality, of course, is that there are just three domestic trophies worthy of the name, with two European ones that you can add to the mix in terms of things that clubs can actually win. That means that there are only five opportunities for teams to end the season with actual glory, so should all supporters of the other fifteen teams in the Premier League not be allowed to have any fun along the way? Yes, Liverpool's journey ultimately ended in disappointment, but you try to tell the folk who traveled to Maribor or Porto and watched the Reds smash in twelve goals that they shouldn't have cheered because it would ultimately prove fruitless.
Imagine being a Liverpool fan, getting very excited about the way they play football and never win anything! 29 years and counting since they last won a league title 🤫

— Umar Khan (@umaldo) August 27, 2018
don't get me wrong, I dearly wish that we'd won the Champions League last season. I wish we'd won the league in 2013-2014, too. Yet the reality is that the journey can be just as exciting as the end result and both of those season prove as much. Opposition fans like to ask 'where's your famous atmosphere?' when they come to Anfield and I distinctly remember Man City fans suggesting there was nothing to fear after we were drawn to face them in the quarter-finals of Europe's elite competition. They then saw their expensively assembled squad visibly wilt under an atmosphere that still has the ability to produce the goods when it needs to. Supporters are absolutely entitled to get excited about their club winning football matches and the Reds have been doing it far more regularly lately than we've been used to since the days of Rafael Benitez. We absolutely have the ability to go on a run in the Champions League, the only question is about whether we'd want to when there's a Premier League title to be won…
Not An Easy Group
There were two schools of thought going in to Thursday's Champion's League Group Stage draw. The first was that Liverpool should want to easiest group possible if we're hoping to compete on two major fronts this season. The second was that the Reds have no one to fear and should be excited about playing the biggest teams in Europe. Personally I don't know where I stood prior to the draw being made.
#UCL Group C confirmed. 💪 #UCLdraw pic.twitter.com/WLa7MiTIj6

— Liverpool FC (@LFC) August 30, 2018
On the one hand, the easier the games are the more we'd be able to rotate players and keep the squad fresh for longer. On the other hand, the tougher the group the more the possibility that we'd go out early and therefore be able to put all of our eggs into the Premier League basket. I know that's not the done thing to say, but make no mistake: I want to win the league and believe we can this season. In the end, of course, the debate was pointless and the group wasn't all that kind.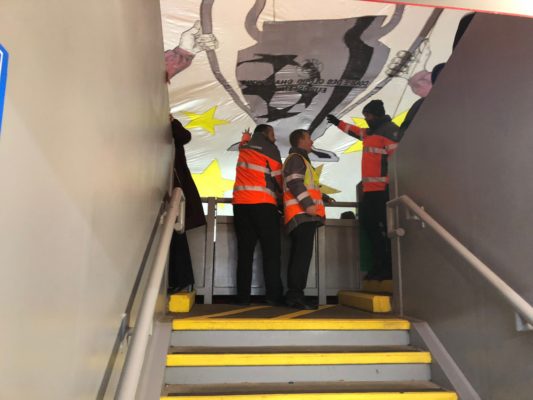 Paris Saint Germain are a team that Liverpool have a fair bit of history with in European competition, of course. We faced them in the Cup Winners' Cup in 1997, losing the first-leg 3-0 and winning the second one 2-0 in the semi-final, thereby failing to make it through to the competition's final and missing out on the opportunity to play Barcelona in the final. We were drawn into a group with Napoli in the Europa League back in 2010, finishing top with the Italian club coming in second.
Leaving aside the strength of the leagues, Liverpool's opponents picked up 100, 93 and 91 points last season. They all know how to win!

— Andrew Beasley (@BassTunedToRed) August 30, 2018
We've also gone up against Red Star Belgrade before and in this very competition, losing both legs 2-1 to them in 1973, so let's hope it won't be a case of history repeating. In many ways it's about as tough a group as we could have got, going up against a PSG side that is dominating the league in France, a Napoli team who were thrilling last season, albeit under a different manager, and a Russian team that will require a miserable journey.
It's A Time To Be Enjoyed
Most people will not agree with my assertion that an early exit from the Champions League wouldn't necessarily be a bad thing. I get that. After the thrill of last season's exploits we shouldn't be worried about any of those teams. The point of football, as I said in my intro, is that it's supposed to be enjoyed. Imagine if we go to Paris and batter PSG, keeping Neymar in his box and then destroy an Italian side in their own backyard. Of course that is thrilling and would tell us plenty about the limit to this Liverpool team's ambition. Yet still, I can't escape that nagging feeling that we've got an honest chance of winning the domestic title this season and not having to travel to the far flung edges of Europe in between tough Premier League fixtures would be better for us.
The whole point of being in the Champions League is playing really good teams, having great nights at home and exciting trips away – Group C fulfills those categories perfectly. Neymar, Napoli and Belgrade. Lovely stuff.

— Sachin Nakrani (@SachinNakrani) August 30, 2018
When looking at the groups, no one will have been thrilled about the possibility of drawing Internazionale from Pot Four. Likewise, none of PSG, Napoli and Red Star Belgrade will have wanted us to the be the team that they drew from Pot Three. Like parents say to kids every time there's a spider in the house, they'll be a lot more scared of us than we should be of them. You have to imagine that we've got what it takes to make it through the group, even if our old friend Carlo Ancelotti is in the manager's dugout at Napoli. He won't be all that excited about facing a Liverpool team that, frankly, embarrassed quite a lot of teams in Europe last season. My only hope is that if we don't make it out of the group then we finish dead last; I've no desire whatsoever to have to play in the Europa League unless Jürgen Klopp is happy to play the tea lady in goal.
It Could've Been Worse
Whilst I'm not overly thrilled with the state of our group, especially not in comparison to Manchester City's rather pleasant draw of Shakhtar Donetsk, Lyon and Hoffenheim, it could've been an awful lot worse. I'm not convinced, for example, that Tottenham will be delighted at having been put in a group with Barcelona, PSV and Inter Milan. The team drawn from Pot Two could've been more challenging for them, but Barcelona and Inter Milan are probably two of the toughest sides in their respective pots and Spurs fans will likely be accusing Kaka of puling out warm balls as I type. If I had to pick a true 'Group Of Death' then I'd have probably gone with Real Madrid, Roma and Inter, but certainly Barca are interchangeable in terms of the challenge posed.
🏆 #UCLDraw 🏆

A: Atleti, BVB, Monaco, Brugge

B: Barca, Spurs, PSV, Inter

C: PSG, Napoli, LFC, Red Star

D: Lokomotiv, Porto, Schalke, Gala

E: Bayern, Benfica, Ajax, AEK

F: City, Shakhtar, Lyon, TSG

G: Real, Roma, CSKA, Plzen

H: Juve, Utd, Valencia, Young Boys

— Melissa Reddy (@MelissaReddy_) August 30, 2018
In actuality there's an argument that most of the groups are a little bit tricky. Manchester United won't be savouring the return of Cristiano Ronaldo and a Juventus side that knocked Spurs out of the competition last season. Marcelino has also got Valencia playing some lovely football and they finished higher than the Sevilla side that knocked the Red Devils out of the Champions League last season. Nobody in that group will be all that disappointed about the presence of Young Boys, but that means that one of the decent teams are almost certainly going to be dropping into the Europa League and that's not fun for anyone. The only English team that will be feeling confident about progressing without an issue is Manchester City, but they'll likely have been confident regardless.
The League Cup Draw Has Been Made, Too
It's not just the European Cup that saw its draw made today, of course. The League Cup, nowadays going under the ridiculous name of the Carabao Cup as it's being sponsored by a soft drink company, has entered the third round and that's the point at which the big boys enter the draw. It's a competition that Liverpool have a long and illustrious history with, having won it eight times, which is more than any other club. It's the sort of tournament that can kick-start your season if you win it, given that the final takes place in February and therefore gives players a taste of success that can spur them on for the final months of the campaign. Manchester City won it last time out and then went on to win the league, though they had the title wrapped up before they even needed to head to Wembley to play Arsenal. The point being, though, that silverware so early on in the footballing year can give you something to enjoy.
The Blues will face Liverpool at Anfield in the third round of the #CarabaoCup. pic.twitter.com/fvI7TS3To3

— Chelsea FC (@ChelseaFC) August 30, 2018
That we drew Chelsea, therefore, will please absolutely nobody. Yes, it's good news that it's at Anfield but that's just about where the positivity stops. Ordinarily the League Cup is the competition that you'd want to play the kids in or, at the very least, rotate your squad to give the fringe players a chance to impress. That's harder to do when you're up against a strong team that you don't want to lose to; especially when it's a home draw. It will also mean that we play the Blues twice in a week, given that we've got them in the league at Stamford Bridge a couple of days later. It's reminiscent of the days when we used to face them in Champions League so often that familiarity breeder contempt, although this time there's no José Mourinho to rile the crowd. All in all you'd have to say that it's been a day of tough draws for the Reds, but if we have hopes of winning the biggest competitions this season then we've got to beat the best.