Prior to Tuesday night, you'd be forgiven for thinking that Liverpool's was a season on the brink. Unable to score in the free-flowing way we all expected and seemingly incapable of keeping a clean sheet, the Reds looked like a team who had lost their sense of identity. Some sections of the fan-base and most of the media seemed to determined to paint Jürgen Klopp as a man under pressure and this as a season that was over before it had even truly began. The international break couldn't have come soon enough.
53 – In this trip to Wembley, Liverpool will be looking to win a PL game at a record 53rd different stadium. Variety https://t.co/bbBQklassz

— OptaJoe (@OptaJoe) October 22, 2017
Then Manchester United came to Anfield and things seemed to shift ever so slightly. The Red Devils were poor, with José Mourinho opting to set his team up not to lose rather than make any real effort to win. Though we didn't score against them, we were by far the better team and may well have won by a couple of goals if we'd been more clinical. Clinical finishing was not something we lacked against Maribor, however. Our 7-0 win was a record breaker, coming at the perfect time to kick-start our season. Our forwards gained some confidence and our defenders remembered that they can keep back-to-back clean sheets, but would it be enough to help us rack up a win at Wembley? No, it wouldn't…
We Start A Goal Down With This Back Five
The reason that Liverpool didn't bid for a defender this summer was that Jürgen Klopp thought that Virgil van Dijk was the only one that was a very obvious upgrade on the defenders we've already got. Plenty of our supporters didn't agree with the manager, yet the performances on display this weekend from Michael Keane, who joined Everton for £30 million, and Victor Lindelöf, who signed for Manchester United for £31 million, might just have proven the German's point. Yet at the same time there can be no argument that Dejan Lovren isn't even close to being good enough. He sometimes has really good games, but far too often he is all over the show.
Let's hope today is a similar watershed moment for Jurgen Klopp as Martin Skrtel's horrorshow at Southampton in 2016.

— Jack Lusby (@jacklusby_) October 22, 2017
We know he's been struggling with a back injury recently and has been taking painkillers to even make it on to the pitch, but today wasn't about him having a bad back. His decision making is poor far too often and he missed two balls today when he could have just put them out of play. Jamie Redknapp spent the post-match de-brief on Sky Sports talking about how good Harry Kane was for Tottenham's second, but he doesn't go anywhere near the Croatian. Instead, Lovren just misjudges the flight of the ball, something he's done several times before, and England's best striker has a pitch to run into. Joel Matip doesn't cover himself in glory but it's Lovren that will be lucky to still be in the side next weekend.
Then there's the goalkeeper. Once again Simon Mignolet was not directly responsible for all of the goals, but he also didn't do anywhere near enough to help out his defence. He neither came out for the first goal nor did he stay on the backline. He was beaten by a scuffed shot for their second and conceded at his near post for the third. In terms of the fourth, that's the sort of thing that the Belgian does every few times we get a corner, though he gets away with more often than not. Those that choose to defend him will say that today is all about Dejan Lovren and the defensive unit, but Hugo Lloris showed at the opposite end what happens when you've got a goalkeeper who digs his defence out of trouble. He wasn't great for our goal, but he made up for it with two or three good saves. When did Mignolet last do the same?
13 – Simon Mignolet has made 13 errors leading to goals in the PL since making his Liverpool debut; three more than anyone else. Oops. pic.twitter.com/y7YbNza160

— OptaJoe (@OptaJoe) October 22, 2017
Jürgen Klopp identified not long after arriving at Anfield that the goalkeeper isn't good enough, so he went out and bought Loris Karius. The German then broke a finger and missed the start of the season, with the manager throwing him into the team after Mignolet had actually made quite a good start to the campaign. He struggled to settle to life in England and most Liverpool fans have written him off regardless of how well he plays as a consequence of those dodgy early games. Personally, I would put him into the team from now one and bin Mignolet off indefinitely. Some feel Karius is 'worse than the Belgian', but I'm not sure that's true. If he was a defender or midfielder people would say he hasn't had time to settle into the side, so they should say the same about the goalkeeper. At the very least, I'd put Danny Ward in for a while. I am, not for the first time, done with Simon Mignolet.
Questions Should Be Asked Of Klopp's Faith In His Players
Jürgen Klopp is apparently a very religious man. Perhaps that show of faith is something that is holding him back as Liverpool manager. As Jamie Carragher pointed out on Twitter, four of the five players in our back line today were signed under Brendan Rodgers. That's the same manager who missed out on becoming the first to help us win the Premier League title because his defence conceded fifty goals. A defence that included Simon Mignolet in goal. When Klopp was interviewed for the Liverpool job he apparently told the owners that he believed he could get more out of the squad than the Northern Irishman was and, to his credit, he did. But the biggest mistake he's made since is that he not only hasn't upgraded that squad well enough but has rewarded some of its poorest performers.
Too much faith in players that aren't good enough. The manager thought he could make them better. He can't. Being made to pay for that now.

— Gareth Roberts (@robbohuyton) October 22, 2017
Klopp is the sort of manager who believes that work on the training field is more important than work in the transfer market. That's an admirable attitude and the fact that José Mourinho, the biggest chequebook manager in the game, watched his Manchester United side lose to Huddersfield Town yesterday after spending more than £300 million since being appointed as manager is perhaps a sign that not every solution can be bought. Yet too many of these Liverpool players don't seem to be able to learn. I've already spoken about the goalkeeper and central defender, but Emre Can is another one who made the sort of mistake today that we've seen from him too often. He dwelt on the ball with the entire pitch in front of him, then gave it away under no pressure at all. The foul that followed was necessary, but it put our dodgy defence on the back foot.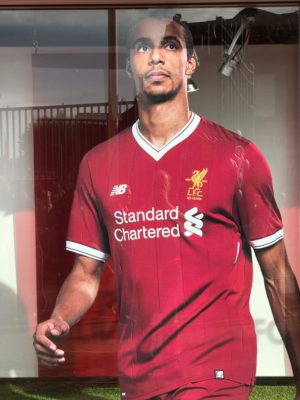 I mentioned Joel Matip briefly before, but why on earth did he head the ball back into the middle of the box for Spurs's third goal on the stroke of half-time? It's something he's done in the past, refusing to put it out for a throw-in or corner when either of those would give us time to re-group and get our defence in order. I can't believe that the manager isn't talking to his players about these things, so why aren't they learning? Why do we keep seeing the same Liverpool performance again and again and again? The most damning thing about the game today is none of the mistakes we made were even all that surprising. We keep finding new ways to shoot ourselves in the foot, but all of our errors are part of the same family. Klopp may not want to solve everything in the transfer market but he needs to accept that we could do with a clear-out of the deadwood.
Gary Neville spot on there. we're watching these players make the same mistakes they did 3 years ago, it's unacceptable we've not improved.

— Stephen Evans (@StephenEvans75) October 22, 2017
Perhaps Klopp's worst decision since he came in isn't that he's had faith in these players, but that he's given two of them new contracts. In January of 2016, Simon Mignolet was rewarded with a contract that made him one of the best paid 'keepers in Europe. Then, in April of this year, Lovren was rewarded with a similar thing. So we not only have them tied down to long-term deals but they're also up there with the best paid centre-backs and goalkeepers in Europe. As Dan Kennett points out on Twitter, we have £50 million tied up in those two players alone. The manager has put himself in a position where he has no choice but to pick those two players and just hope that they perform well enough. They don't do so anywhere near often enough to justify his faith.
Spurs Didn't Even Play That Well
Perhaps the thing that annoys me the most about today's result is that Tottenham didn't even play that well. They'll get the plaudits, but it wasn't about them destroying us so much as us committing footballing suicide. The moment of Kane not needing to challenge Lovren that I mentioned before is a case in point. Harry Kane is one of the best strikers in the world on current form, but he didn't do anything special to score his two goals today. When you give a man like that confidence by literally giving him an open goal then you're just asking for trouble. Spurs were always going to present us with difficulties today, yet they didn't even need to break a sweat before finding themselves 4-1 up.
Spurs haven't been all that good. And they're 4-1 up.

— Andrew Beasley (@BassTunedToRed) October 22, 2017
If you've ready any of my stuff over the season so far then you'll know I'm a glass half-full kind of guy. To me, the season isn't over until it's over. Now it will take a sheer miracle from here to see us win the Premier League title, but that isn't the be-all-and-end-all of a football campaign. I'm confident that this could yet prove to be a successful season in a number of ways, so I refuse to join the over-reaction brigade. Even so, the manager has to make some big decisions moving forward. His choice to put James Milner in midfield against this Spurs team was a bizarre one, for example, with the choice to leave him there for ninety minutes beyond my comprehension. Even so, Klopp needs to make some more sweeping changes that dropping Milner if he's to stop the wheels from falling off this campaign before it's too late.