It wasn't a vintage performance from the Reds at Anfield on Saturday but I've nevertheless been surprised at the reaction to it. For seventy-five minutes it was the dictionary definition of a routine 2-0 win, with Jürgen Klopp's men having enough chances to go in three or four to the good at half-time but eventually taking a two goal advantage into the break. Yes, Brighton had chances to cause us problems and I was generally very impressed by them, but they never really looked like scoring. It was comfortable enough and seemed as though we were going to walk away from the match with another three points on our charge towards the title. Then Alisson Becker had the kind of moment of madness that we were more used to seeing from Simon Mignolet and Loris Karius, getting himself sent off in an entirely unnecessary fashion and putting us under needless pressure for the final fifteen minutes or so.
Another 3 points @LFC we got the result we wanted ! Focus on the next game 👊#LFC #YNWA #Reds #LIVBHA pic.twitter.com/K8seKunajy

— John Achterberg (@1JohnAchterberg) November 30, 2019
It was a moment of madness from the Brazilian that was then compounded by truly awful refereeing from Martin Atkinson that bordered on the corrupt. Ok, he has no responsibility to ensure that Adrian is read and the wall is set, but he does have a duty to ensure that no Brighton players were alongside our wall and he failed in that duty. I have no idea why the Video Assistant Referee didn't pick up on it either. No one who has seen Atkinson referee our matches in the past will be surprised by his behaviour, but it's still bonkers to see it play out in real time. I wrote a piece last week about Liverpool getting better at dealing with referees who aren't going to give us anything, so I can't believe that no one stood over the ball until the goalkeeper was ready. More than anything else, though, I've been surprised at the reaction from some quarters over a performance that Man City would be being praised for.
The Reds Are Doing Enough
No team in Premier League history has won the league title without going through a rocky patch. When Arsenal went the entire season without losing a game they did so by getting thirteen draws. They couldn't beat the likes of Portsmouth (twice), Charlton Athletic and Bolton Wanderers, so you'll struggle to persuade me that they were purring for the entire campaign. What Jürgen Klopp's team appears to have mastered is the ability to do what is necessary to get the result. They have rarely been doing more than that this season, but given that we sit eight points clear of Leicester City I think it's fair to say that it's been working. It's disappointing for some fans that we haven't turned on the style and blown teams away, but as long as we keep racking up the wins I truly don't care. When people say 'we're not playing well' what they actually mean is that we're not attacking well.
What happened to this football 😢 pic.twitter.com/apAkPU7wz7

— Will (@lfcwiII) December 1, 2019
Saying that we aren't attacking with the same verve and spirit of last season is entirely fair, but given that we keep putting points on the board I genuinely don't see why it matters. I've seen plenty of Liverpool sides play amazing football but take nothing home for it at the end of the season, so if we can go the rest of the campaign without playing 'well' but still winning then I'll be absolutely delighted. The thing that amuses me is that not playing well and winning used to be referred to as a sign of champions. I spent my teenage years hearing exactly that stated about Manchester United. They'd be utterly abject for eighty-five minutes, score in the last few moments of a match and the press and commentators would sing their praises for being so resilient. Whilst one or two people have said that about us, most people in the media seem to be suggesting that we're somehow 'lucky' because we keep winning.
It's The More Interesting Narrative
On an Anfield Wrap show last week I made the point that the reason members of the press and the chatterati keep saying that we're lucky is that it makes for a more compelling narrative. They need to sell papers, get clicks or have people watching their shows, so it isn't a sexy story to say 'well run club wins matches'. Talking about the fitness that Jürgen Klopp has instilled into his side that keeps them going until the dying moments when other teams fade away simply isn't as sexy as suggesting that we're being fortunate. It also means that they'd have to ask questions of other clubs like Arsenal, Tottenham Hotspur and Manchester United about why they haven't been able to compete as well as us, which doesn't suit the agendas that in place about those clubs within the media.
So will all the other fans be fuming about Leicester being lucky because they scored a late winner or is that only reserved for Liverpool?

— Childish Fabinho (@NoticeNaby) December 1, 2019
There's also an extent to which commentators and pundits can't say that winning ugly is a sign of champions every week or else it will begin to sound repetitive. There needs to be something else to keep readers interested, to keep them coming back and to get them interacting with stories by commenting on them or sharing them online in an argumentative manner. It also has to be said that a side running away with the Premier League just isn't interesting. We say it two seasons ago with Manchester City and we would have seen it last time out too if not for the Reds. Sky Sports, BT Sport and the papers all need this league to go to the wire if people are to keep up their subscriptions, so making it seem like it's still a close contest and Liverpool have been fortunate suggests that our fortune might run out.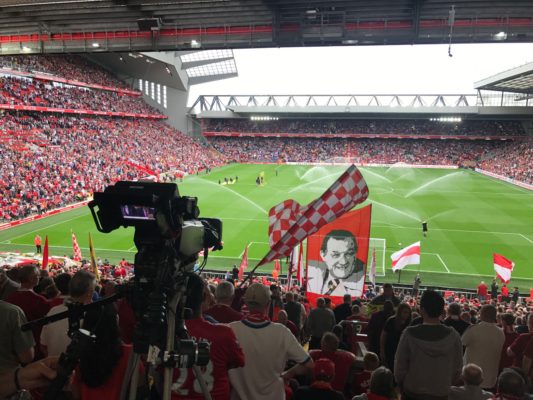 It's possible that it might, of course. I've never been less confident about a Merseyside derby than I am about Wednesday night's, for the simple reasons that we could set the record for the club's longest unbeaten run, Everton haven't won at Anfield since 1999 and most people are assuming they're going to be battling relegation this season, so it's got fluky 2-1 win to the Blues written all over it. I hope I'm wrong, though, and the Liverpool machine just keeps rumbling along. It's a sign of champions.