Apparently there was a poll done recently in which people from different places were asked which place in the United Kingdom they felt deserved the honour of being referred to as the country's Second City. The residents of Leeds said Leeds, those that live in Birmingham said Birmingham and people from Manchester said Manchester. When Scousers were asked what the country's second most important city was they said London. Whether that's an apocryphal tale or otherwise, I think it perfectly sums up the cocky arrogance of Liverpudlians, who walk with a swagger and have an immense amount of belief in the city as a whole.
It's an arrogance and belief that is borne from decades of success, whether we're talking about the way that The Beatles changed music forever or how Liverpool Football Club dominated football in the 1980s. Think about this for a second: The Reds have won just one League Cup over the past decade, yet we're still the most successful club in British football in terms of trophies won. No wonder Liverpool supporters feel a certain degree of entitlement when it comes to picking up shiny silver things. The problem that we've got now is that that entitlement may actually be holding us back and we may well have reached the point at which the best way to move forward might be to forget about our past.
Belief Is One Thing, Entitlement Another
I genuinely think that some supporters either don't remember or have willingly forgotten about how far we fell under Hicks and Gillett. Those cowboys took us to within a few hours of going into administration and, despite what some people may think, it genuinely could have happened. To this day Liverpool remains one of the biggest football clubs in the world, not only in terms of trophies in the cabinet but also in how big our support base is. Few clubs could sell out the MCG for a friendly game in the middle of the Australian winter, for example. Go to virtually any city in the world and you'll see someone wearing a Liverpool top or declaring themselves to be a Red.
It's obvious that our past success is mostly responsible for that, with people in India, Dubai and South Africa indoctrinating their kids into following the team. The manner of our Champions League win in 2005 will also have brought some new supporters into the fold, such was the spectacle of the event. One thing is absolutely certain: we would not have been able to overhaul AC Milan if we didn't have the belief as a team and a set of supporters that we do. It's not quite the same as Leicester City winning the league in 2015-2016, but being 3-0 down to one of the best defensive units in the world at the time was pretty much mission impossible – there's a reason that that final is still referred to as one of the best of all time.
Despite the start that both teams have had to the season, Liverpool will head into this weekend's fixture against Manchester United feeling that there's no reason why we won't be able to claim all three points. José Mourinho's natural instinct will be to get his team to defend in the hope that they will not lose and potentially nick a win, whilst Jürgen Klopp will want to take the game to his counterpart and feel that we could easily score a few goals if we have a bit more fortune with finishing than we were having before the international break. Having put four past Arsenal at Anfield earlier in the season, the team will at least know that it has what it takes to outplay top four rivals in these one-off games. Belief, then, is no bad thing.
When it comes to talking about the title race, though, there's a sense that some Liverpool supporters believe that we deserve to be part of the conversation at the start of every season. Since we finished second in 2009 we have finished outside of the top four six times out of eight. On six occasions there have been at least five teams that have been verifiably better than us across the course of the season, with six or even seven better teams being there more than once. We might have the belief that we were still one of the best teams in the country, but the facts are there to prove that we simply haven't been. It genuinely boggles my mind that we head into each season with a large swathe of supporters utterly convinced that we should be part of the conversation over the title simply because we're Liverpool.
We'll Stand More Chance Of Winning A Title If We Stop Believing We Deserve It
To follow my opinion on a little bit further, here's a quick list of our league finishes over the past eight seasons:
2009 – 2010: 7th
2010 – 2011: 6th
2011 – 2012: 8th
2012 – 2013: 7th
2013 – 2014: 2nd
2014 – 2015: 6th
2015 – 2016: 8th
2016 – 2017: 4th
Despite the fact that in the two preceding season to our last one we finished 6th and then 8th, there were any number of Liverpool fans disappointed with finishing fourth. One of the reasons for this, of course, is that we played brilliant football at times last season. It was the sort of football that some people felt deserved to win a title. Yet the reality is that it takes experience to know how to maintain a title challenge over the course of a season. Yes, you can have a good run at it every now and then like Leicester City did a couple of years ago or we did in 2013-2014, but Klopp doesn't want to have a single tilt only to see his side fall away.
As supporters we want nothing more than the title. I dream about it, it dominates my thoughts pretty much all of the time. If you offered me a title win now followed by a relegation fight the following year, much in the way that we say the Foxes do just that, I'd take it. The manager, though, doesn't want just one title. He's not here to win it and then fall away completely. Instead he's hoping to help build a new dynasty for the club that the next manager can pick up after he's departed to pastures new. In order to do that you have to help the players gain experience in winning regularly, not just grinding out one-off results. Our record against the rest of the top six last season was exemplary, yet we struggled against the 'lesser' teams. Was that a sign of arrogance? Of complacency? Who knows, though it's something that Klopp needs to figure out how to deal with.
I think he's been trying to figure that out this season. I feel as though he was stung by how things went during January last year and doesn't want to burn his players out too early during this campaign. There's an extent to which I wonder whether Klopp is trying to find a way for us to play in a lower gear. In the short-term that might result in more frustrating results, such as the 1-1 draw with Burnley at Anfield or the same result away to Newcastle. If it pays off, though, you'll see a team that can fulfil the old cliché of playing poorly and still winning in future seasons. The manager is looking at the long-term and that's not a bad thing. If we're to have sustained success then the players need to learn to find the balance between only winning when they're going like the clappers and being complacent when they're playing against teams they feel that 'should' beat.
Title Talk Is Leaving Us Disappointed With Anything Less
It is my firm belief that Liverpool will have more chance of winning the title if we consistently finish on sixty-plus points after thirty games every season. Go into the last eight games knowing that you've got a chance of racking up more than eighty points for five or six years in a row and one of them will end in the Reds winning the league. At the moment, though, a title miss is leaving the club and supporters in a state of something akin to post traumatic stress. Take 2013-2014 as an example. We came so close but ultimately fell short. Rather than building on that success we completely imploded, to the point that the entire place felt funereal in the aftermath.
This season, after just seven games, we find ourselves a mere one point behind Chelsea in fourth and two points behind Tottenham in third. Yet because we're seven points behind the two Manchester clubs there's a feeling that this season is already a waste of time. The idea of finishing in the top four as an achievement, which we've done twice in eight seasons, is now being sniffed at. As a fanbase we seem to be disgusted with the idea of not being able to challenge for the title, irrespective of the fact that we've finished as runners-up a mere three times in the Premier League era. I understand that vast swathes of the support base has waited more than two and a half decades to see us win the title and others have literally never seen it happen, but can we not be realistic about things?
Three title challenges since the First Division became the Premier League and some of our supporters are already saying that this season is a disaster because we're not on level points with City and United. That's why I think we need to forget about the title as an aim. The very notion of trying to win the Premier League is leaving us all deflated with any result other than a win every single time we play. Burnley had already beaten Chelsea at Stamford Bridge and managed a draw against Spurs at Wembley, but because we didn't batter them there were calls to radio phone-ins calling for the manager to lose his job. The very fact that I've written this article will unquestionably result in me getting tweets telling me that I'm 'accepting mediocrity' and I'm really not. All I want us to do is be realistic.
Forget About The Title And We Might Just Win It
As a season ticket holder on the Kop, I firmly believe that the desire to win the league has become so all-consuming that the vast majority of supporters inside the ground have stopped enjoying going to the match. I'm dreading going to watch us play Huddersfield, given that anything other than an overwhelming victory will result in a ground full of people moaning and groaning. The sense of entitlement within Anfield is, in my opinion, causing major problems and holding the team back. If you were a player, would you be willing to try something brave if you knew that the supporters would go mad at you if it didn't come off?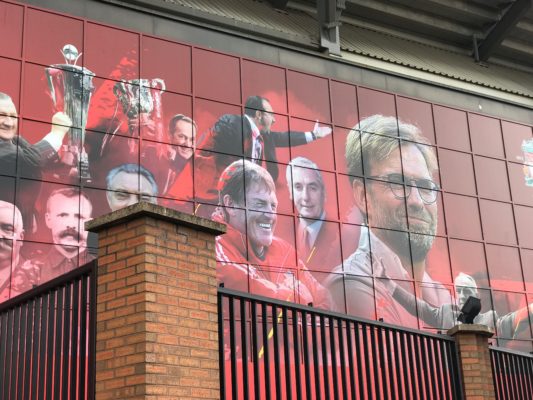 Let's have another look at the Burnley match. Had everything been exactly the same but we were playing Barcelona or Real Madrid, the noise would have been incredible. The crowd would have been convinced that a winning goal was coming, that we could have found a way to be victorious. Instead there was nothing but complaining at every misplaced pass and disappointment that we weren't four or five goals up. As supporters we should never settle for mediocrity but we should be more realistic about what, exactly, that club is 'entitled' to. We have no right to be challenging for the title year-in, year-out just yet. We need to find our way there and, perhaps, when as acknowledge as supporters that a regular top four finish is a good thing we'll take the pressure off enough to finally win what we're all desperate for.