x
Oh what a difference a week or so makes. In the wake of our defeat of Manchester City the mood around Liverpool was positively bouncing. We'd shown ourselves to be the club most likely to take the battle to the Citizens in future seasons, laying down a marker to suggest that we could finish second in the Premier League. A defeat to Swansea City soon brought us crashing back down to earth, despite the fact that if we'd played that game another ten times we'd have won nine of them and drawn the other one. Freak results happen every now and again, so the Reds would be able to bounce back against West Brom and put the season back on track, wouldn't they? We know the answer now, of course. If the mood was low before the FA Cup game, it was decidedly worse after it.
Hard to be arsed about tonight's game when the club seem disinterested in the season.

— Karl (@TheCenci) January 30, 2018
More than a few supporters felt that the club's overall activity in the transfer market, or lack thereof, was indicative of an ownership that have 'proven they don't care about Liverpool FC'. The problem with that argument is that every indication, including the manager's own words, suggests that the sale of Philippe Coutinho and subsequent decision not to replace him was nothing to do with the owners. The same can be said of Daniel Sturridge who is apparently a 'massive loss'. That despite the the fact that he hasn't made an appearance since December the 9th, is now fourth-choice behind Mohamed Salah, Dominic Solanke and Danny Ings and is never fit when the manager has actually needed him. What we needed, more than anything else, was a win to get the support-base smiling again. Could we get it?
A Much Faster Start
There were many frustrations about the draw with Swansea, but one of the most obvious ones was the complete lack of pace and movement demonstrated by the Liverpool team. We were so static and lumbering, never moving the ball around quickly enough to ask any questions of Carlos Carvalhal's men. Instead we were ponderous, never creating any spaces and having to resort to ludicrous pot-shots from outside the area. It was clear from the get-go tonight that there would be no repeat of that sort of performance against David Wagner's team. Jürgen Klopp knows Wagner better than anyone, with the two having been best men for each other at their weddings. Perhaps that's why he asked his team to close down the Huddersfield side as quickly as possible and move the ball at pace from the first whilst, moving them around the create the space.
Fast tempo to the game at the moment. Should suit us. @LFC #Liverpool 🔴

— PATRICK ⚫️ (@patrick_barks) January 30, 2018
The lack of intelligence during the match against the Swans was infuriating, with central defenders smashing in shots from thirty-odds yards when a goal was never on for them. The same wasn't true of this match, that's for sure. We created plenty of decent opportunities thanks to intelligent, pacy movement. The opening goal came from a shot from distance, but I've got much more time for a player like Emre Can being the one hitting long-distance shots on account of the fact that he's actually scored some in the past. He's also got much better vision for that sort of thing that Joel Matip or Joe Gomez, for example.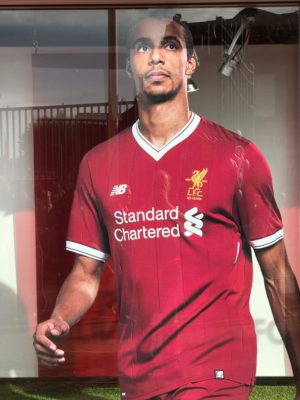 This Huddersfield Town side is struggling, that much is true. Wagner also selected a team that featured seven players out of the eleven who were taller than six foot. It made sense to put them under pressure and ask questions of their pace. The fact that they'd conceded forty-three goals before kick-off means that they wouldn't have been full of confidence once Can scored the opener. Perhaps that played into Roberto Firmino's hands when he burst in behind the defence and then scored a frankly superb goal that Lossl should've done better for but wouldn't have seen coming.
It's Good To See Jordan Henderson Back
Another part of the reason that Liverpool were so much quicker with their tempo was the return to the starting line-up of Jordan Henderson. There'll be countless people reading this who don't appreciate what it is that the captain adds to this team. They'll believe that we were better because Klopp got a reaction from his side rather than the former Sunderland man added anything to the midfield. If you're one of those people then that's fine, but don't bother arguing your point with me. I simply don't have time for those that don't see what the midfielder adds to the team.
Henderson is definitely having one of his better games. His positioning has been excellent.

— LFC Chat (@LFCChat) January 30, 2018
One of the major complaints that those who don't like Henderson have is that he 'only passes the ball ten yards', without realising that this is a big part of why the midfield looks so much better with him in it. Constantly keeping the ball moving stops the other side from being able to re-group and intercept the play. Compare and contrast the way Henderson recycles possession with the manager in which Emre Can seems to need four or five touches to get the ball out of his feet. I actually think the constant comparisons of the two are ludicrous, considering that they're entirely different players. It's like comparing the movement of Mo Salah and Dejan Lovren.
There's a conversation to be had about Liverpool's midfield in general and there's no question that Henderson isn't one of the best midfielder's in the world. Yet too many critics have a starting point that is clearly nonsense, declaring him to be one of the worst players in the squad. If that's your starting point after watching his performance tonight then you might as well admit you've got a narrative and that the facts of the matter are irrelevant to you. I hope the captain stays fit for the rest of the season so that the manager's got choices for his midfield moving forward. Being able to pick Henderson for games like this and Gini Wijnaldum for games against top sides at home will see us looking exponentially better.
Sadio Mané's Just Not Right
Whether it be the red card conceded against Manchester City, the move over to the left to accommodate Mohamed Salah or something else that we don't know about, Sadio Mané doesn't seem to be the same player that we saw ripping up the Premier League last season. It's slightly churlish to say that, I realise, considering that he's still be scoring goals at a decent enough rate. I can't help but feel that he's lacking the killer touch of his last campaign, though, and I think tonight's performance demonstrated as much. However the odd thing is that the stats don't really back up what the eyes are telling me.
Sadio Mane has created 4 chances in the first half vs Huddersfield, including an assist for Firmino.

No one else on the pitch has created more than 1.

— LFCVine (@LFCVine) January 30, 2018
Stats can always be used to tell a story that might not be based on the truth, of course, and the fact that the Senegal international created four chances in the first-half alone suggests he was in good form. But he gave the ball away more than you'd want from an attacking player, especially when you consider that the Terriers's defence wasn't exactly brilliant. The forward also missed a couple of really good opportunities when he got in behind the defence, rushing to get a diving header on the ball rather taking it down or volleying it home as he has done several times so far this campaign.
Whether or not his form this season will be concerning the manager is anyone's guess. As I say, he keeps scoring goals and is often doing it in big games, such as against Manchester City. He's overall game is unquestionably lacking, though, and I keep expecting him to snap out of the funk he appears to be in. As long as he keeps scoring there's nothing overly much to worry about and his presence in the final third is causing opposition defences all sorts of problems. Alongside Roberto Firmino and Mo Salah, the trio must be a nightmare to defend against. Without Philippe Coutinho, however, I can't help worrying that Mané needs to step up his consistency across the rest of the season to ensure that we don't miss the Brazilian too much.
It Was Important To Bounce Back
As I mentioned in my intro, what we needed more than anything else was to get back to winning ways. Those that love to always look on the negative side of life will say something ludicrous like 'it was only Huddersfield Town', happily turning a blind eye to the fact that Manchester United lost 2-1 at the John Smith's Stadium back in October. Admittedly the club's form has taken a nose-dive since then and at the end of the this game week they might well be inside the relegation zone. Even so, they're a scrappy team and play the sort of tactics that Liverpool have struggled to deal with in the past. On the back of losses to the Swans and West Brom, getting three points on the board with a decent performance was vital.
Huge game for #LFC tonight – it's important players make a statement that last two games have been a blip and not the start of a slump. We need more strength in the squad – but in rhythm we have the players to win lots of games.

— Si Steers (@sisteers) January 30, 2018
At no point have I bought in to the toys out of the pram attitude of some of our supporters. Still, the lack of transfer activity has left people feeling rather down at the moment and another loss of points against a team lower down the Premier League might well have seen some sections of the fanbase entering a stage of downright revolt. Instead we can head into the Tottenham game knowing that a win against them will leave us at least five points clear of them. If Mauricio Pochettino's side lose to Manchester United tomorrow then we'll move eight points away from them with a win at Anfield on Sunday and that will be very difficult for the Londoners to overturn.
Stranger things have happened in the history of the Premier League, so an eight point lead doesn't mean that we're clear and free of Tottenham. Yet you can't help feeling that the fact that we're eight points away from Arsenal thanks the their loss to Swansea means that the Gunners will need a miracle to finish in the top four now. Their best hope of getting into the Champions League next season will be winning the Europa League, whilst for Spurs it's seemingly the top four or nothing. We have a real chance here to put them out of the list of 'big clubs' in the league and, if it happens, you struggle to see them getting back in. Real Madrid, Paris St. Germain and the like will pick the bones of the squad away and suddenly Spurs won't have Harry Kane to depend on any more. The weekend will tell us more, but a win tonight was a great place to start.