When the fixture list was announced this was one of the games that most Reds would have earmarked as noteworthy. As the season got underway and Jürgen Klopp got his side playing some of the most attractive football in the division, it looked as though it could be a New Year fixture to see who would go into 2017 at the top of the table. Then Chelsea's incredible run meant that it became more about making sure one side was able to keep in touch with the Stamford Bridge side.
Chelsea PL win percentage this season
August: 100%
September: 0%
October: 100%
November: 100%
December: 100%

— Duncan Alexander (@oilysailor) December 31, 2016
It looked, briefly, as though Stoke City might have done us a favour. They pegged the West London side not once but twice earlier in the day, with Antonio Conte's side ultimately proving to be too strong and running out 4-2 winners. The point I'm trying to make is that you cannot understate the pressure on the players going into that match. A loss would have all but ruled us out of the title race, sitting nine points shy of Chelsea and needing to overhaul both them and Manchester City. How would the players respond?
To The Winner Goes The Spoils
Pep Guardiola will not be telling his players that their title race is run. He'll be very aware that we still have to travel to The Etihad and that Chelsea cannot keep on winning indefinitely. Yet it wouldn't be a massive surprise if he decided to focus a little more on the Champions League when the knockout stages resume. That table makes for happier reading for Liverpool fans that it does for the Citizens, after all.
Today we showed we've got gritt, character & plenty of resolve to add to the style. We are bang in the hunt! Happy New Year! #LFC.

— Si Steers (@sisteers) December 31, 2016
We currently sit four points ahead of City and six behind Chelsea. They are up against Tottenham next and I'm not sure anyone calls that an easy game for them, however well they're playing. They also have to travel to Anfield and we showed last night exactly what we can do to even the best teams in the league. 1-0 might not seem like much but the scoreline belies the importance of the result.
I have a theory and I'm desperately hoping that we're going to see it play out over the coming weeks. Chelsea have won thirteen straight games. They have looked like an unstoppable force and just when you think they might drop points they pull something out of the bag to keep their noses well in front. Yet they are still only six points clear of us. If we beat Sunderland on Monday we'll be a mere three points behind. Yes they'll have a game in hand, but it's always better to have the points on the board.
Klopp on Chelsea: "Imagine how annoying it is when you go on that run and there's still one team six points behind."

— Kristian Walsh (@Kristian_Walsh) December 31, 2016
So here's my theory: If we beat Sunderland I think Chelsea lose to Spurs and then drop more points away to Leicester in their next game. I think that we're in their heads and however well they're doing the fact that they can't shake us will be an issue. It's not dissimilar to how Manchester City themselves were always on our coattails back in 2013-2014 and eventually that pressure told. Obviously the key to that is us beating Sunderland, but Klopp couldn't ask much more from his charges at this stage.
Performances All Over The Park
This wasn't the Reds best display of the season. After the game James Milner actually claimed it was our 'worst' display of the campaign to date. That may have been a little bit of needle from the former Manchester City man, but it's certainly true that we weren't able to get a flow of football together in the same way as we have in some of our better performances.
On many levels;tactically great from Klopp/poor from Pep-huge admirer bt other managers would be criticised.Gameplan nothing to do with time

— Tim Lees (@timlees10) December 31, 2016
Yet when the chips are down it doesn't matter how good the overall performance is as long as individuals are on their game. The joy for Liverpool right now is that different people are stepping up to the plate at different times. We're spreading the workload and reacting to the challenges that we're faced with. It's the sort of thing that we haven't done enough of in years gone by, being far too dependent on one player.
When Ragnar Klavan was booked after just seven minutes I feared the worst. The Estonian has been impressive since his largely unheralded arrival in the summer, yet it was a lot to ask him to spend the best part of ninety minutes close to getting sent off when up against the likes of Sergio Aguero and Kevin de Bruyne. That he not only stayed on the pitch but also put in such an impressive performance made me feel a feel for doubting him.
LFC well worth their ht lead, Milner & Klavan been the star men for the first 45. #LFCMCI

— Jamie Carragher (@Carra23) December 31, 2016
Then there's James Milner. It's been something of a running joke amongst Liverpool fans that the ageing midfielder is the 'best left-back in the league'. To give him his due, though, every time you think he's going to get found out he responds accordingly. The idea of him having to cope with Raheem Sterling wasn't one I was looking forward to when I saw the team sheet, yet he had him on toast for the duration of the game. Our former winger couldn't catch a break and barely got a chance. What a gang of lads this is.
Gini Wijnaldum
It's a bit naff to suggest that some Liverpool supporters are more knowledgeable than others. Having said that, there's undoubtedly been a bit of a split in opinion depending on whether or not fans rate the former Newcastle man. Once again Jürgen Klopp has pulled a blinder, with most supporters expecting Gini to come in as a number ten but instead he's been controlling games from the midfield and looking as though he's been here for some years.
Wijnaldum's contribution has been largely overlooked in recent weeks but he's becoming a key player for Liverpool.

— Tony Barrett (@TonyBarrett) December 31, 2016
The header for the goal was absolutely magnificent. It really was a goal out of nowhere. Adam Lallana's run down the left was matched with a decent enough cross, but at the moment the ball was hit there wasn't really anything on. Cue Wijnaldum leaping high above Kolarov and thundering his header home, sending Anfield delirious. He scored eleven times for Newcastle last season but has only managed to score two for us so for this campaign. What an important goal his second in red could turn out to be.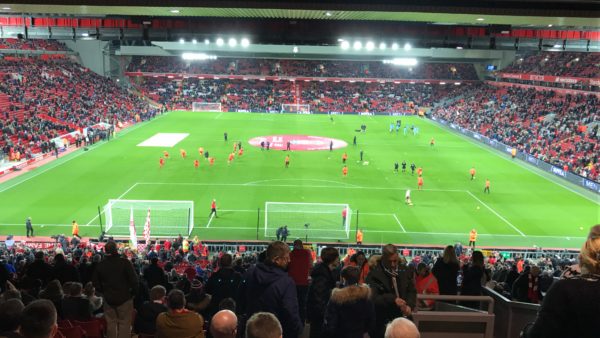 Whilst Sadio Mané impressed from the off and Loris Karius has been the subject of plenty of conversation, Gini Wijnaldum might just be growing into our most important player. The Dutchman is part of the reason our midfield has looked so impressive in recent times and if we can keep him fit for the rest of the season then there's every chance we could be lifting the Premier League trophy in May. There's nothing better than an under-rated player and Wijnaldum is definitely that.
We're Well In The Chase
It may be that my earlier theory is wrong. It's entirely possible that Chelsea will just keep on winning matches for the rest of time. We can't rule out the possibility that the London club's lead in the league is already unassailable.
At the half way stage of a PL season @LFC currently have their highest tally of points (43), goals (46) and best goal difference (+25).

— Ged Rea (@ged0407) January 1, 2017
Yet if they think they're having a procession to the title then they're very much mistaken. This Liverpool team is going great guns, out-performing any other Liverpool time at the same stage of the season. We've scored more goals and won more points art the halfway stage of any other Premier League campaign and there doesn't seem to be any sign of that letting up.
Amongst all of the talk about how well we're doing this season no one seems to be discussing the fact that it's been going on for all of 2016. It's not as though we suddenly started playing well in August and are out-performing our previous work, taking everyone by surprise. Our run to the finals of the League Cup and Europe League weren't flattering. They were little more than a sign of how well we were playing since the arrival of Jürgen Klopp.
#LFC 5 clean sheets in last 10 league games. Rolling average since 1992 is 3.7, since 1892 3.2. Currently best run since Apr 2015. #tight

— LFC Match by Match (@LFCMbM) January 1, 2017
Commentators say we can't beat teams who play defensively but we put ten past Watford and Stoke. They claim that we aren't able to do it against the big teams, ignoring our results away to Chelsea and Arsenal and at home versus Manchester City. We're talked of as a team with defensive frailties and it's true that we haven't looked brilliant at times, but we're defensively tighter than we've been for years.
The long and short of it is that we've been playing well ever since our German manager arrived and there are no signs to suggest that we'll do anything other than continue to do well for the rest of the season. Liverpool teams of the past have won the big games only to then go on and lose the 'smaller' ones. Three points against Sunderland isn't only vital, it could be a sign that the Premier League title may finally be sitting in the Anfield trophy room for the summer.