Liverpool needed a win. More than anything else we just needed a win. Back-to-back losses against Swansea City and Southampton meant that the Reds were rocked heading into this game. Fortress Anfield had stood strong for over a year and then seemed to crumble overnight. With Chelsea coming on Tuesday it was crucial for the home side to get a win under their belts in order to have some semblance of confidence before what may amount to a season defining match.
I'm pretty sure Paul Lambert has never lost at Anfield as manager. His record with Norwich and Villa reads two wins, two draws.

— Kristian Walsh (@Kristian_Walsh) January 28, 2017
The last thing we needed was a Wolves team with their tails up under a manager who knows how to get a result at Anfield. Yet that's what arrived in L4 this morning for the early kick-off. So where did it all go wrong? How have we gone from being unbeaten at home for more than twelve months to losing three games in the space of a week? How much criticism should be going Jürgen Klopp's way? And is there any sense of hope as we wait for the league leaders to arrive?
Our Squad Isn't Good Enough
Did Jürgen Klopp pick the right team for this game? In his press conference afterwards he confessed that there weren't many players who could have played the game in the wake of the match against Southampton on Wednesday night so perhaps he didn't have much choice. Balancing the side to ensure the players are fit enough to put in a shift against Chelsea is a tricky job for the manager. There's also the point that if squad players can't beat a mid-table Championship side at home then perhaps they aren't good enough for Liverpool Football Club.
#LFC going to need a few players to stand up and be counted here. Some fight and drive required.

— Andy Kelly (@AndyK_LivNews) January 28, 2017
If the manager had picked a full-strength side for this game and they then looked leggy for the Chelsea match then critics would say he should have used his squad. By using his squad he's kept the most important players fresh but weakened the team that took to the field against Wolves. It's the very definition of a catch-22 situation. The right-back spot is the perfect example. Nathaniel Clyne is injured so Trent Alexander-Arnold has come in for him. He played against Southampton and will likely play against Chelsea so we couldn't risk him today, but his replacement hadn't played more than two minutes for the first team since the end of April 2016.
Connor Randall was one of the weakest players on the pitch in the first 45 minutes, but he can hardly be blamed considering he's played such little competitive football recently. Klopp could have risked Alexander-Arnold but if he'd picked up an injury – which is significantly more likely when players are fatigued – then we might have had to use Randall in the Premier League match, so it was the right call to make. The problem is that our squad simply isn't good enough and it's starting to show. We've played eight games already in January and have one more still to go. Rotation was essential, but the players aren't talented enough to keep results going.
Watching Lucas try to run in midfield is painful. Love the fella but CB only – although this is a needs-must team for 2nd game in 6 days

— The Tomkins Times (@thetomkinstimes) January 28, 2017
Lucas Leiva is an excellent case in point. Plenty of fans were celebrating when he ended up staying at Anfield instead of heading to Inter Milan or the like at the start of the January transfer window. Yet he's simply far too slow to play in midfield as we saw on numerous occasions today. Wolves counter-attacked us at pace and with intelligence, but they were aided and abetted by the Brazilian being so slow there were turtles running past him on the side of the pitch. If he's a makeshift centre-back that's fine, but he's fifth-choice in that position now Gomez is back from injury.
Klopp's insistence on using the squad and developing kids is admirable. He's got form too, of course. His Dortmund side wasn't bought it was created under his management. Yet the younger players aren't good enough yet and even those that are can't do it consistently. Ben Woodburn was probably our best player in the second-half, yet if he comes off the bench on Tuesday it will either be because we're 5-0 up or as an act of desperation. He's not going to be starting against teams like Chelsea so we simply can't think of him as being a viable squad option. He's good for the future, as is the likes of Ovie Ejaria, but we've got games going on right now that need to be won.
At least there won't be any new players coming in to disrupt the tremendous form and energy our huge squad is currently showing.

— Brenzie (@Brenzie) January 28, 2017
The sad truth is that we wouldn't even have been guaranteed a win had we started the first XI today. Regardless of the composition of the team we are making the same mistakes and struggling with the same problems. Teams can come to Anfield, line-up with a low block and force us out wide. Do that and we have got no idea how to break them down. The introductions of Daniel Sturridge and Philippe Coutinho made us look more lively but we still didn't have any good ideas of how to break Wolves down, with the goal coming from a corner. We're lacking intelligence and invention and it's very, very worrying.
The Senior Players Let The Young Lads Down – Again
For all that we don't have a good enough squad, it was the older players that let the younger ones down today. It isn't the first time I've said that after recent matches, either. Ovie Ejaria had some nice moments in the middle of the park, Ben Woodburn looked excellent at times, like I've already said, and Joe Gomez put in some decent tackles when he needed to. Yes Ejaria could have moved the ball quicker, Woodburn could have got into better spaces at times and Gomez needed to be stronger from time to time, but they're young lads who have time to learn.
Lucas with the worst individual performance of the season today.

— Henry Jackson (@HenryJackson87) January 28, 2017
What excuse does Lucas Leiva have for his sloppy play? The manager made a mistake putting him in the centre of the pitch, but his passing was all over the place and his tackling wasn't much better. There was a moment when the Wolves player, who was a bit of a unit himself, simply glided past the Brazilian. He wasn't quick enough to keep up with him and didn't even have the pace to catch back up to him in order to foul him, he was simply away and there was nothing the midfielder could do. It put the defence under pressure and we were lucky to get away from that moment without conceding a third.
Then there's Alberto Moreno. Dear, sweet Alberto Moreno, with his bleach-blond hair that makes him look like a moronic Labrador in a Liverpool shirt. Some people have been suggesting recently that he could be Liverpool's saviour, that if Klopp played him as a left-winger it would solve all of our problems because he's got pace. He might have pace but, like the Scarecrow in L. Frank Baum's The Wizard Of Oz, he completely lacks a brain. The foul he gave away that led to their opener was needless and the tackle he attempted to make for their second goal was an utter disgrace.
Does Alberto Moreno know what planet he's on? #LIVWOL

— Terry Firth MP (@TheRider42) January 28, 2017
He's not alone, of course. Ragnar Klavan looked like a quality centre-back when he first arrived and was Man Of The Match against Manchester City on New Year's Eve, but he's been getting gradually worse since then and put in another terrible defensive performance today. I've been a huge fan of Gini Wijnaldum's since his arrival this summer but he was poor today, too. Not clever enough on the ball or strong enough off it. Our squad is thin but the fringe players aren't helped when those that should be setting an example can't seem to get their act together.
Officially Rubbish
Much like after the Southampton game in the week, this was another occasion when we weren't good enough but were let down by the officials. For the first goal there wasn't one mistake but two. The free-kick was taken from fully thirty-feet further forward than the foul was committed. That is not a small distance. It's also not something that is difficult to get right. The assistant referee on the side should be standing in line with where the foul happens until the ball is in place for the set-piece, but he'd gone walkabout. Call it sour grapes all you like but it's the job of the officials to get these things right.
Amazing analysis of Wolves opener on BT: basically, the free-kick was taken from the wrong place and was offside

— Simon Bajkowski (@spbajko) January 28, 2017
As if that wasn't bad enough, the goal was then offside. It wasn't offside by much and was a marginal call, but it was offside and the officials didn't call it. Likewise in the second-half Wolves nearly scored a third but Karius saved well from a player who was about three foot offside when the ball was headed through to him. These calls make a difference. Right now we're not playing well but we're also getting absolutely no luck whatsoever from the referees we're encountering nor their assistants. Wijnaldum was pulled back by a Wolves player and no foul was given. He then returned the favour and the ref blew his whistle.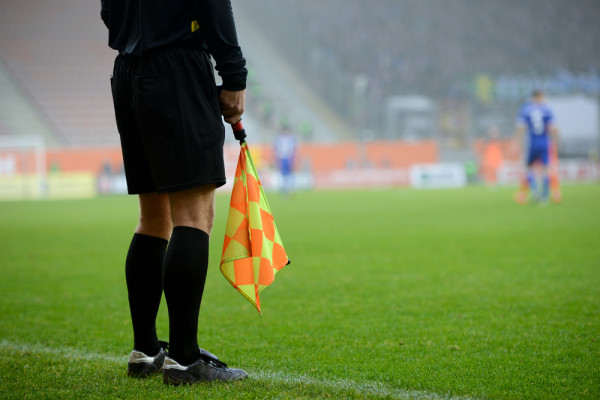 Wolves had a plan to deal with us today and they executed it perfectly, but there's no getting around the fact that it might have been a more difficult game for them if their goal in the first minute of the game had been correctly ruled out for being offside. On such moments games can turn, seasons can turn, managerial reigns can turn. The biggest question heading into the game against Chelsea on Tuesday night is whether Mark Clattenburg can get the big calls right. It's the most important game of our season.