I've noticed more and more in recent times that there's a desperate desire for binary thinking when it comes to discussing football. Perhaps it's the increasing influence of social media and the desperate desire to put out an opinion immediately, with the two hundred and eighty characters available not giving an awful lot of room for nuance. Instead it's a matter of forming an opinion, expressing it and then often doubling-down on that opinion even if it begins to look like stupidity in extremis. We've seen that come to the fore in political discussion, with the likes of Brexit and the American election in 2016 being perfect examples of binary thinking. Yet there's also a really good example of it much closer to home in the form of Liverpool Football Club's post-Champions League winning summer, where supporters seem to be desperate to take a stance on how things will go in the upcoming season and remain resolutely married to that stance come what may.
There's actual infighting amongst the lfc fans now. We won the most prestigious trophy in club football 8 weeks ago and already the sky is caving in.

— Benedict Cabbagepatch (@michael_lenno) July 28, 2019
The middle-ground appears to have been abandoned by most, with opinions ranging from those that are convinced that Jürgen Klopp is the messiah and can do no wrong through to others who see nothing but doom for the football club over the next ten months and feel that we'll be lucky to scrape into the top four. I have readily expressed my concerns about the lack of signings this summer, but that's because I want us to overtake Manchester City and win the title, not because I think a side that got ninety-seven points in the league last season and won the European Cup is suddenly abysmal. Can it not be possible for the team to be in a good position but potentially missing out on the chance to step it up to the next level by not going into the market and spending big to attract top talent? That's probably closer to the truth, but we won't know which side of the argument is right until the season has run its course.
Liverpool Are Amazing, We're Going To Win Everything
There's certainly plenty of evidence to suggest that the Reds are in a position to keep battling Manchester City in the upcoming campaign, ready and waiting for Pep Guardiola's side to slip up or ease off on the pedal slightly, stealing the Premier League title from them along the way. A ninety-seven point season is unprecedented for a team that didn't win the title, with that points tally having been enough to lift the trophy in all but the last two top-flight campaigns. That the squad also won the Champions League means that it has now shaken off the tag of being perennial under-achievers and instead the players can look at each other in the dressing room before matches and know that they're European champions. It's a squad that has grown up together and is now hitting its peak, with the main players maturing at the same time as each other.
I have got to praise Liverpool's season. To get 97 points and not win the league is outrageous and they deserved it. To also win cl is a great achievement also considering they have got to back to back finals is amazing. What a squad they have and what a manager. I'm jealous

— Red army 🔴❤️❤️ (@freshprincelaca) June 2, 2019
Add to that the likes of Rhian Brewster coming to the fore, Naby Keita being in his second season, Alex Oxlade-Chamberlain returning from injury and Divock Origi having the confidence of a man who scored the winning goal in the Champions League final and you can see why Jürgen Klopp is reluctant to dip into the market for another player. Strengthening this Liverpool team is far from easy, with a requirement being there to spend big money in order to do it. Bringing someone in is never guaranteed to work, either. They could easily have the sort of personality that might disrupt the balance currently at play. This is a cracking set of lads and they deserve a chance to prove that last season wasn't just a flash in the pan. More importantly, the manager believes in them and is willing to give them just that.
Liverpool Are Awful, We'll Be Lucky To Scrape Top Four
Pre-season has not gone well. Wins over Tranmere Rovers and Bradford City have been tempered by losses to Borussia Dortmund, Sevilla and Napoli. It's true that we've been missing some of our most important players, with Roberto Firmino, Alisson Becker, Mo Salah and Sadio Mané all missing from the squad after their exertions in the Copa America and Africa Cup of Nations. Yet doesn't that just show how poor our second-string is? Origi is an excellent goalscorer but he doesn't fit into the team particularly well and is essentially a blunt instrument. Brewster has been given a huge amount of hype but he hasn't played a competitive game in the Premier League, so how will he handle it when grok defenders are giving him a physical test and the goals aren't coming for him as easily as they did when he played in the Under-23s?
Many of our rivals have done some superb business this window and we've stood still. It's hardly surprising as to why so many fans are frustrated. This should have been our time to kick on.

— Matt (@FalseFMatt) July 27, 2019
Too often last season we got fortunate, with the obvious examples being Origi's derby goal and the winner against Spurs at Anfield. Take away those bits of luck and all of a sudden we're looking at mid-eighties for a points tally, which is more likely now that we've got to go and play in the Super Cup and Club World Cup, coming back to find we have games in hand on City but they have the points on the board so suddenly scoreboard pressure becomes a major issue. The lack of singings means that we've fallen behind our rivals, so suddenly our place in the top four is far from guaranteed. Pre-season has shown us the importance of the players we've been missing for most of it, so what happens when one of them gets an injury? Can Matip really lead the defence in Virgil van Dijk's absence? Can Simon Mignolet be depended on to save anything? Can Brewster really step up to become as good as Firmino? It's a concern.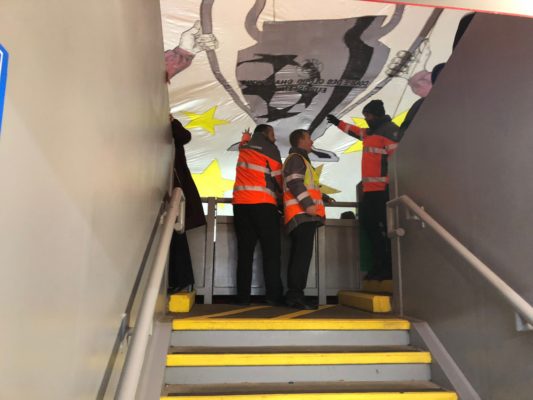 Obviously there's an extent to which I'm being facetious with both of those opinions, but it's easy to see how quickly you can disappear into a gully of black and white thinking, refusing to accept the merit in the other side's argument. The truth lies somewhere in the middle, but we won't know which side it's going to swing to until the season is underway.