No one website can cover all of the best news for a football club. Especially not if it's fan driven content that you're after. Content that showcases the best writing about a club, written by the people that know the club best. Content that isn't constrained by the need to conform to industry standards. Content that isn't driven by an agenda, or the need to get clicks and tweets.
For that reason we've decided to take a look at the best fansites of the most successful club in the Premier League. Whether you love the club yourself or simply want to check out your enemy, we've compiled what we think is the best of the best as far as folk who write about the Reds are concerned.
Despite not having won a league title since 1990, Liverpool Football Club remains the most successful British club ever. Because of that there is no shortage of people who want to write about the club. This Is Anfield, Anfield FM, Red And White Kop – these are just a few of the sites that miss out on our top 5 but are still definitely worth checking out if you want to read about Merseyside's finest.
But here, definitively (as far as our subjective opinion is concerned), is the top 5 Liverpool fansites:
5. The Tomkins Times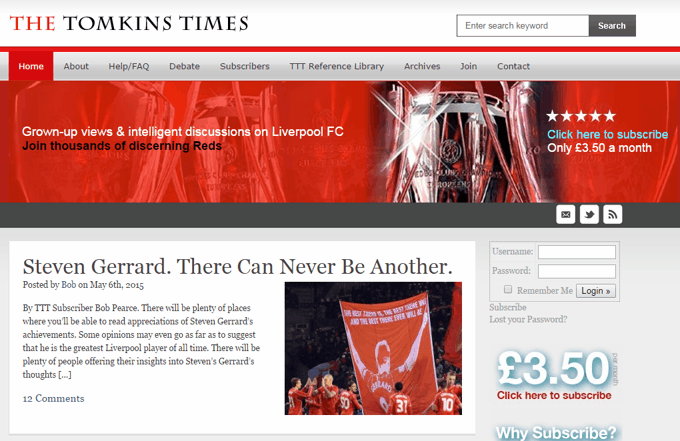 First on the list – though actually last given we're doing this in reverse order – is The Tomkins Times. Set up by Liverpool FC enthusiast and writer Paul Tomkins after he was diagnosed with M.E., The Tomkins Times isn't higher on our list for one reason only – it's a subscription based service.
After being diagnosed with M.E. Paul gave up his job at The Guardian and began to write a book about LFC – Golden Past, Red Future. The book was a great success and led to Paul being contacted by the people who ran the LFC website who were keen for him to write a column for them. He did exactly that, with the column itself leading on to Paul writing for numerous other publications. After a while Paul realised that if people were interested in his stuff he should set-up on his own.
Thus TTT was born. After a time, Tomkins began to charge people to read his stuff – a modest £3.50 a month – and more and more writers came on board. The Tomkins Times produces some of the most in-depth content there is about Liverpool but beware: if you don't want to pay to read it then only the occasional article is free. It really is top quality stuff, so those that can afford it might want to consider hitting that subscribe button. For everyone else, follow Paul on Twitter and read the few golden nuggets he gives out for free – you won't be sorry.
4. Redmen TV
Another subscription based website with regular free stuff, but this time with a difference. Where The Tomkins Times is mostly a written experience (with the rare podcast thrown in), Redmen TV began life as a YouTube channel.
Chris Pajak and Paul Machin talk all things LFC with weekly guests, and it isn't always with the cleanest language on the street. Offering an immediate visual and visceral response to whatever's happened on the pitch, Chris and Paul don't take time to consider – or censor – their thoughts.
They do sometimes offer free videos to entice you in and they have also been known to have interviews with current players, such as Daniel Sturridge. But if you want all of them all of the time then it'll be £2 a month for the pleasure.
Not for the faint hearted as far as their language is concerned, but definitely a great idea for the fan who doesn't want carefully considered responses when Liverpool play Chelsea or Man United. It's tribal to the Reds in the best sense of the word and it's often very, very funny.
3. The Bib Theorists
The Bib Theorists is a green shoot of a website as far as LFC based fansites are concerned. Which is to say that it's young – in every way imaginable. The site started in February of 2013, and it was created with the specific aim of giving young writers a chance to come together and showcase their abilities.
Combining written pieces about the club with a podcast, TBT has become a real player in the Liverpool fansite market. Mixing together "Feature Writers" and "Guest Bloggers", the TBT output is prolific.
In recent times the gang seem to have cut back on the podcast, TBT Talks, in favour of working every now and then with the lads at Redmen TV for things like Transfer Deadline Day live shows.
The site is part of the Fresh Press Empire, a group of websites set-up, much like TBT, to help younger and lesser-known writers make their mark. The Bib Theorists has nevertheless stamped its authority on the Liverpool fansite world.
Owing to its young editors and writers it is taking a fresher, less stuck in its ways approach to covering football. This sometimes means a reactionary approach to things, but it's always well written and intelligently argued. Definitely worth a look.
2. Empire Of The Kop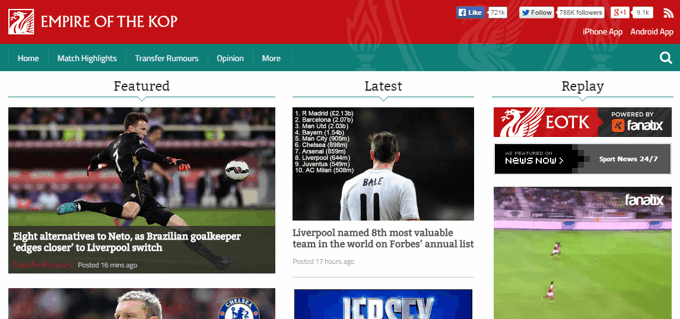 This roundup isn't about whether or not the website we're discussing has a big Twitter following, but if it was then Empire Of The Kop would win hands down. Whilst The Bib Theorists have an impressive 21,000 followers and Paul Tomkins has a reach of over 81,000, Empire Of The Kop beats all others in the field with a staggering 774,000+ followers.
Its proliferation comes from the fact that the website is a blog written by Liverpool supporters from all over the world. Sometimes guilty of quantity over quality, the site doesn't have an editor as such, and so anyone who wants to can write an article for the website.
Generally popular with overseas fans owing to it's more inclusive nature, EOTK has its own app, a transfer rumours section and articles written on just about anything you'd care to read as far as LFC goes. Not necessarily a site for the more discerning reader, Empire Of The Kop will at least have something for everyone.
1. The Anfield Wrap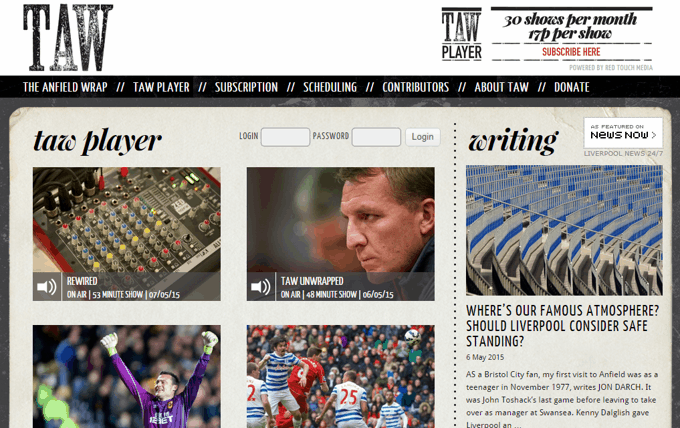 The daddy of all things LFC, The Anfield Wrap has come to take the LFC landscape by storm. Originally starting out as a podcast recorded by a load of blokes who just wanted to have their say about the comings and goings of life at Anfield, TAW has gone from strength to strength in recent times.
Not content with simply spouting their opinions about Liverpool, the TAW lot decided to start writing articles for their website. After that was mastered they turned to producing an e-magazine. Available on iPad, iPhone and Android devices, the e-magazines have taken quality LFC coverage to another level.
In fact, the work produced by The Anfield Wrap was so good that the local Liverpool Radio Station, CityTalk, asked them to start doing a weekly show for them, too.
The Anfield Wrap is definitely the place to go if you want quality content. Plenty of the people in the core of the TAW group work for The Liverpool Echo, the local newspaper; with journalists from The Times and The Guardian also known to scribe a few words from time to time.
Lately they've decided to follow in the footsteps of Paul Tomkins and the boys at Redmen TV by charging for what they do. The charge of £5 a month will be for all new content, however, with the stuff they were already churning out remaining free. That means a podcast, a radio show, all the writing on the website and the TAW e-magazine will remain free, whilst TAW Player – as they call it – will be separate stuff again.
The Anfield Wrap has an editor, but he doesn't make anyone tow the party line, so you'll often find some articles disagreeing with other ones – all published on the website. If you like well-argued, intelligent and brilliantly written stuff, or hearing blokes sit around and chat about the match to come or the one that's just been, then you need to look no further than The Anfield Wrap.
Don't agree? Have a favourite LFC fansite you think we've missed out? Why not let us know in the comments below?