Last week I wrote a column looking at Liverpool's transfer business in the summer and how I felt things were a lot more positive than the general mood in the fan base suggested. I'm not going to go over that old territory here, so if you want to know what I thought then do give that piece a read. Over the weekend I have been thinking about where our various purchases leave us in terms of squad strength. We've not only got the Premier League campaign to contend with but we'll also be doing battle in the Champions League, FA Cup and League Cup (I refuse to learn its latest name as it's ridiculous).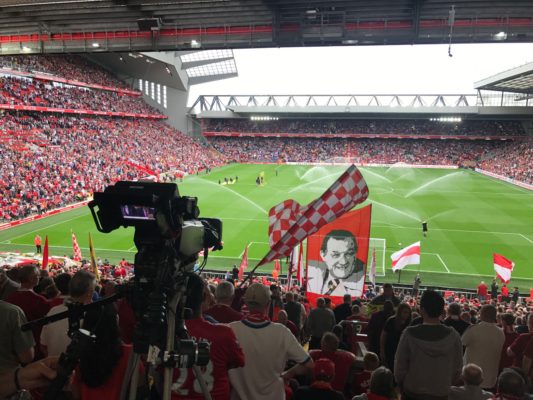 I personally am of the opinion that Jürgen Klopp isn't the sort of manager who would happily acquiesce if he felt he was being let down by the club's owners. If he wanted more players in this summer then I reckon we'd either have got them or else he'd have made veiled statements making it clear that he isn't happy with his current situation. He hasn't done that, nor has he started wearing a tracksuit to matches when he'd normally wear a suit to indicate that he's nothing more than a coach; a not-so-subtle tactic adopted by both Rafa Benitez and Antonio Conte in the past. That really begs the question, then, is the manager right to be happy with the squad he's got to work with? I've had a look, starting with the goalkeepers and defence.
The Goalkeepers
Simon Mignolet
For the vast majority of Liverpool fans this summer, central defence was the most important position that we needed to strengthen. That was why we spent the entire time chasing the signature of Virgil van Dijk, after all. Yet I have long been critical of the goalkeeping situation at the club and firmly believe that we need to make a massive upgrade if we're hoping to win regularly in the long-run. Now I would be the first to admit that Simon Mignolet has improved certain parts of his game over the past twelve months. His concentration levels appear to have improved and he's coming for balls more regularly at corner or free-kicks. He's always been a decent enough shot-stopper and that hasn't altered. The problem for me, however, is that goalkeeping is about so much more than just being able to stop shots.
The very best goalkeepers communicate regularly with their defence, acting as a captain of the backline and being vocal with their instructions. Mignolet is so poor at that he might as well be mute. Not only does he not communicate, he occasionally shouts out instructions and then completely fails to do what he's said. At least twice so far this season alone he's called for a ball but then not actually come for it, leaving the defence confused and in complete disarray. On top of that, we still haven't managed to deal with the problem of conceding the first shot on target on a regular basis. That is something of a problem when you consider that this Liverpool team actually gives up very few Clear Cut Chances on the whole.
It genuinely amazes me how people are so very critical of the club's defence but never include Mignolet in their criticism, as though the goalkeeper is somehow separate and distinct from the defence rather than a major part of it. Last season was the first since we signed the Belgian that we didn't concede around fifty goals, needing to go back to 1998-1999 to find a season when we allowed that many goals to be scored against us. During his time at the club he has played under two different managers and with countless different goalkeepers, with the main between the sticks being the one and only constant. In my opinion it is absolutely ludicrous to speak about our defensive frailty and act as though the man that stands behind the defence and could instruct it should he wish to has no responsibility to take. It isn't all his fault, but he's part of the problem.
Loris Karius
Travel back in time to last summer and that's exactly why we bought Loris Karius. The German had an excellent reputation in the Bundesliga and was supposed to come over and put an end to Mignolet's reign in goal once and for all. At the time the vast majority of Liverpool fans were ready to welcome him with open arms, such was the extent to which we were sick to the back teeth of the Belgian and his numerous deficiencies. Sadly, however, the new kid on the block broke his finger and we all know what happened next. Jürgen Klopp eventually tried to bring him back into the side but by that point Mignolet's had enjoyed a decent enough start to the season and supporters didn't understand the logic of dropping him, especially when Karius struggled to get to grips with the league.
I'd love to know what would have happened if he'd never broken his finger and had come straight into the team. Would the fans have given him more time to settle? Would the nerves that seem to have effected him since have been quite so prominent? We'll never know. The only thing we can say for certain is that he hasn't looked as convincing as we'd all hoped in the months that followed. He kept a clean sheet against Arsenal and actually looked commanding at corners, seemed to work well with his defence by allowing them to push further up the pitch and his distribution was really good most of the time. Yet he also got caught in position not once, not twice but three times. The crowd is on edge when he's between the sticks and that doesn't look like changing any time soon.
Danny Ward
For me personally, the jury is still out on Karius. I like aspects of his game and think he's got real ability, but I'm not sure he'll even win over the majority of Anfield. Perhaps that's why the manager chose to keep Danny Ward around this summer? The 24-year-old enjoyed a great spell on loan at Huddersfield last season, saving the penalties that saw them gain promotion to the Premier League via the play-offs. Owing to the presence of both Karius and Mignolet in the side, though, there haven't been a heap load of chances for the Welshman to impress over the last couple of months. That sort of things has never bothered some fans, of course, with an absence of evidence meaning that they can happily jump to their own conclusions.
I noted with interest that Andrew Beasley on Twitter said that Ward
conceded 49 goals at Huddersfield
when an average 'keeper facing the same sort of shots would have conceded 40. That's suggestive of the fact that, at the very least, he still has some experience to gain and some learning to do. Goalies tend to mature at an older age than outfield players and Ward seems to have a lot of the raw attributes to see him progress, but right now the idea that he could be our number one appears to be flawed. It means that we're still far from having a solution to the goalkeeper question and I would be amazed if Klopp didn't at least consider dipping back into the market sooner rather than later. I'm doubtless on my own, but I think it's time to end the Mignolet project and give Karius time to settle into the role.
The Defence
I've decided to speak a bit more generally about the defence, rather than looking at each player in turn as I did with the goalkeepers. This is for numerous reasons, not least of which is that there are two players for every position across the backline and I don't want this piece to be 10,000 words long. It's interesting that rumours appear to have emerged today that Nathaniel Clyne's injury might be worse than we first feared. Initially it was expected that the England international would miss the first could of games of the season, yet it now appears as though he's likely to be out for a while yet. Where does that leave us in terms of right-back? In a little bit of trouble, is my initial answer.
For all that Trent Alexander-Arnold was a revelation in the first-leg against Hoffenheim, he struggled a little bit in the return encounter and was rightly taken off early. He's still young, to be fair, but he's going to come up against stronger opponents than the Bundesliga outfit could offer and we will miss Clyne's dependability at the back. The senior player's absence also means that Joe Gomez is likely to have to deputise at both right-back and as cover for central defence, which might see the twenty-year-old making it into the starting XI more often than we'd all hope. He was excellent against Arsenal before the international break, but can he offer such consistently good performances when he's called on? That remains to be seen.
At left-back it's the rehabilitation of Alberto Moreno that has taken most of us by surprise. The Spaniard was essentially bombed out last season, making just a handful of appearances and most of them from the substitute's bench. Does the fact that he's started all but one of our games indicate that Klopp sees him as a viable option moving forward? I've been his fiercest critic in days gone by, but even I've been impressed with how he's been working with Sadio Mané down the left flank. He will always be suspect defensively, but it's certainly true that he adds another dimension to our attacks. Hi speed is also an asset that the manager seems keen to take advantage of, becoming one of numerous players who are as fast as lightening.
Add into the mix Andrew Robertson and we're suddenly looking like we've got genuine options in the left-back slot that are not only varied but also reasonably experienced. People act as if the former Hull man is a young kid, but he's twenty-three and has already made over 150 appearances for his numerous clubs. He's likely to be second-choice to Moreno more often than not, but his purchase allows Klopp to move Milner back into the midfield and put pressure on Moreno to perform. I'm not sure I'd be keen to see a defence of Alexander-Arnold on one side and Robertson on the other going into the Champions League knockout stages, but it will be more than decent enough for the majority of home league games, for example.
I think Klopp believes that Lovren and Klavan are better options than most Liverpool fans would be quick to admit, so the manager is confident they'll get us through until January. Will we be able to bring the Dutchman in from Southampton then? Maybe. It's tricky to tell right now. Joel Matip is probably the most reliable central defender we have, though even he is prone to a few dodgy moments every now and then. You can spit your dummy out over that if you want to, but the reality is that very few defenders in the entirety of football are world class every single game. Even Jamie Carragher, who Liverpool supporters quite rightly revere, was put on his arse by Thierry Henry a few times! Gomez is back up to Matip but the day we watch a Gomez-Lovren partnership will be a hairy one indeed.
Seven clean sheets in our last nine Premier League matches suggest that our defence is absolutely nowhere near as bad as some people think. It's not as strong as most of us would like, however, so every goal conceded will likely be catastrophes in the eyes of many. With the addition of Champions League football, we're going to face a huge number of games in between now and the next transfer window. I agree with Klopp that this defence will be able to cope, but one injury and heads will fall off all over the place. Keep your fingers crossed for a record fitness level until we can bring in reinforcements.