It feels like it's been forever since we got past the middle of April and Liverpool's season was genuinely still alive. Yet that's where we currently are, with every decision that the manager makes having plenty of repercussions. Not only is finishing anywhere from second to fifth still possible, but Jürgen Klopp also has to plan for a European Cup semi-final. How good is that to be able to say? Heading into this game the German had to balance picking a side that he felt could win the match with ensuring that his best players weren't going to be suffering from fatigue on Tuesday night. It's a delicate balancing act to muster and one that, perhaps, will help clarify Klopp's thoughts regarding incoming transfers this summer. Too many of this squad aren't strong enough to step up, meaning that the excellent first XI is weakened too much when changes are made.
📋 The #LFC team to face @WBA…#WBALIV 👉 https://t.co/6XOx3UJ7x7 pic.twitter.com/BdTIwhw7jF

— Liverpool FC (@LFC) April 21, 2018
It remains excellent news, however, that we'll be heading into May with something still to play for. It's not the competition we'd all like to be alive for the Reds as the season draws to a close, but it's definitely a close second. It says something that many Liverpool fans, myself included, still refer to it as the European Cup. We've never quite seen eye-to-eye with the shift to the Champions League, perhaps because we're yet to play in it as the champions of England. We still have more than a slight soft spot for old Big Ears, though, and there's no question that everyone watching today will have had more than half an eye on the upcoming games against Roma. The manager always talks about taking it one game at a time, about only seeing the match in front of him. It's the sort of thing that managers have to say, but today's team sheet belied the truth. What, then, were the major talking points from today's trip to the Hawthorns?
Refereeing Matters – Especially When It's Bad
Normally if I've got something to say about the refereeing of a match then I leave it until the end of my match report. Indeed, today I was tempted not to say anything at all, such is the extent to which I think talking about refs is boring. Yet today's game was the perfect encapsulation of exactly what is wrong with Premier League referees at the moment and why so many of us can't wait for the introduction of Video Assistant Referees. There are two clichés about refereeing decisions that I'd like to use today's match to debunk.
The refereeing in this country just gets worse and worse. And worse. And then worse still. Hard to win away at big-bastard sides when ref ignores punches, elbows, clear penalties, and doesn't protect players from bad tackles. https://t.co/iw6Tn86HPd

— Paul Tomkins (@paul_tomkins) April 21, 2018
The first is that they're 'swings around roundabouts', that they even themselves out of the course of the season. The extent to which that is unadulterated twaddle cannot be over-emphasised. We were denied at least one, but probably two clear penalties against Manchester United last month. Are we playing United again in the league this season? We were denied another one today. Are we facing West Brom with four games to go and a seven point lead over Chelsea again this season? If not then the decisions that went against us literally can't be 'evened out'.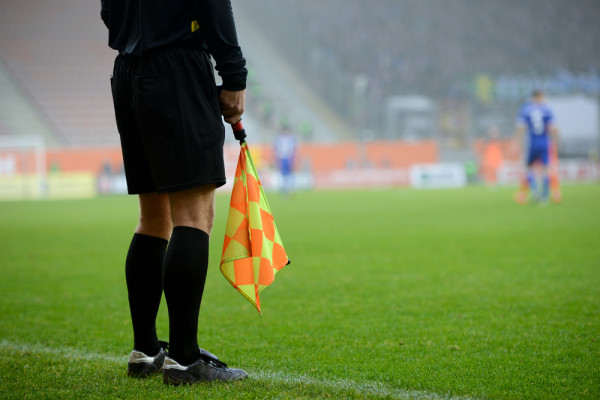 People say 'we get refereeing decisions going our way too', but how often are they match-defining? To say nothing of the fact that if the decisions don't occur in the same matchthen they most definitely don't even themselves out. The very saying is just as nonsensical as people who declare that 'we shouldn't need a referee to beat West Brom' and that drawing attention to poor decisions is 'making excuses'. The referee is literally there to ensure that the rules of the game are obeyed. It doesn't matter who the opposition is, it becomes a lot more difficult to beat them if they're allowed to smash into players in the box, punch people in the stomach, slap them in the face and kick them without being punished for it.
Atwell was demoted as a Premier League referee in 2012 after a series of poor mistakes. He spent 2 and a half years in the lower leagues before returning to the top flight in 2014.

— This Is Anfield (@thisisanfield) April 21, 2018
Stuart Atwell gave one of the worst refereeing performances I've seen today and it's been a season filled with dreadful refereeing performances. Yet absolutely nothing will be done about it and he'll be in charge of another high-profile match soon. The reason I've put this section front and centre is because it's impossible to talk about Liverpool's performance without acknowledging that West Brom should've been down to ten men and that we should've had a penalty. That's not making excuses, it's not turning a blind-eye and it's not abdicating responsibility. It's just a fact. If the referee does his job, and I'm not asking him to have eyes in the back of his head here, just deal with the incidents that he actually sees, then it's a comfortable win for the Reds. Instead we have to deal with morons suggesting that our defence is still dodgy or that we can't handle the pressure of the season. It's frustrating, so it's deserving of a mention.
Ings Can Still Offer Something
Seemingly every time Danny Ings has made an appearance so far this campaign, someone somewhere is desperate to write him off and declare his performance to be proof of the fact that he has to go in the summer. Every time that happens I'm amazed at the refusal to acknowledge that the former Burnley man has been tending to get ten minutes or so at the end of a match or, worse, has come into a significantly changed front line. I was delighted, therefore, when I saw the starting line-up and noted that he was being given a chance alongside both Mohamed Salah and Sadio Mané in his preferred position up-front. I was intrigued to see how he would work with the first-choice forward line, given that his work-rate and style makes him something akin to a Firmino-lite. That's not to say that I think he's anywhere near the level of the Brazilian, of course, but I think he's one of the best all-round attackers in world football so it's hardly a fair comparison.
Danny Ings to https://t.co/edMpGfqonH last August on scoring his next goal: "I am craving it like you wouldn't believe. The feeling you get when you score a goal is like no other, there is no better feeling. I cannot wait to feel it again."

Get in. pic.twitter.com/UXHc31OS6F

— James Carroll (@James_Carroll84) April 21, 2018
The striker did pretty much everything you could ask of a forward today, scoring the opening goal, being denied one of the most blatant penalties you'll ever see and having a brilliant chance to score his second smothered well by their goalkeeper. Those that have been so quick to write him off will still say nonsense things like 'he should've scored' or 'it was only West Brom', but they wouldn't say the same thing about Mo Salah after his goal. All you can do as a striker is score against the team in front of you and Ings did exactly that today. The manager might well feel in the summer that there's a better option available to us and decide to move him on, but if that's the case then his time at Anfield shouldn't be viewed as a failure in the same way that the likes of Christian Benteke's might be. He suffered two horrendous injuries and has come back from them both displaying immense strength of character. I was delighted for him today.
We Gave Them Too Much Hope
If you're up against a team that is fighting for their lives then the last thing you can afford to do is give them hope that they've got something to play for. I've already spoken about how the Reds win this easily with a semi-competent referee and I very much believe that, but too many players were sloppy in possession at times today and it gave the Baggies something to play for. Joe Gomez was one of the worst culprits as far as I'm concerned, constantly playing loose passes to no one in particular. Alberto Moreno will take the brunt of the criticism because people don't like him, but for me the former Charlton man was a far more guilty party. His lazy attempted pass in the build-up to the equaliser is a case in point, with the youngster just throwing his leg out at the ball more in hope than in expectation.
Joe Gomez as casual as usual.

— Callum Webster (@Cal190691) April 21, 2018
We have to take his performance with a pinch of salt, of course, thanks to the fact that he's only just come back from injury. Yet today wasn't the first time that he's switched off in a match or been lazy on the ball. Trent Alexander-Arnold's progression and willingness to learn from mistakes displays fairly clearly why he's moved ahead of Gomez in the pecking order. The youngster is being groomed for centre-back according to people who seem to be in the know about such things, but he simply can't be as sloppy as he was today if he's going to play in the middle of this Liverpool defence. Not that he was the only one who was casual on the ball, of course. I think that Jürgen Klopp has been trying to teach his players to be able to win in second-gear, which is something they're going to need to do if they're to challenge for the title next season. Today felt like another example of them attempting to do just that, but one that didn't quite come off.
We tried to stroll through that, as we did at Goodison. A combination of never advancing beyond 2nd gear and a core of players looking extremely rusty. Still, at two-nil it should have been done. Biggest annoyance is it keeps Chelsea interested. Oh, and the ref was dreadful.

— Grobbelrevell (@markbrucerevell) April 21, 2018
the performance against Bournemouth was the quintessential example of what we need to do moving forward, with players never really seeming to feel as though they needed to work their way through the gears but eventually dispatching with the South Coasters easily enough. Today, on the other hand, was an example of what can happen when there are too many changes to the first eleven and those that come into the side aren't at the level of those that have departed it. That said, I think we're all more than aware of the fact that we've got bigger fish to fry over the next couple of weeks. A win would have been excellent for our Champions League qualification, but the draw takes us one step closer to it and we've got a chance of winning it in the here and now. Bring on your Roma by the score.