If you're anything like me then you're struggling to think of anything other than Liverpool's impending European Cup final. The challenge of Real Madrid is a fascinating one, with my mood swinging from massive confidence to being convinced that we're going to get battered. On the one hand, I take confidence in the fact that they couldn't cope with Tottenham in their Champions League group encounters, yet on the other I'm aware that they've won the last two finals they've played in and have experience that we could only dream of. They've got incredible players that could score goals for fun if they decide to turn up.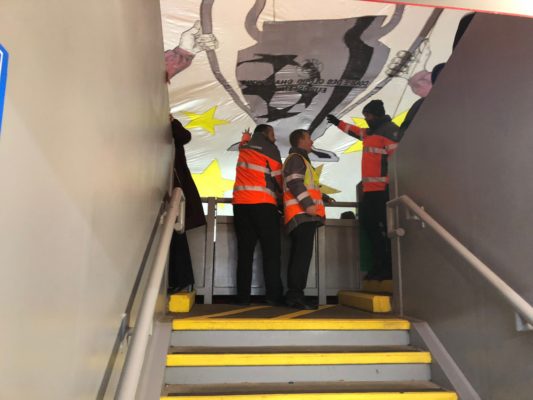 Yet we have the ability to do exactly the same thing, which means that we could be in store for the best cup final in a decade. If Mo Salah, Roberto Firmino and Sadio Mané click into gear as they have done for most of the season then Liverpool could be on course to win their sixth European Cup and for this crop of players to become legends. It won't be easy, there's no point pretending otherwise. It will be the toughest game of the season on the biggest stage, but we had two huge games against Manchester City earlier in the campaign in the same competition and came through them both with flying colours, so I have to say I'm veering on the side of confidence at this moment in time. That said, it's an opinion that's changing every minute!
My day so far:

8 am: we're gonna batter them
8.30 am: no way Real don't turn up
9 am: Salah's gonna humiliate Marcelo
9.30 am: Ronaldo's good enough in the air to embarrass even Virgil
10 am: The cup's got our name on it.

How's it only Thursday?! #LFC

— And Could He Play (@andcouldheplay7) 24 May 2018
Perhaps the crucial thing, as far as I'm concerned, is that Liverpool have already exceeded all expectations. Yes, we spent last season saying that we could beat the boss teams but struggled against the dross and would therefore just 'go and win the European Cup in 2018', but nobody seriously thought that's what would happen. Win or lose on Saturday, this is a side that we should all be very, very excited about. For the first time in my adult life the club is made up of people who all appear to be pulling in the same direction. There's no split in the fanbase over the manager, the owners aren't cowboys trying to bleed us dry for their own enrichment and the players all seem to want to be playing for us.
I honestly think that we're really well poised to mount a league challenge next season. I also think that that will happen irrespective of how the final pans out. Yes, if we win then we'll be the European champions and players will automatically want to play for us. But even if we lose we'll still have done enough to caught the attention of the best players in getting into this position in the first place. Rival supporters will spend the summer laughing at us if we lose, but their club didn't even come close to making it this far in the first place. Players themselves also don't think along those lines. If there's a player that sees himself fitting in with Jürgen Klopp's Liverpool team then they won't be changing their mind if we are beating by the defending champions in the competition. In other words, the future looks very bright indeed and Saturday's result won't change that.
The Runners And Riders Of The Rumour Mill
Having said all of that, it's interesting to see who it is that we're being linked with by the major newspapers. A lot of the same names keep coming up again and again, but is that because they're not getting any change out of the usual people who leak such information to the press? By the time I write my next transfer rumour piece we'll all be either delirious with joy or desperate to crawl into a hole and hide until August….
The Outs?
Those that dislike our current owners, despite all of the evidence that suggests that they're running the club in a financial responsible manner at the same time as trying to return us to our former glory, are insistent that they have a sell-to-buy policy. I don't believe that even for a second, with all of the major players that we've sold in recent times essentially forcing their way out of the club. Regardless, there will be departures in the summer, with the following being the players that have been linked with a departure this week:
Daniel Sturridge
There's no question that this is likely to be a sad end to the striker's time at Anfield, but ultimately his fitness issues have put paid to any chance of him staying here any longer. Some supporters were up in arms when Jürgen Klopp decided to loan him to West Brom in January, but in the end he played just five times for the Baggies. In all honesty, I'd completely forgotten that he was on our books when his name came up in my transfer research. That's not a fair ending to the Liverpool player who could've been remember for so much more. Luis Suarez took all the plaudits back in 2013-2014, but Sturridge's deadly finishing was just as important a part of our battle for the most unlikely of title victories.
The most intriguing thing about the former Chelsea man is that isn't being linked with a specific club yet. Despite his obvious and undeniable talent, those injuries seem to be putting off all of the most likely suitors. Even so, he'll want to leave the club for regular game time and few would begrudge him that. He took to Twitter a few days ago to destroy a fan page that had attempted to claim he'd fallen out with the manager. Being a long-time hater of ITK accounts, I can't pretend I didn't revel in that. In the end, though, it's what happens on the pitch that matters and I'd be very surprised indeed if we saw Daniel Sturridge run out again in a Liverpool shirt.
Likelihood Rating: 9/10
The Ins?
I could've written something about Emre Can in the 'Outs' section, but I did that last week and until something is confirmed I'm not really sure I see the point. The German is almost certainly on his way to Juventus and whilst it will be a shame to lose him, I'd rather that than he ended up at one of the Manchester clubs. What we all care about far more than those leaving Liverpool are those that are likely to arrive, so here's a look a the names most heavily linked with us this week:
Nabil Fekir
Few things in football are ever dead certs, especially not in terms of transfers. Yet the rumours of a move for Nabil Fekir don't show any signs of abating any time soon. The reports from France over the past few weeks have suggested that a deal is as good as done, with a Canal + commentator announcing during Lyon's final game of the season that he will be playing in red next season. He's certainly the sort of player that I can imagine Jügen Klopp might fancy, being able to play as an attacking midfielder as well as across the front three. There's also been an excellent bit of analysis done by Sam McGuire recently that suggests he'd be an able backup to Roberto Firmino if we wanted to use him in that manner.
My own take on the matter is that he wants to play for Liverpool and we're waiting until the Champions League is out of the way before announcing anything. If we beat Real Madrid then there's nothing better to give us a bounce moving forward than the confirmation that we've signed a brilliant player, whilst if we lose then it could be the perfect pick-me-up. He's Lyon's captain and the transfer gurus have made a point of going after players with strong personalities in the last couple of season, with the manager keen on having leaders all over the pitch. As I say, there's no such thing as a certainty when discussing transfers and any number of things can change to stop deals from happening, but this feels like one that's too close to completion to go wrong.
Likelihood Rating: 8/10
Gianluigi Donnarumma
The Daily Express are reporting that Liverpool are keen on signing AC Milan's Gianluigi Donnarumma, with the Italian club reportedly slashing their asking price for him. How much stock you put in this report really depends on what you think the club's plans are regarding a goalkeeper in general this summer. I think that Loris Karius has improved immeasurably since he first came into the team earlier in the season and I don't think that Klopp will be overly quick to abandon his countryman. Yet I also don't think that the former Mainz shot-stopper will be happy as anyone's number two after being between the sticks for Liverpool's journey to the Champions League final.
Last week I wrote about how the Reds were likely to sell Simon Mignolet in the summer. I also suggested that links to Jack Butland were wide of the mark. Yet the Belgian is almost certainly going to be departing Anfield and Danny Ward is clearly not very highly rated by the man in the dugout, given that he's barely featured this season. If neither of those are going to make the grade then we'll definitely be bringing in at least one new goalkeeper before the season gets underway, but could we even need two? I'm not sure that Donnarumma fits the bill, mainly because he's still young yet wouldn't be happy playing second-fiddle to anyone. He might be seen as the long-term successor to Gianluigi Buffon, but I'll take some convincing that he'll be arriving as our new number one.
Likelihood Rating: 5/10
Ousmane Dembele
The one thing about Liverpool's transfer gurus in recent years is that they haven't been shy about going back for players that we've shown an interest in in the past. We were keen to sign Mohammed Salah before he ended up at Stamford Bridge, lest we forgot. There were strong rumours linking us with a move for Ousmane Dembele last summer before the talented forward ended up at Barcelona, so rumours of a resurgence in our desire to sign him aren't exactly a surprise. That said, he arrived at Camp Nou as part of a deal that could end up going as high as £135 million, so I'm not totally convinced that Ernesto Valverde would be happy to cut his losses quite so quickly as this.
The flip side of that, however, is that Barcelona had a huge outlay of money for Philippe Coutinho, meaning that they'll almost certainly have to sell before they can go shopping this summer. Our former player has been preferred to the former Borussia Dortmund man on the righthand side of Barca's midfield, so maybe the rumours of a departure aren't too wide of the mark. One of the rumours I've heard is of a two-year loan, which I can see Klopp agreeing to if there's a buyout clause in place at the end of it if he does well for us. This is a link I can see rubbing on for most of the summer, to be honest.
Likelihood Rating: 6/10
Conclusion
This ludicrously, interminably long week is now creeping ever closer to its end. We've got one more game left of the season and it's one that could result in Liverpool being bathed in Red if we win it. Come on, boys. Bring Old Big Ears back home.
Until next week…